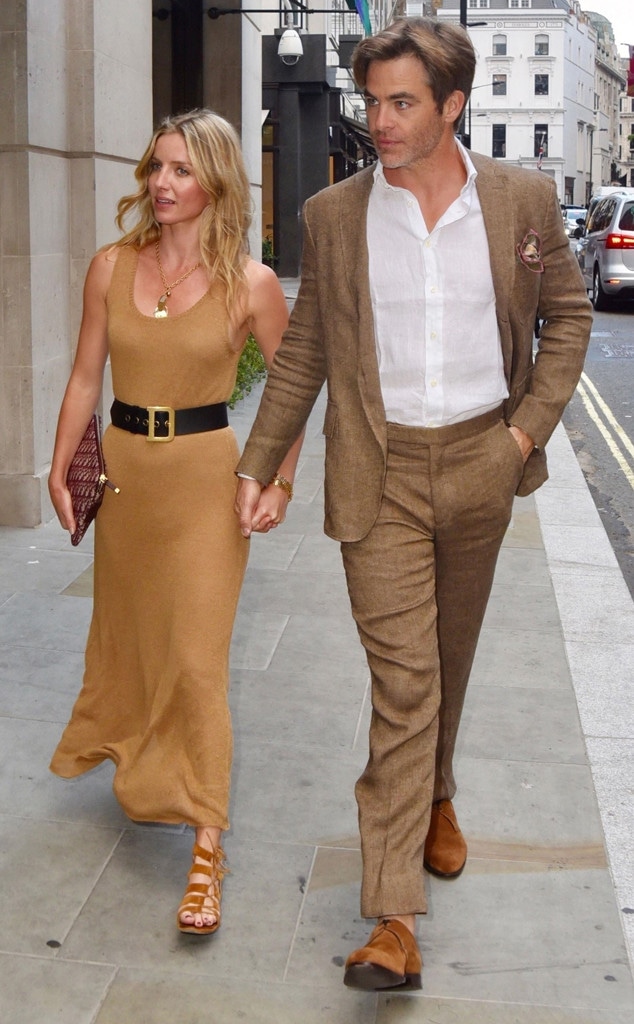 Bob Grey / BACKGRID
Chris Pine and Annabelle Wallis are in sync—in more ways than one.
The actors were photographed holding hands in the streets of London Wednesday. Intentional or not, Pine and Wallis seemingly coordinated their outfits for the occasion, as the bronzed stars both wore neutral shades. (Give their stylists Elizabeth Stewart and Karla Welch a raise!)
The low-key actors were spotted across the street from The Burlington Arcade toward Bond Street. They were "in a very good mood," according to an eyewitness, "and were very polite."
Pine, 37, and Wallis, 33, have only been photographed together a handful of times since romance rumors began swirling in March. Pine is currently in the U.K. to film Patty Jenkins' Wonder Woman 1984, while Wallis did not mention Pine when she recently did press for Tag.
Years ago, Pine told Ellen DeGeneres he looks for "intelligence, beauty and a sense of humor" in potential girlfriends. "You have to be able to carry a conversation after the initial attraction kind of dies down. There has to be the thing that engages you—that's intelligence and humor."
Neither Pine nor Wallis has commented on their blossoming relationship.
After her breakup with Chris Martin, Wallis admitted she struggled with dating in the public eye. "It becomes hard when you know about someone's personal life. It's just distracting," she told The Sydney Morning Herald. "It's a whole other job in itself if you go down that road. I love the person I love, but it means so much to me that I like to keep it safe. I have nothing to hide."
Wallis will next appear in the film Boss Level with Mel Gibson, Frank Grillo and Naomi Watts, while Pine will star in Jenkins' TNT mini-series I Am the Night, slated to premiere in early 2019.