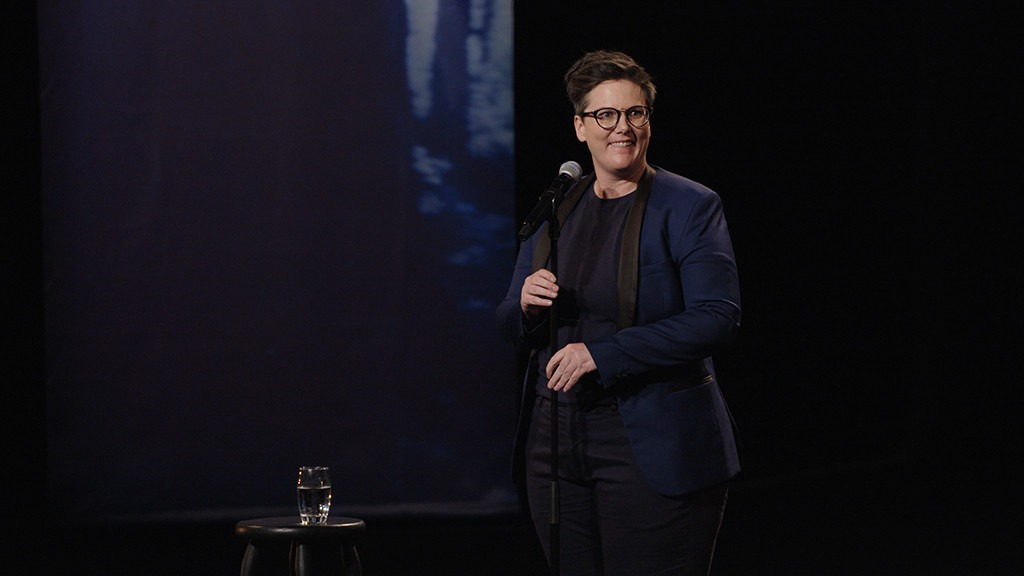 Netflix
At this point, you've likely heard about Hannah Gadbsy's special Nanette. 
If you haven't, allow us to enlighten you with an entire post on it, and to encourage you with a plea—no, an order—to watch it immediately. If you've done the correct thing and already watched it and had your life changed, you may be happy to know that the internet is filled with other recent specials you also need to be watching. 
Most of them are not quite as devastating and hilariously heartbreaking as Nanette, but they've all still got the potential to blow your mind and/or make you pretty happy on a hot summer's day. 
Repertoire, James Acaster (Netflix)
The British comedian's four-part special is really more like a series of mini-specials, and each one is simply incredible, with jokes so interwoven that it's so worth paying close attention. There's a story about a free banana and a quest for banana revenge that we haven't been able to stop thinking about. 
Kid Gorgeous, John Mulaney (Netflix) 
You've likely seen quotes about the horse loose in the hospital, and that is one of the special's standout bits. But the entire thing is really quintessential tall child and former SNL head writer John Mulaney, and it's perfect. You should also not be sleeping on his other specials, New in Town and The Comeback Kid. 
Hard Knock Wife, Alli Wong (Netflix)
Like in her last special (Baby Cobra), Alli Wong pulls off some occasionally raunchy, always honest, and sometimes uncomfortably realistic jokes about motherhood and every gross and/or beautiful thing that goes along with it—all while heavily pregnant. However, unlike Baby Cobra, Hard Knock Wife barely even acknowledges Wong's second pregnancy and focuses instead on astonishing you with just how quick and genius she is.
Happy to Be Here, Tig Notaro (Netflix)
The title of this one is about as literal as it could be. Even at her most deadpan, Tig seems happier than ever as she gushes about her wife, her kids, conversing with her cat, and her "sweet, sweet rack." Her joy is a joy to watch. 
Aparna Nancherla, The Standups (Netflix)
Netflix's series The Standups is delightful in general, but there is something extra super delightful about Aparna Nancherla, whose episode appears in season two. She's basically a hero to those of us who are socially awkward and like to wear coats at parties.
Rape Jokes, Cameron Esposito
You can probably tell from the title that this is a special tackling some dark stuff, sort of in a similar vein to Nanette. Esposito takes on that dark stuff in a slightly different, equally effective and unexpectedly hilarious way that you have to see. You can watch the special on her website, www.cameronesposito.com, where you can also make a donation to the anti-sexual violence organization RAINN. 
Warn Your Relatives, Hari Kondabolu (Netflix)
This is one of the most topical specials on this list, and you'll find yourself cracking up at Hari being mistaken for Kid Rock and getting fact-checked about terrorism in The Wizard of Oz. 
Private School Negro, W. Kamau Bell (Netflix)
Bell explores everything from why Doc McStuffins is the best TV show ever to his Oprah impression to why a black man does not want to go camping. 
Seth Rogen's Hilarity for Charity (Netflix)
This special has everything, and most of that everything for us involves Chelsea Peretti, Tiffany Haddish, Kumail Nanjiani, Muppets, Michelle Wolf, Sarah Silverman, and more. Plus it's all in the name of charity! 
Make Happy, Bo Burnham (Netflix)
In honor of Bo's upcoming and critically acclaimed directorial debut, Eighth Grade, please make yourself familiar with all of his brilliant comedy specials. Make Happy in particular is one hell of an accomplishment, a sometimes dark, always funny exploration of what it really means to be famous and funny.