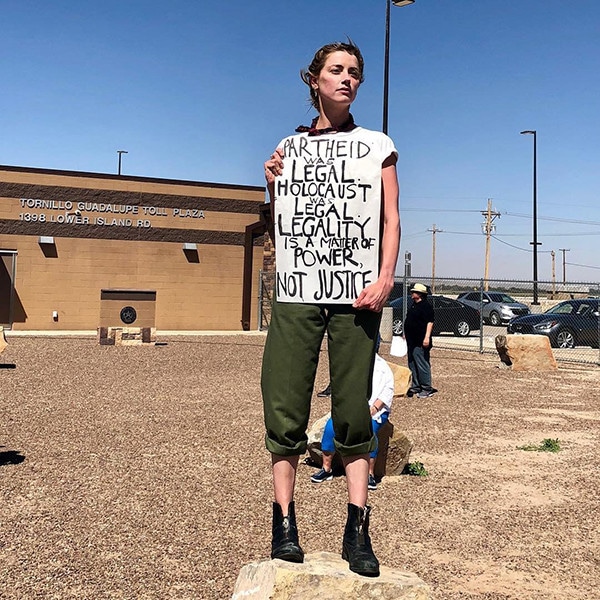 Instagram
Amber Heard wanted to be heard Tuesday—and it backfired.
Unfortunately, her message about Immigration and Customs Enforcement was lost in translation. The 32-year-old actress took to Twitter just after midnight, writing, "Just heard there's an ICE checkpoint in hollywood, a few blocks from where I live. Everyone better give their housekeepers, nannies and landscapers a ride home tonight." Amid criticism that her tweet was "racist," Heard deleted the message after she landed in Paris around 8:30 a.m. PT. Without apologizing, she later tried to explain herself, writing, "With this human rights crisis being so politicized, it is hard to make a simple statement w/out it being used to distract from the real issues. Its hard for everyone to not be negatively affected by this subject n some way."
"Checkpoints on your home streets….Is this the 'great' America we're aiming for?" Heard wondered overnight, 10 minutes after she published her incendiary tweet. "Raids, fences and police-state like checkpoints don't feel like the 'land of the free' our immigrant ancestors built."
Some people came to her defense, arguing she was trying to highlight unfair stereotypes. For nearly an hour Tuesday morning, Heard decided to address her critics directly. When one user, Keith Gallois, suggested building a wall—something President Donald Trump has promised to do—she replied, "Actually most people that are here illegally come by plane and outstay their visas, not the life-threatening trek across the some of the worlds most inhospitable terrain that the wall aims to block." Another critic, Bill Conway, challenged the actress' since deleted tweet, writing, "FYI, police do street checkpoints all the time. Nothing new there. But I guess it might be unheard of in your gated community." In response, Heard said, "I grew up with those checkpoints, but that was mls from the border. Fortunately I dont live behind gates (or fences) but I do live around and alongside many ppl who face that fate if this continues to escalate."
In a statement Tuesday, an ICE spokesperson disputed Heard's claims. "ICE does not conduct checkpoints for immigration enforcement," the ICE spokesperson told E! News. "We conduct targeted enforcement based on intelligence leads and law enforcement investigations."
Over the weekend, Heard joined actors Connie Britton, Lena Dunham, Joshua Jackson Sia, Bella Thorne and Constance Wu at a protest outside a child detention facility. Posing for a picture at the Tornillo Port of Entry, located about 30 miles from El Paso, Texas, Heard held a sign that read, "Apartheid was legal. Holocaust was legal. Legality is a matter of power, not justice." In the caption, she added, "Law is meant to protect and defend justice, not destroy it."
(The #EndFamilyDetention protest was arranged by the organization Voto Latino.)
Speaking to BuzzFeed, Heard—who was born and raised in Austin—burst into tears. "I was literally and figuratively raised by and with immigrants in my home and heart and life," she said.