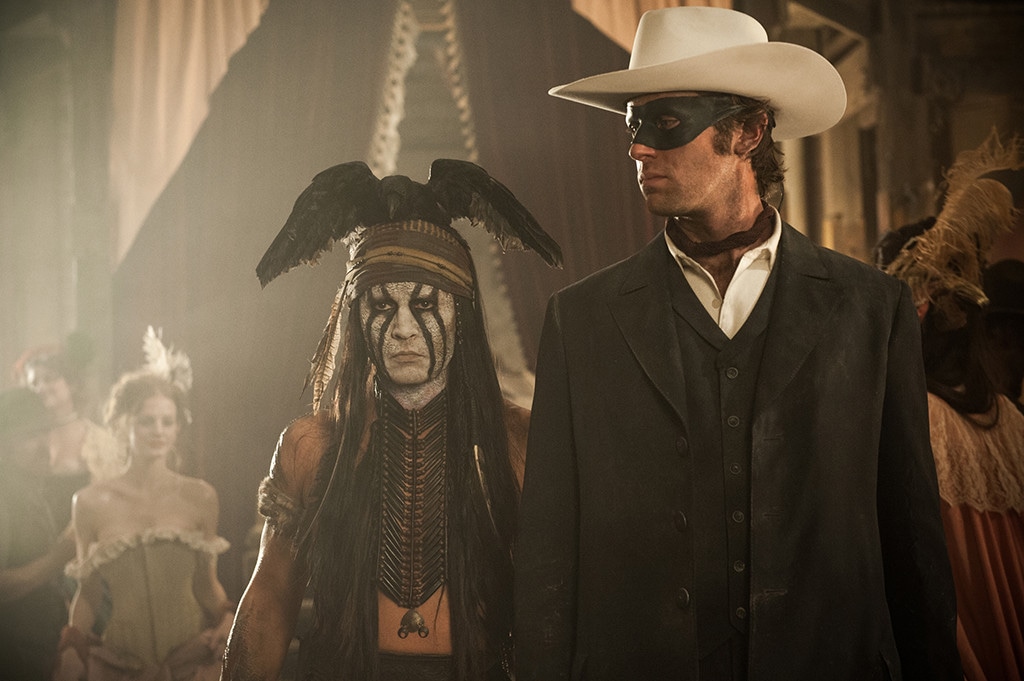 Peter Mountain/Disney Enterprises
The Lone Ranger was supposed to make Armie Hammer a star.
But, even before the movie was released five years ago, on July 3, 2013, the blockbuster was plagued with production problems. Columbia Pictures had first tried to adapt the radio series into a movie in 2002, but it wasn't until six years later, when Jerry Bruckheimer optioned the rights and brought the project to Walt Disney Pictures, that the wheels were set into motion. Having worked with Johnny Depp on four Pirates of the Caribbean films, Bruckheimer cast the white actor as Tonto, the titular character's Native American sidekick—a decision that would prove to be controversial. ("I wanted to maybe give some hope to kids on the reservations. They're living without running water and seeing problems with drugs and booze," Depp later told Rolling Stone. "But I wanted to be able to show these kids, 'F--k that! You're still warriors, man.'") In 2010, director Gore Verbinski was hired, and in 2011, Hammer, an untested leading man best known for playing the Winklevoss twins in The Social Network, booked the titular role.
And then, something shocking happened: The film was nearly scrapped, just as a few of the supporting actors, such as Ruth Wilson, were finalizing their deals. In August 2011, Deadline's Mike Fleming Jr. revealed the project—originally set for release on Dec. 21, 2012—was in jeopardy. "I've heard the filmmakers were trying to reduce the film's cost from $250 million (some even say $275 million) down to $232 million," he reported. "But it wasn't the $200 million that Disney wanted to spend." Eventually, some of the script's bigger sequences were combined, while other elements were excised. To further cut costs, Bruckheimer, Depp, Hammer and Verbinski, as well as other crew members and post-production vendors, agreed to defer their payments and take 20 percent cuts in their fees. Reportedly, the film studio also held fees from Bruckheimer, who had contributed his own development funds to finish the film.
To this day, Hammer maintains he never lost faith in the endeavor.
"I wasn't worried. I had the inside track a little bit. I heard from Gore and I heard from Jerry what was going on—the negotiation techniques. I mean, basically, more than anything else, that was Disney playing hardball. They wanted to show that they still, as the studio, had a little bit of control and they did whatever they could. So, I had literally gotten on the project a day or two before it happened. It wasn't exactly earth-shattering for me," Hammer told The Huffington Post years later, "but I was glad that we actually got to do it at the end of the day."
Peter Mountain/Disney Enterprises
It took months to get the movie back on track and bring its cost down to a reported $215 million. But the problems didn't end there, as filming was often delayed due to weather and wildfires, in addition to the death of a stuntman and an outbreak of chicken pox among the crew. Hammer himself even sustained a minor injury on set. "I might have done some damage to my bursa sack in my right elbow," he told E! News. "I was supposed to jump onto a horse, and the horse saw me coming and moved out of the way, and I fell backwards onto my elbow."
But the cast—including James Badge Dale, Helena Bonham Carter, William Fichtner, Barry Pepper and Tom Wilkinson—soldiered on, filming in Arizona, California, Colorado, New Mexico, Texas and Utah. The Lone Ranger's production costs eventually ballooned back up to $225 million, and Bruckheimer said he and the studio were responsible for covering its overages. "When you're spending other people's money, you want to give them back a return on their investment," he told Variety. "Every time you go out there, you have to swing for the fences." And swing Bruckheimer did—The Lone Ranger had a splashy Super Bowl trailer and multiple premieres. In total, it cost about $150 million to market and distribute the film globally.
Bruckheimer and Depp couldn't ignore the bad press, and Hammer had little clout to stop it himself—not that anyone blamed the young actor, a virtual newcomer, for the film's problems. "With his striking blue eyes, square jaw and 6-foot-5 Adonis frame, Hammer clearly has the good-looks department covered. And his acting turns, though so far limited to a handful of smaller roles, have been notable enough to grab the attention of some prominent filmmakers," Variety's Rachel Abrams and Justin Kroll mused. But Depp had top billing, so whether the film was a hit or a miss, "Hammer won't necessarily get full credit—or blame—for its performance."
Before the film's release, Sean Bailey, president of production at Walt Disney Studios, seemed confident the movie would turn a profit—and also sell overseas. "The Lone Ranger crosses multiple genres," he told Variety. "Ultimately, it's a spectacular action adventure from the team behind one of film's most unforgettable franchises, and that is appealing on a global level." While Depp told E! News the movie was a "one-shot deal," Hammer had signed up to star in at least a "couple" more movies. "But we'll see," he admitted. "It all kind of depends on this one."
After the first reviews came out—and they weren't kind—the movie's stars went on the defensive. Depp believed they were written "seven-to-eight months" before the film was released, while Hammer argued The Lone Ranger was never going to be given a fair chance.
"This is the deal with American critics: They've been gunning for our movie since it was shut down the first time. I think that's probably when the most of the critics wrote their reviews. If you go back and read the negative reviews, most of them aren't about the content of the movie, but more what's behind it. It's got to the point with American critics where if you're not as smart as Plato, you're stupid. That seems like a sad way to live your life. While we were making it, we knew people were gunning for it. I think it was the popular thing when the movie hit rocky terrain they jumped on the bandwagon to try and bash it," Hammer told the U.K. edition of Yahoo! Movies. "They tried to do the same thing with to World War Z; it didn't work."
"Instead," Hammer concluded, "they decided to slit the jugular of our movie."
Not everyone hated the movie. Director Quentin Tarantino, for example, championed the Western, naming it one of his top films of 2013. "The first 45 minutes are excellent...The next 45 minutes are a little soporific. It was a bad idea to split the bad guys in two groups; it takes hours to explain and nobody cares. Then comes the train scene—incredible!" Tarantino said. "When I saw it, I kept thinking, 'What, that's the film that everybody says is crap? Seriously?'"
In the end, The Lone Ranger earned $260.5 million worldwide, resulting in a reported $190 million loss for Walt Disney Pictures. Though the movie failed commercially, it did succeed in  making Hammer a Hollywood name. Before the film bombed, he had already been cast in Guy Ritchie's The Man From U.N.C.L.E. opposite Tom Cruise (who was later replaced by Henry Cavill), and he went on to receive critical acclaim for his work in Nate Parker's The Birth of a Nation and Luca Guadagnino's Call Me by Your Name—the latter of which gave Hammer his first Golden Globe nomination. This summer, he made his Broadway debut in Straight White Men—projects he might not have had time for had he been making Lone Ranger sequels. "My only job is to do a good job acting," he told The Huffington Post. "So, I really just focus on that."