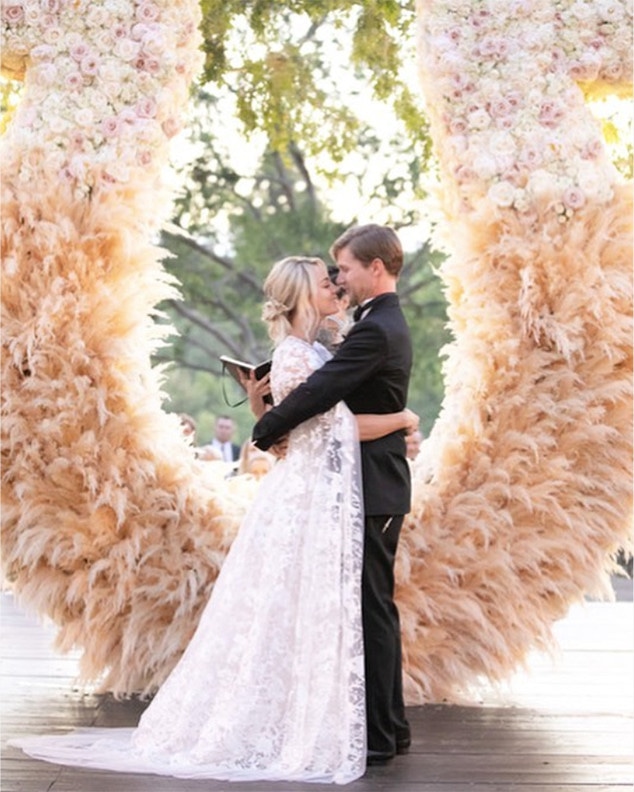 Claudia Craig
After getting engaged to Karl Cook last November, Kaley Cuoco knew exactly who she needed to call to get her special day underway. 
"Right after she got engaged, she called me and asked for me to be to be her planner," Lauren Tatum of Lauren Tatum Events of Los Angeles told E! News exclusively. "We've worked together for years..."
After nearly two years of dating the fellow equestrian, the Big Bang Theory star and her longtime beau were ready to tie the knot—and the star had an idea of how she wanted the milestone to look.
"30 minutes after she got engaged, she called me and sent me a bunch of pictures, personal pictures," Tatum recalled. "The vision was that it was to be romantic and that the animals were to be included and that it would have lots of lights and be sparkly...Romance, animals, 1920s theme and love."
The star got exactly what she asked for as Tatum and her team went to work to bring her wedding fantasy to life on Saturday night. Set at Cook's Pomponio horse ranch in Southern California, the day was packed with details especially significant to the bride and groom.  
In honor of their shared love of horses, horseshoes were present throughout the event beginning with an unforgettable floral horseshoe the two said "I do" in front of. 
"There were all kinds of flowers; roses, peonies, hydrangeas, pampas grass, and we did a mix of light pink and champagne pampas grass that you see coming out of the big horseshoe altar. You see the roses coming out of the top and that is what they stood in front of during the ceremony," Tatum told E! News. "Kaley loves the horseshoe. She adored it."
The couple's horses were also physically present for the big day, first inside the barn for a cocktail hour where all of the horses were held.
"They had them all put in the barn so they would be in the shots. It was just beautiful," Tatum noted. "They were surrounded by all the horses; the mini horses, the big horses. All the people got to go pet them and hang out with them."
Later, during the ceremony officiated by Cuoco's sister Bri Cuoco, the mini horses were walked down the aisle along with Cuoco's dogs. The animal lovers were also able to pay tribute to their four-legged friends with napkins imprinted with paw prints and horseshoes.
Once the brief ceremony was sealed with a kiss from the couple—and a shot of bourbon—guests were welcomed into the reception by way of a 100-foot-long canopy of lights. 
Beyond the canopy, a two-story tent with a series of specialized areas awaited attendees. "We did the first two-story tent in history that got flown in from Germany. You could go upstairs and look down; it overlooked the bottom and you could see everything. It was very cool. Aqua Rain flew in a waterfall that you could write different things into, so it would say KCSquared; it had  hearts, paw prints, horses—all different things I wrote in there. It was behind the band. It was a really cool feature," Tatum elaborated. "There was the beauty room, wine room, beer room. A photo booth was set up, an ice luge was set up, dessert room and cigar rollers." 
There was no shortage of pampering for guests as they had the chance to get foot massages or their shoes shined in the beauty room. 
"The beauty room that we named 'zhoosh,' that was a surprise to her...it means primp. It looked like a mini makeup store," Tatum described. "Hairsprays, deodorants, lipsticks, men's things, perfumes like crazy, toothbrushes, dental flosses—anything you can think of...it was in there."
Tatum certainly thought of everything, including an elaborately personalized ice luge. "Instead of getting a table, I had the bottom of it carved into the shape of Kaley's dress pattern and then the top of it had all kinds of things in there like a gramophone, a 1920s staircase, a horse," she told E! News.
"It would say Gary loves Layne [for Kaley's parents], Kaley loves Karl, Signe loves Scott [for Karl's parents]. There was KCsquared. There was an old 1920s car carved in there and, at the top, you could pour whiskey or bourbon through the luge and it would cool it off and you would get it down at the end."
Along with drinks, there was a seated dinner featuring meats sent in from their ranch. "We had the biggest burgers known to mankind," Tatum said. "We had KCsquared burned into the top of the bread." Guests had every option for their burgers, including the type  of bun, sauces and the choice of a meat patty or vegetable patty. "Everything you could think of to put on your burger to make it amazing," Tatum added. Once the burgers were finished being assembled, guests ate them on custom carving boards made for the event. 
No wedding would be complete without dessert. Instead of a cake, the couple opted for cake pops and a variety of other sweet treats, including "Ruby's rhubarb pie" named after Cuoco's dog and a station that used nitrogen to make custom ice cream for the guests.  
Before the clock struck midnight, attendees were entertained outside by aerial acts, acrobatics, a fire-breather, jugglers a magician and stilt walkers. In keeping with the '20s theme, there were also cigarette girls walking around and hot nuts, cotton candy, tacos and brauts available for some late-night snacking. 
With the band playing until 2:30 a.m., guests partied into the early hours of Sunday morning with the new Mr. and Mrs. Cook. 
"It was spectacular. I think everyone was happy. I think the family, Kaley and Karl are happy," Tatum said of the dream wedding. "I had one [guest] say it was the best night of their life."
It sounds like the same can be said for the bride and groom. Congratulations Kaley and Karl!