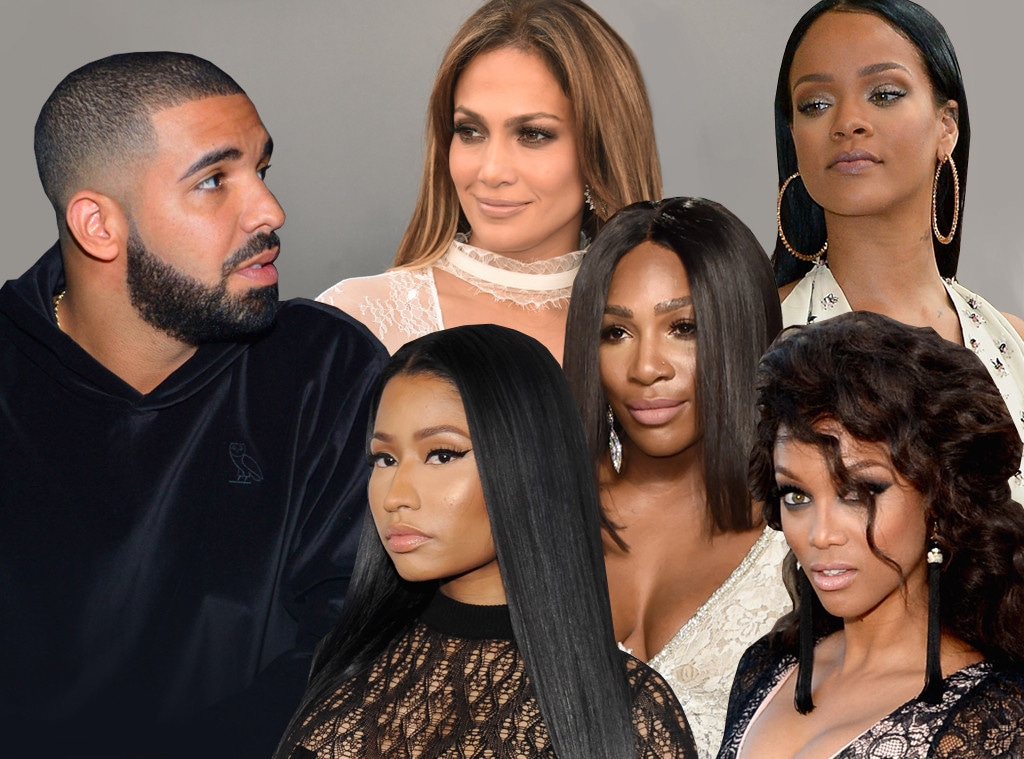 Getty Images
"Yesterday morning was crazy. I had to come to terms with the fact that it's not a maybe. That s--t is in stone, sealed and signed. She not my lover like Billie Jean, but the kid is mine."
With those four lines off his newly released fifth studio album, Scorpion, Drake confirmed the chatter that's been growing increasingly louder for the better part of a year: Yes, he was the father. French artist and retired adult film star Sophie Brussaux had long alleged she had the text messages to prove she was expecting his child—claims, it turns out, that were absolutely true. 
His verse put to rest months of speculation. It also added another chapter to the never ending novel that is Drake's love life. Since the early days of his Degrassi fame, the three-time Grammy winner (real name: Aubrey Graham) has been linked with a lengthy list of suitors that reads as a veritable who's who in entertainment. Some turned out to be just potential collaborators (hi, Taylor Swift!), others simply good friends (nope, he and Hailey Baldwin were never a thing). 
The rest of the list, well, those potential paramours range somewhere in between one fun date (that would be Kat Dennings, who called the "Hotline Bling" rapper "a lovely person") and the epic soap opera that is Drihanna. Or is it AubRih? Either way, their story is one for the ages—a tale that, unfortunately for those that continue to ship them, ended this May when Rihanna told Vogue, "We don't have a friendship now, but we're not enemies either. It is what it is."
But we'll get there. First, the talented superstars on the less intense side of the sliding scale of Drake daters. There's Tyra Banks, who obliged to one Disneyland outing in 2012 ("I don't know if it was a date. It was a get together," he told Ellen DeGeneres in 2013) and then appeared in the music video for the 31-year-old's 2016 track "Child's Play." 
Nicki Minaj was another onscreen partner, treating Drake to a very steamy lap dance in her 2014 "Anaconda" video that left fans believing there is simply no way to fake that kind of chemistry. Unfortunately, it may have been one-sided. While the Canadian musician has long pined for Minaj in verse (in "Miss Me" he rapped, "I love Nicki Minaj/ I told her I'd admit it/ I hope one day we get married just to say we f--king did it/ And girl I'm f--king serious I'm with it if you with it/ 'Cause your verses turn me on and your pants are mighty fitted,") it seems likely that affection will remain unrequited. 
Though Minaj declared her love for Drake at last year's Billboard Music Awards, when asked if she'd sleep with him, her response was one word: "No." 
Nor did Champagne Papi get any love from tennis ace Serena Williams. Sure, he was courting the four-time Olympic gold medalist for awhile in 2015, with a source even telling E! News things were "heating up" between them.
But as it turned out, right around that time, the athlete crossed paths with her eventual husband, Reddit cofounder Alexis Ohanian and Drake was placed in the friendzone. When asked if he was her "lucky charm" en route to her Wimbledon win, she replied, "We've been friends for like so many years, just like family." Months later, he'd be blamed for her U.S. Open Loss—a social media hysteria the pro took umbrage with.
And finally there was, Zoe Kravitz, who sorta, kinda confirmed E! News' report that they were having fun together when she told Andy Cohen, "We hung out for a minute."
Of course, before, after and between all of these dalliances, there was Rihanna, his "ultimate fantasy," the woman "I've been in love with since I was 22-years-old." 
That would be from the moment they enjoyed their first group hang at Lucky Strike Lanes & Lounge in New York City in May 2009. At the time, the "Umbrella" singer was still reeling from the painful end of her Chris Brown relationship, so there was some confusion to as if their outing—which reportedly featured some making out—was, in fact, a date. 
"We weren't really sure what it was," Rihanna told Hot 97's Angie Martinez that November. "I definitely was attracted to Drake, but I think it is what it is, like, it was what it was. We didn't want to take it any further. It was at a really fragile time in my life, so I just didn't want to get too serious with anything or anyone at that time."
Kevork Djansezian/Getty Images
To Drake, those words cut deep. As he was promoting his debut album Thank Me Later in 2010 (featuring "Fireworks" on which he rapped about their bowling encounter), he accused her of using him. 
"I was a pawn" he told The New York Times. "You know what she was doing to me? She was doing exactly what I've done to so many women throughout my life, which is show them quality time, then disappear. I was like, 'Wow, this feels terrible.'"
Maybe it was a hurts so good type of scenario, because the pair would reunite for her hit "What's My Name?", a steamy 2011 Grammys performance, his track, "Take Care" and another round of are they, or aren't they rumors. 
There was also that scuffle between Brown, Drake and their respective squads at a NYC nightclub that was reportedly over Rihanna's honor despite the fact that she wasn't even in attendance. But the two musicians managed to find a way to kiss and makeup, even teaming up for a sketch at the 2014 ESPY Awards. 
Kevin Winter/Getty Images
Drake, meanwhile, was finding plenty of ways to partner with his dream girl. Though she shot down the idea that she was ever his girlfriend in a 2015 Vanity Fair profile or that they were even enjoying the benefits side of a close friendship ("That would be empty for me; that to me is a hollow move. I would wake up the next day feeling like s--t,") they collaborated on her single "Work" and his "Too Good."
And their sultry shared performances at the 2016 Brit Awards and the Toronto stop of her Anti World Tour, paired with joint club outings, did little to quell rumblings that they were dating. 
Raymond Hall/GC Images, Pap Gossip / AKM-GSI
Which as it turns out, they absolutely were. "He still loves her and never stopped," an insider told E! News that June. "Rihanna is the one that's been not wanting to settle down in the past. They are having fun spending time with each other. Their music together got them close again."
From there eager to finally land his ideal person, Drake piled on the charm. Before presenting Rihanna with the MTV Video Vanguard Award that August, he surprised her with a congratulatory billboard. And if that wasn't enough, he laid it on thick during his speech. 
"We love the videos, which change their artistic vision from year to year," he said. "But most of all, we love the woman who hasn't changed since day one. She's someone...she's someone I've been in love with since I was 22 years old, she's one of my best friends in the world. All my adult life, I've looked up to her even though she's younger than me. She's a living, breathing legend in our industry."
At that point fans that had been just casually following their on-off history were full-on rooting for a wedding. How could she not fall hard for someone so clearly infatuated? 
Michael Loccisano/Getty Images
But timing is a tricky thing and by October 2016, sources told E! News the pair, while maybe still calling each other on their cell phones, were no longer exclusive.
And before you knew it, Drake had found a new music legend to worship. 
Once again, he threw out his best game. From the moment he turned up at two of Jennifer Lopez's Las Vegas performances in December 2016, Drake seemed willing to do whatever it took to become the next Mr. Jennifer Lopez. 
He gifted her a $100,000 Tiffany necklace and, even more sweetly, the prom she never had. "He has always had a crush on her growing up, so the fact that this is all coming to life is pretty cool for him," a source told E! News at the time. "He treats her like a queen and loves her work ethic and family values. This is the first girl besides Rihanna in a while that he is really into. Drake is looking for a relationship and something solid."
As it turned out, though, Lopez was just looking to have a little fun. In February 2017, sources told E! News the pair were "cooling off" and by March, the multihyphenate made it clear Drake had struck out when her romance with former baseball pro Alex Rodriguez went public. 
Of course, in hindsight, this is around the time Drake was spotted with Brussaux, so that could have played a factor as well. 
Either way, since then, Drake has laid relatively low, enjoying a rumored fling with Bella Hadid (that he seemed to reference in "Finesse", a song off his new album) and at least one date with NBC Sports reporter Rosalyn Gold-Onwude.
Jamie McCarthy/Getty Images for TNT
His most crucial relationship, though, remains with Brussaux. Though the pair got off to an undeniably rocky start, with the artist calling him a "deadbeat" father last November, Drake has been putting forth at least some effort to make amends. 
A source told E! News he's been financially supporting her and their son Adonis. And on "March 14", the song that outlines how their little god came to be, he talks about wanting to do better. 
"Hopefully by the time you hear this me and your mother will have come around/Instead of always cutting each other down," he raps, before adding, "Realize I got to think for two now, I gotta make it, I better make it/I promise if I'm not dead then I'm dedicated/This the first positive DNA we ever celebrated."
Here's hoping for a happy ending.