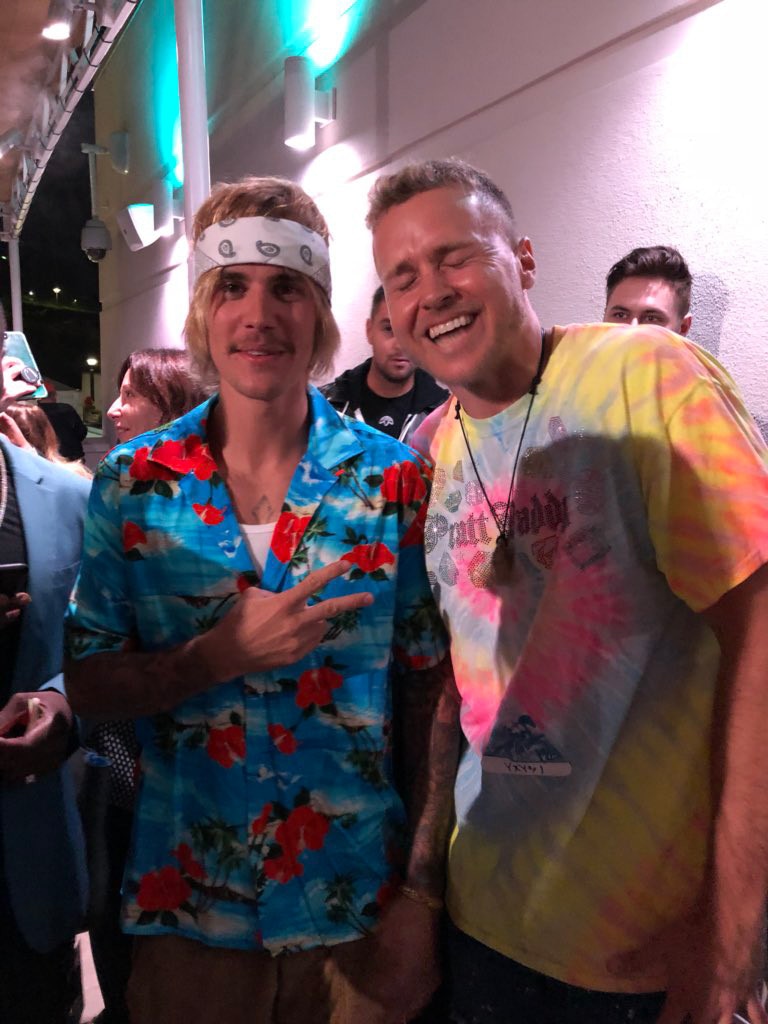 Twitter
They say a picture is worth a thousand words, but we only have one for this shot of Spencer Pratt and Justin Bieber—amazing. 
The reality star alum shared the photo with followers early Friday, revealing he had run into the pop star at Post Malone's concert Thursday night in Los Angeles. 
The pairing a stylishly unique one as Pratt was proudly sporting a tie-dye shirt embellished with "Pratt Daddy" on the front—a nickname for the star, who became a dad in October 2017 with longtime love Heidi Montag. As a very fitting accessory, the crystal aficionado also rocked one around his neck.
As for Biebs, the crooner was rocking his recent mustache and long blond hair held down by a bandana. He matched Pratt's vibrant shirt with a Hawaiian-style button down of his own. 
As Pratt explained to People, he was attending the show when he headed to the VIP section to meet with Malone. Instead, he ran into Bieber and he took advantage of the run-in to snap a picture. 
"I love his style. I think he looks fresh to death. To me, right now, that's the style," Pratt told the magazine. "There's definitely a lot of people in my comments who were like, 'What is this look?' Obviously we all love clean-cut Biebs but I love this style, I loved the shirt."
While Pratt was showing the "Sorry" singer love, Bieber didn't shy away from praising the performer of the night, whom he took the stage with during the show. 
"I'm so proud of you Post. I'm so proud of everything you're doing. I love you with all my heart," the singer told Malone in an emotional speech he gave onstage. "I'm rooting for him."