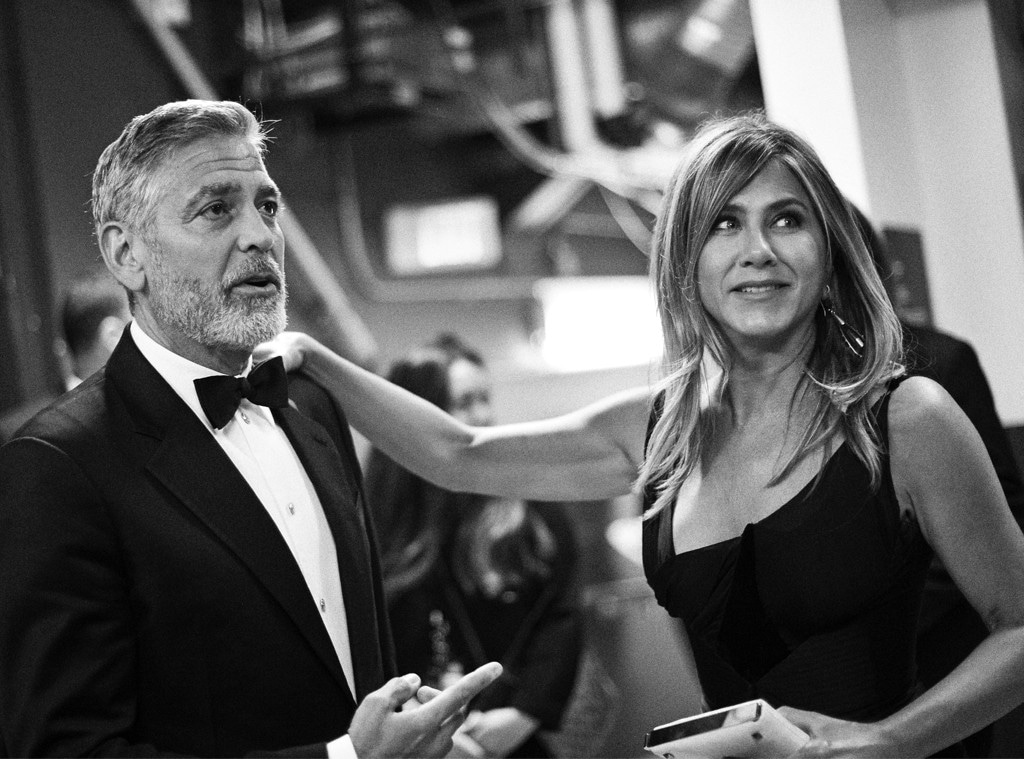 Charley Gallay/Getty Images for Turner
Rachel Green may have blown her shot with cute Dr. Michael Mitchell, but Jennifer Aniston found a friend for life.
NBC was hoping for a little synergistic magic in 1995 when they had the breakout stars of its still only year-and-a-half-old medical drama ER pop up on Friends, the little freshman sitcom that could. And that's what it got.
Aniston and Courteney Cox's Monica ended up on a double date with two hot doctors, played by George Clooney and Noah Wyle—but the ladies were posing as each other because Rachel had twisted her ankle and pretended to be Monica in the ER, because...well, Monica had health insurance. Shenanigans ensued and, suffice it to say, Drs. Michael and Jeffrey left thinking "Monica" and "Rachel" were crazy.
But Friends and ER would soon grow into the twin pillars of NBC's Must See TV lineup, and Aniston and Clooney's paths haven't stopped colliding since.
Clooney left ER in 1999 to focus on movies and the filmmaking process itself, having formed Maysfield Pictures with Robert Lawrence in 1997. Early on they were attached to a movie called Metal God, about an Ohio salesman who moonlights as a singer and ends up becoming a huge star. Brad Pitt was going to play the guy.
He ended up leaving the project, but Aniston, who married Pitt in 2000, stayed the course and ended up playing opposite Mark Wahlberg (as a Pittsburgh copy machine tech) in what turned out to be 2001's Rock Star, Clooney's first big-screen credit as a producer.
Pitt and Clooney obviously hit it off, though, and went on to star in four movies together, including the Ocean's trilogy.
LUCA BRUNO/AP/REX/Shutterstock
Brad and Jen looked cozy with George in the front row at an Armani show during Moda Uomo Men's Fashion Week in Milan in June 2001, Jen sandwiched between them in what just looked like simpler, pre-Twitter times—for them, for Hollywood, for the world.
And she was right there smiling on the red carpet with Pitt and his co-stars at the premiere of Ocean's Eleven in Los Angeles that December.
Ocean's producer Jerry Weintraub told People at the time that, back when they were shooting the movie that spring, he and Clooney and Julia Roberts had stopped by Brad's hotel room to pick him up for dinner one night, but the actor stayed in to watch Friends instead, calling it "a date with my wife."
During the eagerly followed real-life Roman holiday shoot of Ocean's Twelve in the summer of 2004, Aniston joined Pitt, Roberts, Matt Damon and others as guests at Clooney's Villa Oleandra in Lake Como during a break in filming. The merry band of revelers soaked up the sun on George's boat and otherwise appeared to be having a fabulous time.
By the time Ocean's Twelve came out that December, however, things were not looking good for Brad and Jen, and at the film's Tokyo premiere in January 2005, Pitt ducked reporters so he didn't have to answer questions about their recently announced separation.
But Clooney and Aniston didn't lose each other's numbers. 
Ethan Miller/Getty Images
Clooney and Steven Soderbergh's Section Eight Productions was behind Aniston's 2005 rom-com Rumor Has It... and in 2006, when Aniston attended the Oscars for the first time (not in relation to that movie), she and Clooney had an affectionate reunion on the red carpet.
The actors also continued to acquire mutual friends, including Jimmy Kimmel, John Krasinski and Howard Stern, and it didn't hurt that Clooney got along well with Justin Theroux once he became a fixture in Aniston's life. She and Theroux did some traveling with George and then-girlfriend Stacy Keibler in 2012, not letting the inevitable headlines about Clooney's enduring friendship with Pitt (whom he'd just been having drinks with the night before) deterring them from sharing a private jet on their way out of Switzerland.
Back in 2011, however, before Aniston and Theroux had taken their already rumored relationship public, it was suggested to Jen during an interview with the U.K. magazine Red that she and Clooney—once married but by then one of the most famous bachelors in the world—should join forces.
"That would definitely shut up the world!" she agreed with a laugh. "I could call up George, say, 'Hon, let's just get hitched and have kids.'...I should take George to lunch and we can figure out how to put an end to all this..." she motioned to indicate speculation and mass interest in their lives. "Ha! Well...no," she concluded.
Theroux and Aniston were Clooney's guests at a private dinner party the actor hosted in Cabo San Lucas, Jen's favorite vacation destination, shortly after Christmas 2013. They all then reunited in 2014 a few days later at a brunch at the El Dorado Beach Club for Clooney and Rande Gerber's Casamigos Tequila label, with Kimmel, Stern and other pals in attendance at the members- and special guests-only soiree, which included a tequila tasting.
It was 5 p.m. somewhere, after all.
More recently, Aniston familiarly poked fun at Clooney from afar when Ellen DeGeneres pressed her about the possibility for a Friends reunion, which fans just refuse to give up on. Instead of explaining why it wouldn't work for the umpteenth time, Jen said, "Anything is a possibility, Ellen. Anything! Right? I mean, George Clooney got married…That's like [proof] anything can happen."
(She and Theroux were reportedly invited to George and Amal Clooney's 2014 wedding in Italy that September, but ended up not joining Damon, Blunt, Krasinski, Bill Murray and others among the famous friends in attendance.)
After Aniston and Theroux confirmed in February, days after she was on Ellen, that they had split up, Clooney wound up front and center amid the rumors of a reconciliation between her and Pitt—with Clooney's rep ultimately having to issue a denial to reports he was trying to help those two get back together.
But Clooney and Aniston have managed to remain chums through it all, through hit shows and career highs and lows, through divorces and marriages, breakups and shake-ups. And there they were, happily greeting each other just a few weeks ago at the Dolby Theater in Hollywood.
"Lucky for you, George, we remained on the air on Thursday nights, pretty much paving the way for every success you've had since then," Aniston ribbed her pal of 23 years at the AFI Life Achievement Award tribute to Clooney held on June 7.
"Everyone else is here to thank you," Cox noted. To which Aniston added, "We're here to say two other words: you're welcome."