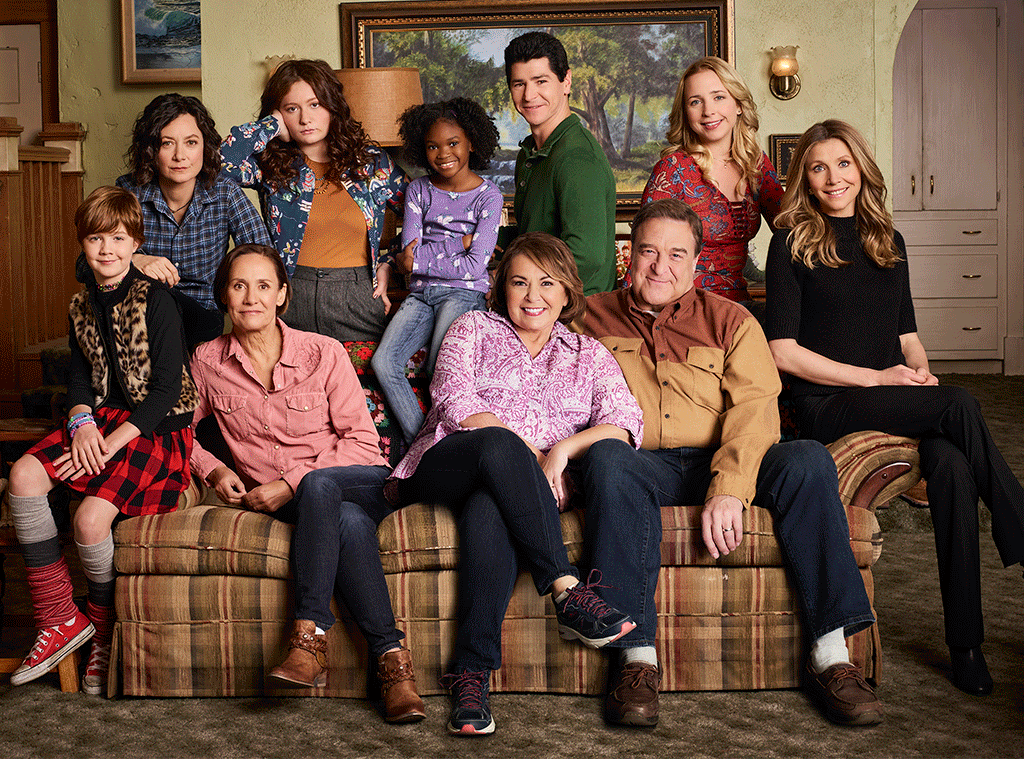 ABC/E! Illustration
It sure has been an interesting month over at ABC.
It's been almost 30 days exactly since the network went from having the biggest success story of the 2017-18 TV season with the revival of Roseanne to canceling said success story after controversial star and creator Roseanne Barr's questionable Twitter behavior finally crossed the racist point of no return to scrambling to find a way to keep some version of the show a part of its plans for the 2018-19 season that it just finished touting to advertisers during Upfronts week to announcing The Conners, the Roseanne-less version of Roseanne that'll air Tuesdays this fall in its place.
Phew.
A lot of ink has been spilled, both here and across the media landscape as a whole, on the why of it all. Barr's lengthy track record of using her Twitter feed as a bully pulpit (quite literally) to spread alt-right conspiracy theories and malignant messages aimed at several marginalized communities finally proved to be untenable to the network that stood to make a lot of money off her in the coming months on May 29 after a double whammy of offensive tweets in which she likened former President Obama adviser Valerie Jarrett to an ape and accused Holocaust survivor and left-leaning billionaire philanthropist George Soros and his family of having been Nazi collaborators and within hours, ABC Entertainment president Channing Dungey made the unprecedented decision to put decency before dollars and canceled the show. (Though, before you go hailing her as a hero, don't forget that she was also the one who made the decision to get back into business with the woman who'd already proven exactly what she'd become over the years via social media time and time again.) 
But what about the how? How exactly did the network go about excising Barr from the future of the network while keeping her co-stars, the writing staff, and the crew all in jobs on essentially the same show? It wasn't easy.
Immediately after the cancellation was announced, Roseanne's producers and writers—who'd returned to their offices to begin breaking stories for season two literally the day it was canceled—began crafting possible spinoffs to present the network with as means of keeping the show alive and everyone employed, as Deadline reported. Days later, on June 4, the creative team met with the network to begin conversations. ABC's eagerness made sense, as they not only stood to lose all that sweet, sweet advertising money, but also faced some hefty payouts to stars John Goodman, Sara Gilbert, and Laurie Metcalf, as well as a select few on the writing staff with clauses in their contracts that guaranteed pay regardless of what was actually produced. And that's not mentioning the goodwill they stood to lose if, in taking a stand against Barr's repulsive behavior, they merely shrugged their shoulders at the loss of income for the entire crew, who'd likely have a hard time finding work right away, as most shows had already completed staffing for the 2018-19 season.
It was clear that it was in everyone's best interests to keep the show alive in some way, shape or form. The only hitch? The small matter of what Barr stood to gain if the show lived on even in her absence. The network was on board with the vision forward presented to them by the show's creative team, but only as long as it could be guaranteed that Barr wouldn't have any financial interest. After all, what would be the point of removing her as form of protest if she still stood to make millions on the back end anyway?
With executive producer Tom Werner, he of the iconic Carsey-Werner production house responsible for classic shows like the original Roseanne, The Cosby Show, 3rd Rock From the Sun, and That '70s Show, determined to revive the show, he took on the surely complicated task of negotiating with Barr to come to terms that would satisfy everyone. After weeks of back and forth, an agreement was reached that allowed for Werner Entertainment to produce the spinoff, of which Barr agreed to have no involvement whatsoever, be it financial or creative. In return, Barr would be permitted to retain all rights to her Roseanne Conner character, any future spinoffs beyond The Conners, and any future reboots of the original, according to The Hollywood Reporter.
"I regret the circumstances that have caused me to be removed from Roseanne. I agreed to the settlement in order that 200 jobs of beloved cast and crew could be saved, and I wish the best for everyone involved," Barr said in a statement when the spinoff was announced. Werner added: "We are grateful to have reached this agreement to keep our team working as we continue to explore stories of the Conner family."
Per Deadline, the network then had just seven days to hammer out its deals with the rest of the cast and crew and pick up The Conners to series, which it did just one week ago. The amended version of the series will see Gilbert, Goodman, and Metcalf, along with Michael Fishman and Lecy Goransen, return to their roles for a 10-episode season that will see the family face the struggles of daily life in Lanford, Ill. like never before "after a sudden turn of events." (While Rosie's death seems the most obvious sudden turn of events, the fact that Barr retains the rights to the character has us wondering if that means she can't be killed off.)
"We have received a tremendous amount of support from fans of our show, and it's clear that these characters not only have a place in our hearts, but in the hearts and homes of our audience," the entire cast said in a joint statement when the pickup was announced. "We all came back last season because we wanted to tell stories about the challenges facing a working-class family today. We are so happy to have the opportunity to return with the cast and crew to continue to share those stories through love and laughter."
Will all this BTS scrambling pay off in the end? Is Roseanne without Roseanne a show people want, let alone need? It's noble that ABC doesn't want to screw an entire hard-working cast and crew out of their livelihoods simply because they had the misfortune of working for a bigot. But will the audience be there like it was this last season? Fan reaction to the new series is, well, let's just say mixed. Of course, the true test will come this fall. So, as they say, stay tuned.
The Conners will air Tuesdays at 8 p.m. this fall on ABC.