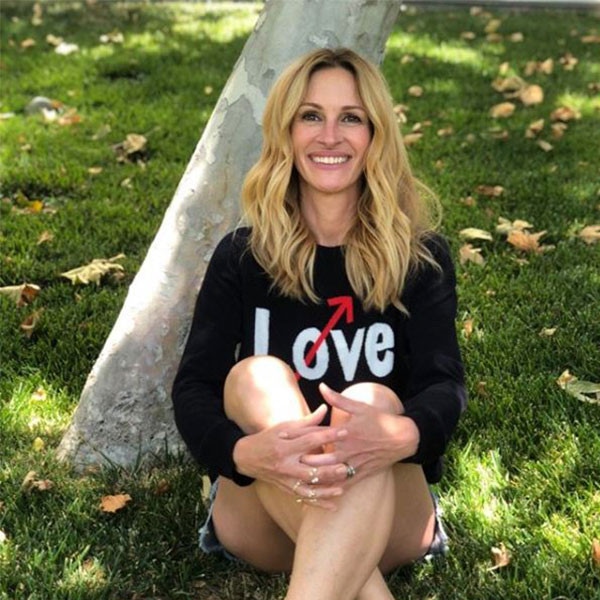 Instagram
We have a new pretty woman to follow on Instagram!
Julia Roberts joined the photo sharing app on Tuesday evening, sharing her very first post soon after.
The shot shows the star sitting in grass wearing a graphic sweater that says "Love." The outfit was complimented by denim shorts, wavy locks and of course her famous grin. She captioned the photo, "Hello."
The actress has accumulated more than 107,000 followers within 24 hours of joining the app. She currently does not follow anyone.
This is the first public account for the usually social media shy star, who is not a member of Twitter or Facebook.
And while the actress has not commented on why she decided to join the app, Julia has notoriously been private throughout her long career and tried to maintain this privacy even as she went on to star in some of the biggest films of the '90s and 2000s. 
The actress previously told InStyle magazine that she didn't have an Instagram because she prefers to unplug and spend time with her family after work.
The Eat, Pray, Love star is married to cameraman Daniel Moder, with whom she has three children, Hazel, Phinneas and Henry.
And while we'd love to see the actress share family moments, Julia will most likely use the platform to share updates about the charities she supports including UNICEF as well as her upcoming projects. She is slated to return to the big screen in the upcoming drama Ben is Back.
Make sure to follow Julia here!