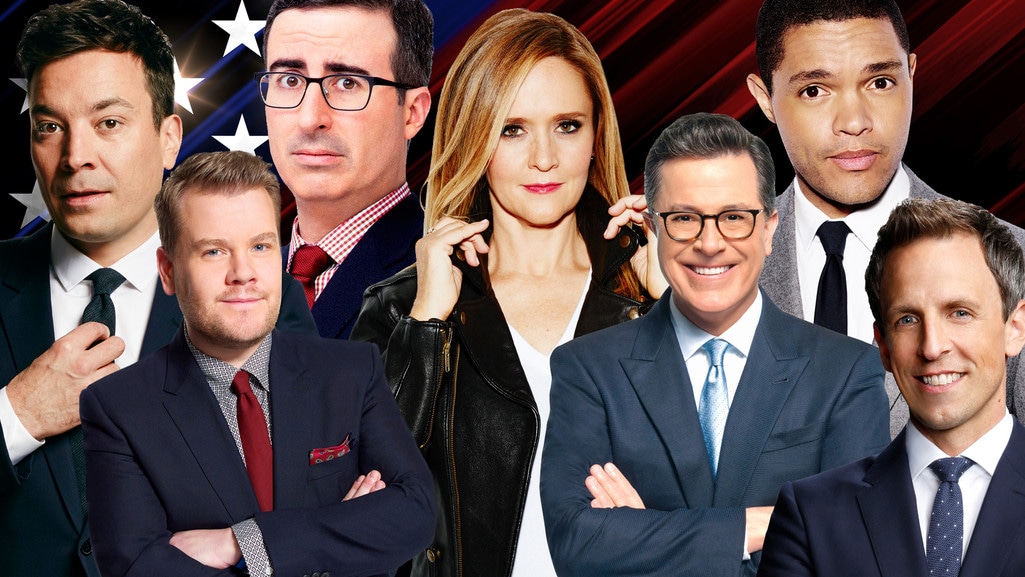 E! Illustration/Lindsay Scheinberg
It didn't used to be this way.
Once upon a time, you could turn on the TV while getting into bed after a long day and forget about the troubles of the world with some easy laughs courtesy of the late-night host of your choice before drifting off to sleep. Jay Leno had his headlines and, during the media circus that was the O.J. Simpson trial, the absurd Dancing Itos. David Letterman had his Stupid Pet Tricks and top 10 lists. Conan O'Brien had...well, you get the point. Late-night was a place for mindless silliness, easy punchlines, and some idle chatter with whatever celebrity had a film or album to promote that week.
What it decidedly wasn't, however, was a place for intense political discourse. That's not to say that politics were off limits. Late-night hosts have been poking fun at the president since Steve Allen began hosting The Tonight Show in 1954. But they largely kept out of  heated debates over policy. "I've got nothing to gain from it and everything to lose," Johnny Carson famously told Life Magazine in 1970 about his decision to keep politics out of his Tonight Show.
But as they say, that was then and this is now. How exactly did we get from those humble apolitical beginnings to the late-night of today, where hosts like Jimmy Kimmel, Stephen Colbert, Samantha Bee, and now even Jimmy Fallon are trading barbs with Donald Trump and members of Congress on what feels like a nightly basis? While it might seem obvious to point to the 2016 presidential election, a defining moment in American politics that seems to have created an irreparable schism among the body politic while reminding everyone that civic engagement is an absolute necessity, in truth, the politicization of late-night TV has been a long time coming. And it's origins can be traced back to one place: The Daily Show.
When Jon Stewart took over as host of Comedy Central's news program satire three years into its run in 1999, he transformed the show from the lark and the afterthought that it had been into a sharply pointed political machine, infusing the series with a passion and a point of view as it took politicians and the news media to task for their glaring hypocrisies and various failings. By the time the country found itself in a bit of a bit of a constitutional crisis (sound familiar?) with the contentious 2000 election recount, The Daily Show had found its footing, and the ensuing era of tragedy (the September 11 terrorist attacks) and calamity (the ramping up of both the Afghanistan and Iraq wars) positioned Stewart as a trusted national figure. And thus, a blueprint was born.
As viewers, especially young, civic-minded ones, tuned in in droves, making an admittedly fake news program into one of the nation's most trusted sources of information, it was clear to critics and fellow comics watching that there was a hunger for late-night comedy that didn't shy away from the decisions being made in Washington, D.C.—and the effects of those decisions on everyone across the country—but rather leaned in to it. With the world going mad at an ever-increasing rate, audiences wanted someone who would explain it to them without the performative objectivity of the evening news or the spin of the pundits on cable news. And Stewart was their guy.
By the time Stewart's tenure as the undisputed king of late-night came to an end in 2015 with his decision to leave The Daily Show and pass the baton to—surprisingly—recently hired correspondent Trevor Noah, his impact could be felt across the late night landscape. From the upstarts he'd groomed on The Daily Show, like Colbert and John Oliver (Full Frontal with Samantha Bee, fronted by another TDS alum, wouldn't debut on TBS until 2016) to Seth Meyers' politically-driven "A Closer Look" segments on NBC's Late Night to Jimmy Kimmel's increasing willingness to use his eponymous ABC series to speak from the heart and shed a few tears about matters of policy that he feels passionately about, it was as if Stewart had given permission to all of late-night to have something to say while also making us laugh.
Of course, it wasn't until President Trump, America's first reality TV president, that the politicization of late-night was truly unlocked and things were kicked into high gear. Between a litany of scandals, a revolving door of unbelievably colorful (to put it mildly) staffers, some unprecedented (and, at times, alarming) executive orders, and a federal investigation into his campaign, Trump has provided more fodder for these emboldened comedians than they likely know what to do with. And as the President, obsessed as he is with what those in Hollywood say about him, continues to pick fights with hosts on Twitter and at his rallies with regularity, prompting this week's rare instance of a unified front as Fallon, Colbert, and O'Brien joined forces during the cold opens of the Tuesday, June 26 episodes of both The Tonight Show and The Late Show, he all but ensures that this won't be ending any time soon.
Certainly, there are those who wish that late-night would return to the days of old, when things weren't so serious and there was room for dance troupe dressed as the judge from the nation's most notorious criminal trial to somehow feel like vital comedy, but the world is too different a place, and the idea of what late-night comedy can and should do too different along with it, to ever go back. Though as audiences continue to flock to those in the genre who are authentically and defiantly wading in the political waters, those looking wistfully back to the past may be in the minority after all. Luckily for them, they can just turn off the TV and go to bed while the rest of us stay up, rapt with laughter at a world gone mad.
(E! and NBC are both part of the NBC Universal family.)