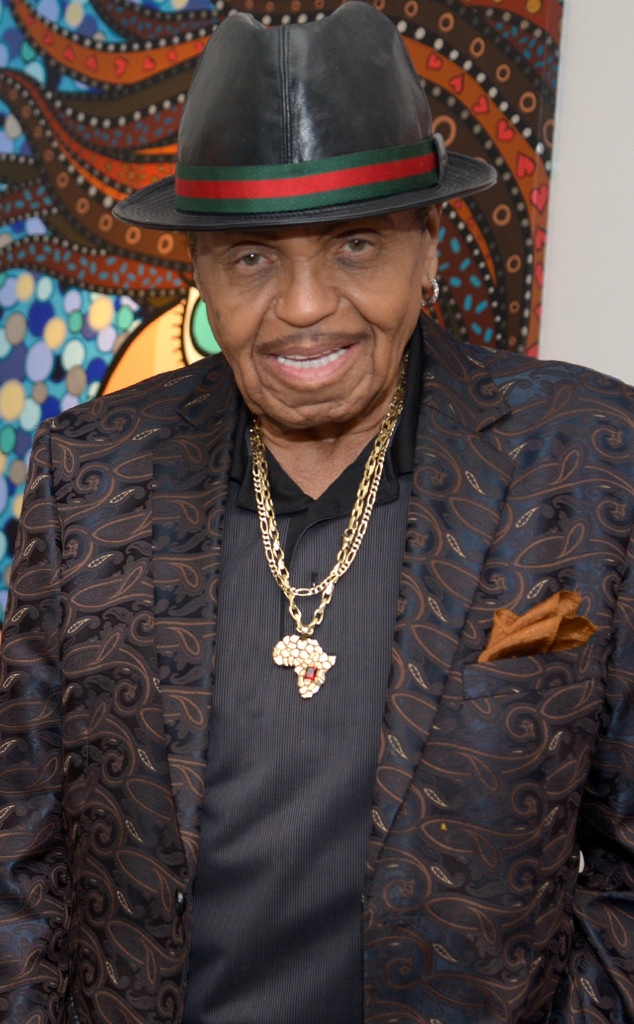 Manny Hernandez/Getty Images
Michael Jackson's father Joe Jackson has died.
The 89-year-old music mogul passed away early Wednesday while in hospice care in Las Vegas, the Clark County coroner confirmed to E! News. 
"We are reviewing the circumstances, but as of now there is no reason to believe anything other than a natural death," coroner John Fudenberg told E! News.
A source close to the Jackson family told E! News, "The family is together and they are grieving."
"We are deeply saddened by Mr. Jackson's passing and extend our heartfelt condolences to Mrs. Katherine Jackson and the family," John Branca and John McClain, co-executors of the Estate of Michael Jackson, said in a statement. "Joe was a strong man who acknowledged his own imperfections and heroically delivered his sons and daughters from the steel mills of Gary, Indiana to worldwide pop superstardom."
"Mr. Jackson's contributions to the history of music are enormous," their statement continued. "They were acknowledged by the Rock and Roll Hall of Fame in 2002 in a proclamation naming him as Best Entertainment Manager of All Time; he was inducted into Rhythm & Blues Hall of Fame in 2014 and his son Michael acknowledged him with a Joe Jackson Day at Neverland. We had developed a warm relationship with Joe in recent years and will miss him tremendously." 
Last week, reports emerged of the famed manager's terminal cancer battle, noting his wife, Katherine Jackson, and some of his famous children and grandchildren had flocked to his hospital bedside recently in light of his declining health. A source also told E! News that, despite false reports to the contrary, "Katherine is very well and in good health."
During his marriage to his wife of nearly 69 years, Joe became a father to 10 children between 1950 and 1966, including Rebbie Jackson, Jackie Jackson, Tito Jackson, Jermaine Jackson, La Toya Jackson, Marlon Jackson, Randy Jackson, Janet Jackson and Michael Jackson. Their son Brandon Jackson passed away shortly after his birth. 
Fotos International/Getty Images
While raising his family in Gary, Ind., he helped his sons Jackie, Tito, Jermaine, Marlon and Michael form the iconic group, The Jackson 5 (later including Randy) in the 1960s. By the end of the decade, the group had worked with Joe at the helm behind the scenes toward being signed by a label, which they achieved in 1968 with Motown Records under president Berry Gordy. With the release of their 1969 debut album, Diana Ross Presents The Jackson 5—which featured hits like "I Want You Back" and "Who's Loving You"—the group shot to international stardom and paved the way for years of hits, success and lasting cultural impact. 
In addition to his influence in his son's careers, he also helped launch Janet as a singer at 16 years old by working as her manager, helping to negotiate her first recording contract and overseeing her first album. "My father, my incredible father, drove me to be the best that I can," she recently said during a Radio Disney Music Awards acceptance speech. 
However, Jackson's professional accomplishments in the careers of his children were at times overshadowed by his personal life. He fathered a daughter, Joh'Vonnie Jackson, in 1974 during a decades-long affair with another woman. However, despite claims that Katherine had filed for divorce (ones she denied to Oprah Winfrey), she never legally split from her longtime husband. They had reportedly lived separately for years. 
Pool Photographer/Getty Images
Some of Joe's famous children also pulled back the curtain on their home life as kids, revealing that they had to call Joe by his first name and that he would run rehearsals with a belt in his hand. During a 1993 interview with Winfrey, Michael famously said his father beat him and frightened him as a child. "I love my father, but I don't know him," he told her at the time. Joe publicly denied claims he was abusive, although he admitted to disciplining his children physically.
"I whipped him [Michael] with a switch and a belt," Joe later recalled during a 2003 interview with the BBC. "I never beat him. You beat someone with a stick." Katherine also admitted in an interview with Winfrey in 2010 that Joe had "used a strap."
ARALDO DI CROLLALANZA/REX/Shutterstock
During a 2013 interview with Piers Morgan for CNN, Joe explained he "had to be like that way because during those times, it was hard" in the area where they lived. "This was Gary, Indiana, and I had to make sure they didn't get in any type of trouble and things of that sort."
"I'm glad I was tough," he added. "Because look what I came out with. I came out with some kids that everybody loves all over the world and they treated everybody right."
During his later years, Joe suffered some health problems, including a series of strokes. In 2015, he suffered one while in Brazil celebrating his 87th birthday. 
He is survived by Katherine, nine of his 11 children and multiple grandchildren, including Paris Jackson, Prince Jackson and Blanket Jackson. 
Our thoughts are with his loved ones during this difficult time. 
TMZ was first to report Jackson's death.