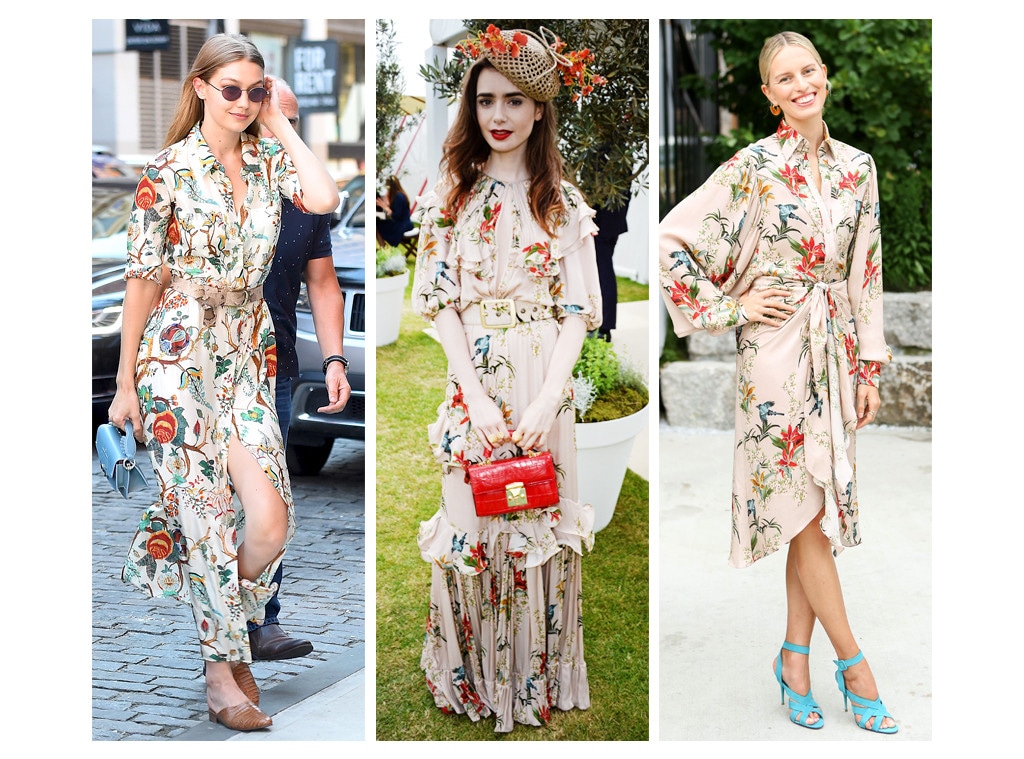 Splash News / Getty Images / Rex/Shutterstock
Crop tops? Check. Cutoffs? Check. Sandals? Double-check.
You've almost got all the summer wardrobe essentials you need. Now that we're in the full swing of the season, it's time to pay attention to the not-so-obvious trends celebrities are living in. Because it's one thing to dress for the weather, but it's another to stand out in a sea of bodysuits and breezy dresses. 
Behold! The unexpected summer trends that'll make you a style star. 
Audubon Prints: The sun is out, the grass is green and the birds are aplenty...especially on midi-length dresses. As displayed by Gigi Hadid, Lily Collins and Karolina Kurkova, these aren't just your average canaries—these are your large Audubon-like fowls. They blend a vintage sophistication with a touch of whimsy, making it the perfect print for your next brunch, picnic or outdoor movie date night.  
Terminator Sunglasses: Don't worry—the slim, angular sunnies your favorite It Girls love are still going strong. But this summer, veterans like Kate Moss, Victoria Beckham and Kim Kardashian West are proving that, sometimes, bigger is better. These oversize stunners are typically rectangular in shape and will cover a fair portion of your face...you know, in case you want to stay incognito. 
Chinoiserie-Esque Prints: If you're channeling your grandma's fine China, you're right on par with Olivia Wilde, Meghan Markle and Natalia Vodianova. It's a little matronly but with the right balance of edgy accessories, your look will feel priceless. 
Summertime Suiting: The summer pantsuit is here, and it is loud, proud and totally boss. Take a page out of Bella, Ciara and Evangeline's style books, and wear one to your next professional get-together. Extra points if you're brave enough to pair your iteration with dad sneakers like the model. 
Head-to-Toe Prints: Be it a jumpsuit or co-ordinate set, you'll stand apart from the pack if you're wearing full-on prints or patterns. There are so many ways you can work this trend: in a fun, vacay-bound print like Heidi Klum, in a more sultry, sheer look, like Evangeline Lilly, or in an international jet-setter ensemble, like actress Qin Hailu.
Preppy Polos: Is this the resurgence of Abercrombie & Fitch and American Eagle? Perhaps. Stars like Dakota Johnson, Mayowa Nichola and Bella Hadid show the classic trend can have edge with the right counterparts. To balance the unexpected wardrobe essential out, pair it with distressed denim or a colorful print. If you're trying trend, always opt for a cropped or tucked-in version. You don't want to look messy, after all. 
Would you try any of these trends?
Dad Shoes: Now that the chunky "ugly shoe" has been on-trend for a few seasons now, stars like Gigi and Bella Hadid and Rita Ora are finding new ways to elevate the look. Stay casual in biker shorts and an oversize tee, like the "For You" singer, or get inventive with a shorts suit.