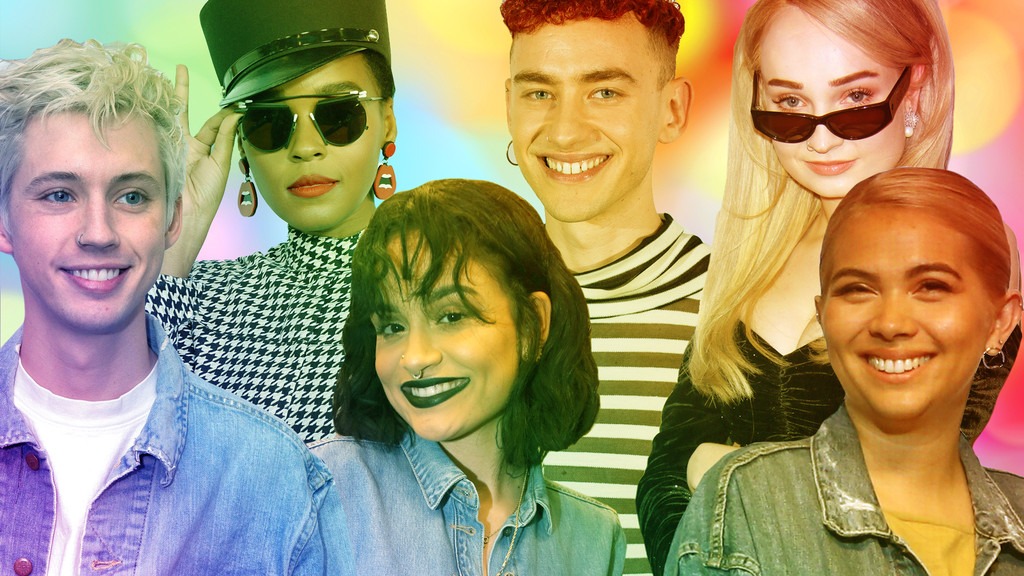 E! Illustration
Pop music and the LGBTQ community have always seemed to go hand-in-hand.
For some, music is our safe space as we come to terms with who we are. We lose ourselves in dark nightclubs, dancing our hearts out. We lose ourselves with a pair of earbuds in, entering a world of our own when the outside one is just a bit too treacherous to live as our truest selves. We worship at the altars of pop divas who help us find the courage to be ourselves. And for others, we just think the music is really fun.
But it's never been ours to make. At least, not really. Sure, there have been plenty of LGBTQ folks behind the scenes, writing and producing hits for years. But we've never really had the opportunity to worship at the pop altar of one of our own. Until now.
While the ranks of the openly queer musicians have been steadily swelling for the past few years—and there have, of course, been pioneers like Elton John, k.d. lang, Melissa Ethridge, Adam Lambert and more, paving the way—there's something about this moment in pop music right now that feels so exceptionally queer that Twitter has affectionately dubbed it #20GAYTEEN. Artists like Troye Sivan, Hayley Kiyoko, Kehlani and more are everywhere, headlining Pride festivals and gracing the covers of magazines. And they're doing it without much radio play, if any at all.
As the music industry has shifted away from record label-controlled "looks" and emphasis on radio towards this more democratic world of streaming services and YouTube, we're witnessing the first true boom of pop stars finally feeling emboldened enough to live as their authentic selves—and get celebrated for it. "A lot of things are coming together to create a landscape that allows artists to be who they are, and to find a fandom that doesn't depend on mainstream radio or the quote-unquote industry apparatus," Zeke Stokes, vice president of programs for GLAAD, told Wired earlier this summer. "Great music and great artists get a chance to shine regardless of how they identify."
For Sivan, a South African-born Australian who rose to fame on YouTube before leveraging his fan base on the website, along with his considerable talents, into global fame, that shine has included a guest appearance during Taylor Swift's Reputation tour, an invite to this year's Met Gala, and a feature on his latest single "Dance to This" from reigning princess of pop, Ariana Grande. "I feel like I am getting the most exciting opportunities that I've ever gotten right now, and I can feel that happening for other LGBTQ artists as well," he told Wired. "I think we still have a long way to go, but clearly the public is ready for it and excited by it."
If there's a face for this moment, at least on the men's side of things, it would be Sivan. And as he continued to build momentum leading into the Aug. 31 release of his second album, Bloom, there's no denying the boost he's receiving from the attention. But he's wise enough to recognize that being the poster boy for something isn't all it's cracked up to be.
"There was this tweet that went semi-viral about me," he explained to GQ. "This interviewer asked me how I thought about some of my fans seeing me as a gay icon. Right? And I answered, 'I actually only represent a very, very small amount of very, very lucky white middle-class gays who come from open-minded families.' I'm not trying to be that, and I don't think that there should be one person who is that for an entire community that's extremely diverse."
Rather than be all things to all people in a community where that's never going to be possible, Sivan's wisely pinning his hopes on being something to a single someone just when they need it most. "If one kid sees me on TV or sees me in a movie and relates, then I'm done. That's perfectly fine. That's enough for me," he told the publication. "I had no template, no idea, no representation. All I'm trying to do is be that for one person."
Then there's Bloom itself, a deeply personal collection of 10 songs that are unabashedly queer and sex-positive in a way very few male artists have ever been before. "With my first album I felt the need to educate people a little more. I wanted to hold the hand of someone who isn't queer and gently ease them into a queer love story that was super-PG," Sivan told Variety. "This time around, I wanted to write music for people like me—honest music. And real music."
And as for the ever-present label "gay artist" when he's discussed, Sivan says he's happy to wear it so long as we continue to work towards a day where it's no longer necessary. "I've always said that as long as people are still talking about it and doing stuff like that, it means that it's something that needs to be spoken about. There's hunger for that conversation. So I've always been totally fine to talk about and embrace that," he told Entertainment Weekly. "Am I excited for the day where [a headline is] just, 'Troye Sivan puts out a song?' Sure, yeah, that's exciting. As I'm excited for the day when a trans woman of color can walk down the street and not fear for her life, you know what I mean?
Visionhaus/Corbis via Getty Images
Thankfully, there are plenty of rising artists able to help shoulder Sivan's burden and take some of the pressure off. For the gay men, there's Olly Alexander (front man of the group Years & Years), MNEK, and Jesse Saint John, all of whom push back against the traditionally conservative pop landscape in their own ways. For MNEK, whose real name is Uzoechi Emenike and has written for the likes of Madonna and Beyonce, to name but a powerful few, while steadily building a solo career of his own, that push comes simply from the intersectional representation he offers . 
"I don't think there's been many chances for people to see a black, gay, pop experience and that's what I want to have with my shows moving forward," the artist told BBC's Newsbeat earlier this month.
Another music experience fans haven't had many chances to see is an openly lesbian pop star, but that all changed when Hayley Kiyoko came along. In fact, there'd been such a clear hunger for someone like the former CSI: Cyber star to enter the pop landscape that her fans have bestowed upon her the unsubtle title "Lesbian Jesus." With her major label debut Expectations, an album full of addictive, slick bops sung about women using she/her pronouns, and an upcoming spot opening for Panic! at the Disco as special guest of their arena tour, the Asian-American multi-hyphenate's star is on the rise. 
And despite what you might think about the pressures that come along with a moniker as monumental as "Lesbian Jesus," Kiyoko insists that she isn't focusing on the responsibility that's been thrust upon her just yet. "I've never felt pressure and responsibility only because I've always selfishly been focused on the art, and telling these stories about what I've experienced in my life. I think that it's exciting and inspiring that people are able to connect to these stories," she told fellow queer music icon and "What I Need" collaborator Kehlani (more on her in a second) in a recent interview for Fader. "To be able to share that with other people is such a beautiful thing. I never really had that community growing up. I really just want to continue to focus on the art. I think that's my responsibility and that's where the pressure is: constantly putting out good work and being truthful and honest with everyone."
Much like sexuality exists on a spectrum, the pop stars who've found themselves a part of the #20GAYTEEN phenomenon aren't strictly gay, either. From Halsey to Janelle Monae to the aforementioned Kehlani, artists have begun not only opening up about their bisexuality/pansexuality/non-conforming queerness, but are also allowing it to enrich their art. Take Monae, for example. While her music has always been Grammy-worthy and good for getting down to, the admission and celebration of her pansexual life on her 2018 album Dirty Computer saw the artist deliver her most personal, powerful, and, not for nothing, most successful material to date.
"I want young girls, young boys, nonbinary, gay, straight, queer people who are having a hard time dealing with their sexuality, dealing with feeling ostracized or bullied for just being their unique selves, to know that I see you," she told Rolling Stone in April. "This album is for you. Be proud."
Jerritt Clark/Getty Images for Remy Martin
And for Kehlani, the queer singer with the golden pipes who just headlined Pride festivals in both Los Angeles and San Francisco, her willingness to specify pronouns in her music and collaborate with fellow queer artists like Kiyoko on personal material has grown as her understanding of the need for queer visibility in art. "I didn't want to be like, 'Well, this is the gay artist,'" she told Paper magazine. "Now I'm like, 'I'll be the gay artist! I love it!' I stopped being scared of letting it define me, because it does define me. It is who I am. If you look up my name in a dictionary, it'll probably say Gay Ass next to it. I'm all for it."
She expanded on that thought during her conversation with Kiyoko for Fader, admitting that she's aware that this new phase in her career doesn't belong to just her. "Now I've seen how people reacted to my song 'Honey,' or when I've used the correct pronouns and put women in my music videos. Just seeing how much people felt like they needed that representation or how much it inspired them definitely encouraged me to step into this new phase of making music," she said. "I'm more aware that this isn't just my truth: it's something I can empower youth with, rather than just serve myself. It's definitely a new process that I'm excited to explore."
Chelsea Guglielmino/Getty Images
While pop music's rainbow revolution has been powered largely by artists refusing to hide or water down their sexuality, we mustn't forget that the T in LGBTQ represents our transgender brothers and sisters. And while the numbers of openly trans artists in pop music have been, for all intents and purposes, nonexistent, the arrival of Kim Petras has changed that.
The rising star, a 25-year-old German native, is widely considered to be the youngest person to ever undergo gender confirmation surgery, beginning hormone therapy at 12 and completing her transition at 16. However, in the past two years, as at least six of her seven singles have each racked up over a million streams, she's come to be considered a pop star first. And, if she had her way, only.
Despite the progress she represents in the industry, Petras has been open about her desire for people to move past the fact that she happens to be transgender. "I'm a proud transgender person, but I want to be known as a great artist. It's really frustrating when so many people think that because I'm transgender I can't be mainstream," she told Out in May. "And it's always, 'Talk about being transgender.' It's crazy because I'm not interested in a person's gender. I don't care. Are you genuine? Honest? Hardworking? But that's the way the world works."
While her career is quickly gaining steam, landing the opening act slot on Sivan's upcoming Bloom tour, it hasn't been without its hiccups. First, there was the hot water she found herself in back in March when she was quoted in a New York Times profile saying, "I don't care about being the first transgender teen idol at all." ("A few people thought that was bad, because it sounds like I don't care about transgender people," she explained to Out. "Actually, I care so much, and I want to be a good face for my community, but I've also worked so hard to put out music and live my dream.") And secondly, there's the fact that Dr. Luke has been shepherding her career. 
After an initial attempt to explain her reasoning behind working with the man at the center of several ugly allegations from Kesha didn't go over as intended and seemed to dismiss the serious accusations leveled against the producer, Petras released a statement at the beginning of the month on Twitter. "While I've been open and honest about my positive experience with Dr. Luke, that does not negate or dismiss the experience of others or suggest that multiple perspectives cannot exist at once," Petras wrote. "I didn't communicate this clearly in the past."
Despite Petras' disinclination to turn her art into activism (and setting aside the thorny matter of Dr. Luke, something she shouldn't exactly have to be held accountable for), her very presence on the scene is powerful in and of itself. Where once there were none, now there is one. And that progress can't be discounted or ignored.
The swelling ranks of LGBTQ musicians is undeniable, but now why now? What is it about this time that has effectively turned 2018 into 20GAYTEEN? Well, for one thing, a recent GLAAD poll has found that 20 percent of Millennials now identify as LGBTQ. And they want to seem themselves reflected in the art they consume, especially as loud voices both in politics and on Twitter seek to deem them inferior for simply loving who they love or living as the person they know themselves to be. And it's that support from consumers desperate for content from marginalized communities that has emboldened queer artists to live even more out and proud.
"Through my experiences, I hope people are seen and heard," Monae explained to Rolling Stone. "I may make some mistakes. I may have to learn on the go, but I'm open to this journey. I need to go through this. We need to go through this. Together."
"I don't feel like any one new queer artist has absolutely taken over the world. We don't have a queer Rihanna yet. We don't have a queer Beyoncé. It feels like we're all in it together and we're all constantly looking to each other for inspiration to keep going," Sivan told Vulture. "The current visibility that we have is from years of hard work from our elders in the community. When I see a Kevin Abstract music video, that's inspiring to me. When I see Ryan Beatty's new music video, that's inspiring to me. I hope we're all fueling each other to keep going in a time where none of this is being handed to us."
(This post was originally published on Wednesday, June 27, 2018 at 3:00 a.m. PST.)