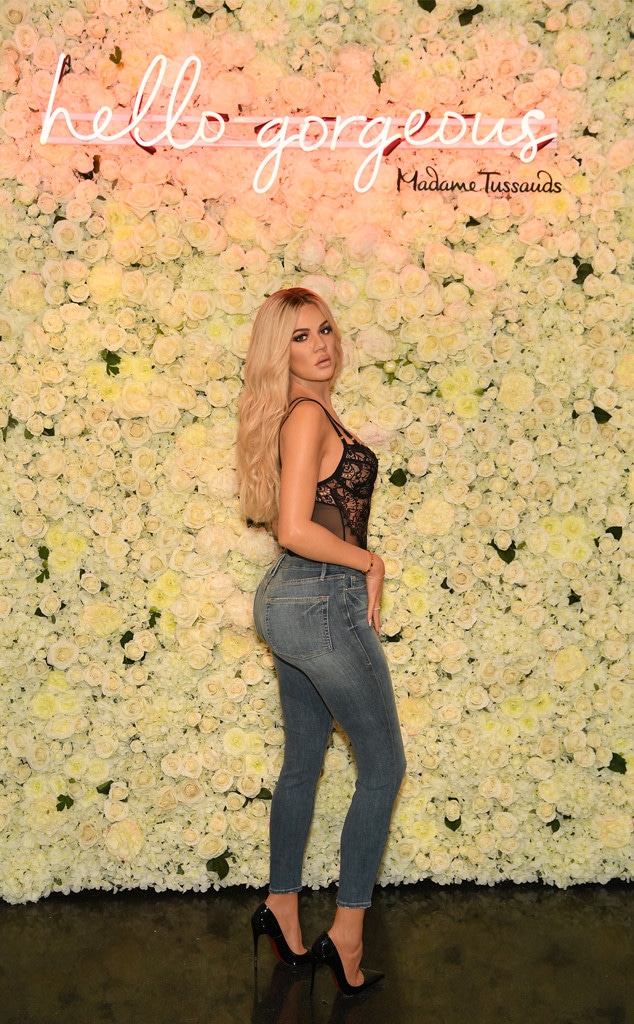 Denise Truscello
Well here's a way to get up close and personal with Khloe Kardashian.
Before the Keeping Up With the Kardashians star celebrates her 34th birthday Wednesday, the talented folks at Madame Tussauds Las Vegas decided to mark the event with a new wax figure.
Wearing her iconic Good American high-waisted jeans, a Gooseberry Intimates bodysuit and Christian Louboutin pumps, Khloe's wax figure provides a look many fans will immediately recognize.
As for the backdrop, fans will be able to pose with the star's figure amongst a pink and white floral wall.
While Khloe was unable to attend the grand reveal, a source tells E! News the proud new mom to True Thompson has been very involved in the creation of the figure since she was first approached more than a year ago.
We're told Khloe sat down and posed for measurements back in June 2017. In fact, she even selected and donated items to Madame Tussauds for her wax figure.
Finally, more than 250 measurements and photographs were taken for reference before the grand reveal.
For those hoping to see the figure, one will have to visit Madame Tussauds Las Vegas inside the Grand Canal Shoppes at The Veniamin and The Palazzo Las Vegas. Other celeb figures in attendance include Sandra Bullock, Lady Gaga and Mike Tyson.
As for how Khloe is planning to celebrate her birthday, details remain top-secret for now. One thing is certain: The new mom is loving her time with family in Southern California.
"Nothing like Cali weather! Evening walks with my munchkin are the best!" she wrote on Twitter earlier this week. "We are so blessed!"
—Reporting by Spencer Lubitz