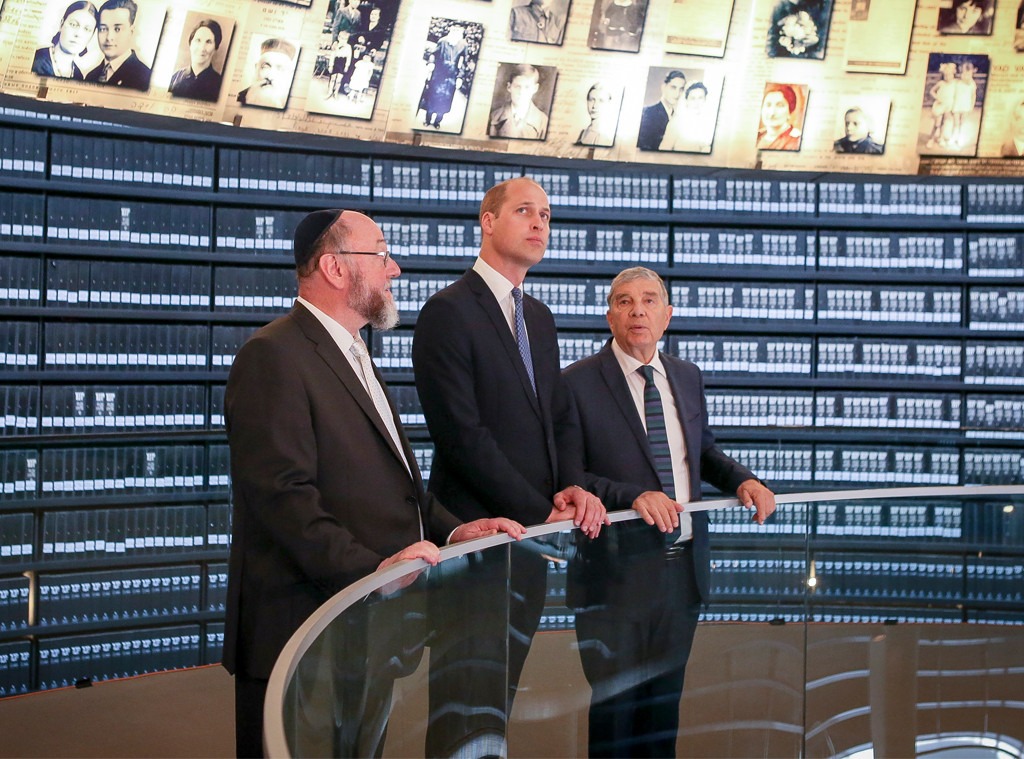 Ian Vogler - Pool/Getty Images
Prince William visited the Holocaust remembrance center Yad Vashem in Jerusalem on Tuesday as part of his royal tour of Jordan, Israel and the Occupied Palestinian Territories. 
The Duke of Cambridge started his day by touring Yad Vashem's Holocaust History Museum with chairman Avner Shalev. During the tour, the royal stopped to see the the Hall of Names, a memorial for the six million Jewish people who were killed in the Holocaust. 
Afterwards, he participated in a memorial ceremony in the Hall of Remembrance, where he paid tribute to the victims by laying a wreath. He also signed Yad Vashem's official guest book.
Ian Vogler - Pool/Getty Image
In addition, William met with Holocaust survivors Paul Minikes-Alexander and Henry Foner—two men who fled Nazi Germany when they were children as part of the Kindertransport.
He also met with descendants of Haimaki Cohen and Rachel Cohen, who were saved during the Holocaust by William's great-grandmother Princess Alice. According to Yad Vashem, Princess Alice offered shelter to the Cohens in her home.
Ian Vogler - Pool/Getty Images
William described the visit as a "profoundly moving experience."
"It is almost impossible to comprehend this appalling event in history.  Every name, photograph and memory recorded here is a tragic reminder of the unimaginable human cost of the Holocaust and of the immense loss suffered by the Jewish people," he stated. "The story of the Holocaust is one of darkness and despair, questioning humanity itself.  But the actions of those few, who took great risks to help others, are a reminder of the human capacity for love and hope. I am honored that my own great grandmother is one of these Righteous Among the Nations."
He then added, "We must never forget the Holocaust—the murder of six million men, women and children, simply because they were Jewish. We all have a responsibility to remember and to teach future generations about the horrors of the past so that they can never reoccur.  May the millions of Jewish people remembered by Yad Vashem never be forgotten. "
William's trip to Israel is a historic one as it marks the first official visit by a senior member of the royal family.