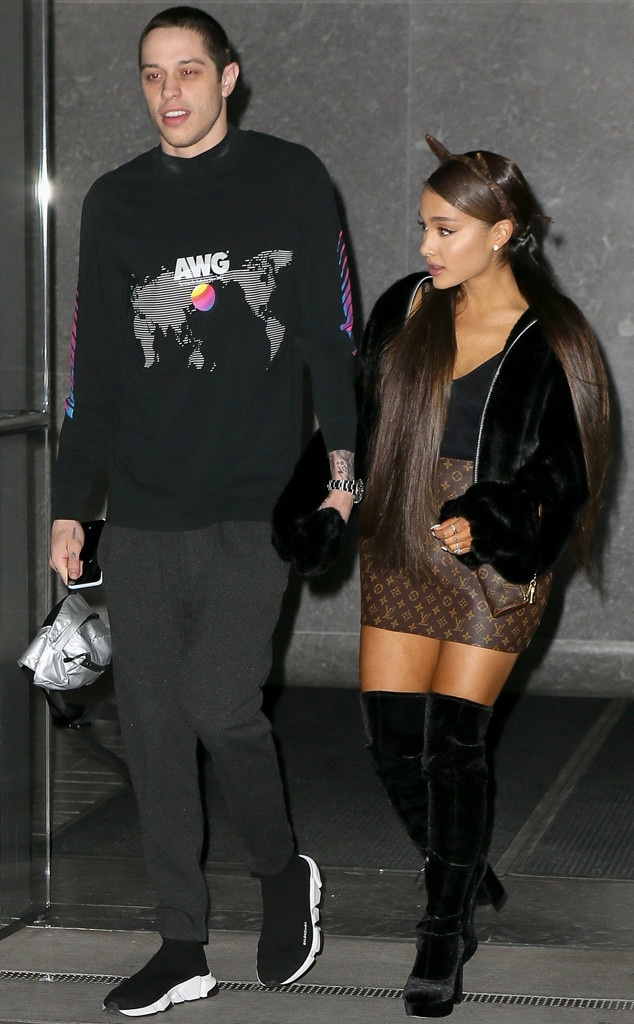 BACKGRID
No need to add any sweetener to this soirée—it looks like Ariana Grande's 25th birthday celebration was her sweetest yet. 
Hours ahead of her special day on Tuesday, the star stepped out Monday night on the arm of her comedian fiancé Pete Davidson for a night of festivities with her loved ones. 
Donning a Louis Vuitton-themed ensemble with a coordinating skirt, purse and kitten ears paired with knee-high boots, the songstress and her beau headed to the Mandarin Oriental in New York City for a celebratory dinner. According to a source, the couple was joined by a bunch of friends as they made their way to the hotel. 
"She looked really happy," the source described. "[Ariana and Pete] held hands as they got into the car." 
Once inside and surrounded by her guests, including older brother Frankie Grande, Grande blew out the candle on a birthday cake designed with a baby photo of the star and accompanied by Ariana-themed cupcakes.  
Fans also claimed to spot Grande and Davidson's moms, Joan Grande and Amy Davidson, sitting next to each other at dinner. 
There was no shortage of love for the star once her special day officially arrived. Early Tuesday morning, Davidson penned a sweet tribute to his bride-to-be. "Happy birthday to the most precious angel on earth! you're my favorite person that ever existed :) i love you sm," he captioned a shot of himself carrying the songstress on his back. 
"One more for the queen," he wrote with another photo of the two embracing. "Words can't express what a real f--king treasure this one is."
Her famous sibling also celebrated the special day by revisiting one special moment 25 years ago. "I was with my Nonna and Grandpa in their Florida apartment when we got the news that my mother was in labor and that soon she would be giving birth to my little sister," Frankie recalled on social media. "I remember sitting in the back seat with nonna while grandpa drove us to the hospital...I was filled with excitement and anticipation to welcome our newest addition to the family. We pulled up and I recall jumping out before my grandparents and sprinting into the hospital. I ran up to a nurse and said, 'I would like to see my little sister, her name is Ariana,' and the nurse replied, 'She just came in,' and there, being rolled past me at that very moment as if by fate, was my beautiful little sister."
"I remember seeing her for the first time and promising that I would love her every day for the rest of my life. It has been 25 years to the day and that promise has held true," he concluded.  "Ariana, you are my best friend, biggest supporter, and greatest little sister a big brother could ever ask for. Thank you for being you & happy happy birthday. Can't wait for the next 25 years and many many more..."
Dinner guests also took a moment to write the birthday girl a note in a book. "I am sobbing my eyes out right now," she later wrote on social media. "I love you so much and don't know what I'd do without you. This is the best gift I've ever been given ever. I love you so much. omg."
While she got to blow out the candle on her cake, it doesn't sound like the star has many wishes left unfulfilled this year.  "I have no wish," she wrote on Monday at 11:11 along with a photo of Davidson as her phone background. "I have everything I ever wanted."
Happy Birthday, Ariana!