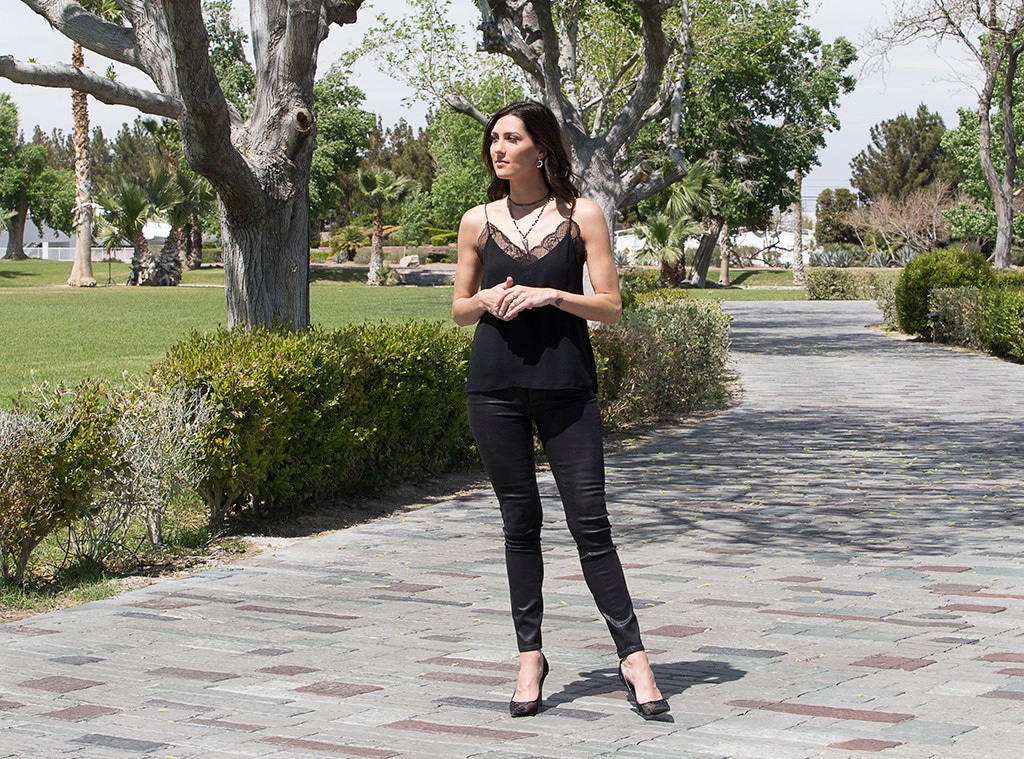 ABC
Ah Las Vegas, the perfect place to...roll the dice on love? 
The Bachelorette took a little trip to Sin City mostly to make a whole bunch of gambling puns and also ride camels. There was also some classic canoodling in a hot tub in the middle of the desert, a two-on-one we'll get to in a bit, and one of the worst dates in the history of this show at least in terms of general embarrassment. 
On a giant group date, Wayne Newton arrived to trend on Twitter for a bit and teach the men how to sing the tune of "Danke Schoen" into a woman's face, then had them write their own lyrics to the song to then sing to Becca on stage in front of other humans. It was an absolute nightmare that mortified us to our core, and to be honest, we fast forwarded through most of it. (We also fast forwarded through most of the hot tub canoodling with Colton. We don't have time for this!) 
After we died that small death, we then watched Becca make out with Bad Instagrammer Garrett while Eddie from Friends spiraled out of control, as if someone had killed his fish or something. If he didn't get a rose then, he was never gonna get a rose. How could Blake get the rose over him? He might as well go home!
Speaking of meltdowns, it was time to head to the desert for that inevitable two-on-one date, which classically finds two contestants fighting it out near a bed in some kind of beautiful but desolate landscape, where one of them gets left behind. 
Tonight's contenders were Male Model Jordan and David the Chicken. David the Chicken has hated Male Model Jordan since the beginning and can only talk about how much he hates Male Model Jordan. Male Model Jordan has been too involved in himself to care much about David the Chicken, so it's a hate-hate relationship, but it's a bit tilted in one direction. 
The only thing we know about David is that he hates Jordan and his golden underpants, and that's simply not enough to root for him. We know a lot about Jordan at this point, and weirdly the golden underpants are the least annoying thing about him. We can laugh at a pair of golden underpants every once in a while! And we even started to momentarily feel for Jordan when he opened up about his parents, which is much more than David has opened up about. We got to the point where if Becca was going to send one guy home, we were rooting for it to be the Chicken. Just for like, a second. 
And apparently Becca felt the same, because she left David in the Valley of Fire and drove off with Jordan for dinner. He was extremely himself, but he also did ask Becca actual questions like "what do you do with your free time?," and she asked him actual questions like "How accurate is Zoolander?" Suddenly, it became clear that Becca kept this dude for one hell of an entertaining dinner and girl, we get it. 100%. (Imagine how boring the dinner with David would have been!)
After Becca had been thoroughly entertained and had gotten him to do his Blue Steel, she dropped the truth on Jordan: their relationship was not a thing, and he had to go home, which he did. And honestly, everything happened exactly as it should have. 
At the cocktail party, Becca confronted Eddie from Friends about how she didn't kill his fish and he didn't seem interested in taking initiative with her, but he did seem totally interested in talking about how Becca didn't seem to be interested in him. It got to the point where Eddie from Friends was not worth keeping, especially when he rudely interrupted Becca's conversation with Wills about how she's still cool even though she's a nerd, but she's a dorky nerd, and they just sat down like two minutes ago, Eddie from Friends. 
Wills agreed to let Eddie (Chris?) talk to Becca for two minutes, so after two minutes of Eddie's sputtering apology, he came back. Eddie refused to leave because his time was so serious and important and what about his fish, man? If we were Becca, we would have just slipped away while they were arguing. But we would have also done what Becca actually did, which is immediately snuggle up to Wills when Eddie finally left and jump right back into the convo about being nerds. 
Eddie went back to the other guys and just really bitched and moaned about his "fustrating" struggles, which were entirely caused by his own self and his mental breakdown over the fact that his fish was gone and yes, he's on a show with other guys, and eventually Becca had another convo with him that also went nowhere. And yet...Eddie got the rose, and Lumberjack John got the boot. 
Next week, the whole gang heads to the place known for lovers, which is obviously Richmond, Virginia! Woo! Toast to Richmond, Virginia! 
The Bachelorette airs Mondays at 8 p.m. on ABC.