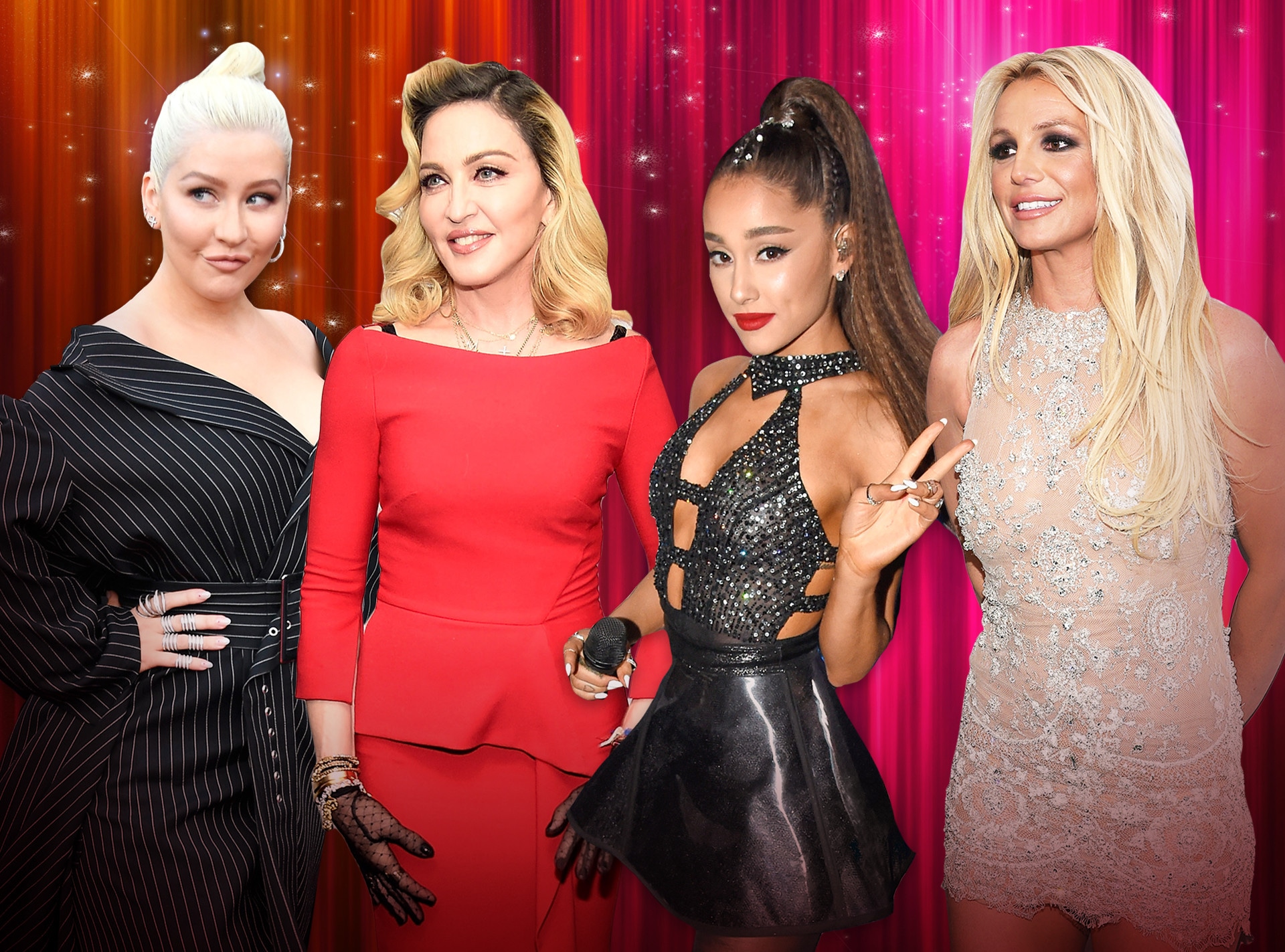 Getty Images/E! Illustration
It's a diva off!
Grab your glitter microphone and favorite album because it's time to vote for your favorite pop diva of all time.
Over the years there have been a lot of amazing pop singers that have taken over the airwaves and earned the title of "Pop Diva," but if you had to choose, like really choose, who would be the best of all time? 
We know it's a tough question—a really, really tough one—but when it comes down to it there can only be one ultimate pop diva. Now the question is, who do you think it should be? 
Before you cast your vote and decide once and for all who the queen of pop is, hear us out on why some of our favorite female singers should be at the top of your list!
We've narrowed this incredibly talented field down to 32 women and although that sounds like a lot there were so many more to choose from that didn't make the cut. 
Beginning today, and ending in a few weeks, there will be numerous rounds of voting to see who the ultimate pop diva is and we have a few ideas on who should earn your initial vote. 
To kick things off we're showing a little love to Christina Aguilera! The "Beautiful" singer has one of the most incredible voices that has ever come out of a human being. She hooked us with "Genie in a Bottle" back in 1999 and eight records later we are still craving new tracks from the former Voice coach.
Another strong contender is the Queen of Pop herself, Madonna! Seriously, how can you have a pop diva face-off without including the woman who gave us "Like a Virgin," Vogue" and "Like a Prayer?" It's not possible.
Aguilera's No. 1 competitor in the '90s, Britney Spears, is obviously up at the top of our favorite divas' list as well. She is known as the Princess of Pop, has had decades worth of hits and she even rocks Las Vegas on a regular basis with her residency show.
Plus, in case you forgot, she's Britney, b**ch!
While these top three are pretty spectacular you can't rule out the younger stars in this genre.
One of the best is definitely Ariana Grande who started out as a Nickelodeon star but quickly earned her stripes in the music industry by proving she has pipes to rival any pop diva that has come before her including Selena Gomez and even Mariah Carey.
Grande, Gomez and Carey could be in a for some stiff competition with the likes of Lorde AKA New Zealand's musical maven and Fifth Harmony alum Camila Cabello demanding our attention on a regular basis these days.
Katy Perry and her unique twist on all-things music, as well as Lady Gaga, who brings it every time she steps on stage, are also favorites of ours. Not to mention Beyoncé AKA Queen Bey who kills it no matter what song she releases.
Plus, who could forget Adele? She is easily one of Britain's greatest voices and she gives all of our American contenders a run for their money. 
If you like to think outside the box with your pop music then perhaps Jennifer Lopez, who has the added Latin flare to her tunes, or Nicki Minaj are more your style. What about Kesha or Halsey? Seriously, there are so many good choices!
No matter which of these divas is your favorite we can all agree that they have killer voices and slay on stage time and time again.
That being said, only one lady will come out on top and we need your help to figure out who it'll be.
Vote for the artist who you think should be named the ultimate pop diva below and tune back in over the next few weeks to see if your pick has made it to the next round. 
The winner will be revealed on July 25, so mark your calendar!
Ultimate Pop Diva Tournament: Round 1