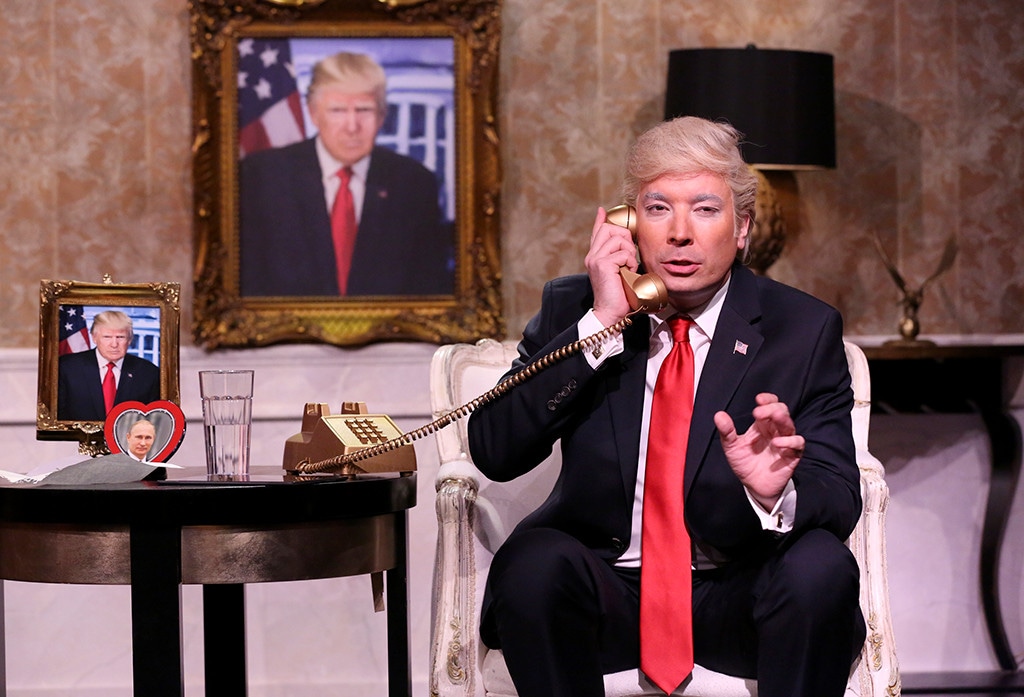 Andrew Lipovsky/NBC
Maybe it was only a matter of time.
Almost all of the most prominent late-night hosts working today have attracted President Donald Trump's ire, from Stephen Colbert to Jimmy Kimmel to, most recently, Samantha Bee, whose weekly TBS series was the target of a cancellation request from the White House after she called Ivanka Trump a vulgar word.
All of the above, of course, regularly cover politics (and Full Frontal With Samantha Bee is, simply, about current events), and Colbert's lead in the late-night TV ratings has been attributed to his relentlessly unsparing take on the president and his policies, et al. In fact, after nudging ahead of the usually dominant Tonight Show With Jimmy Fallon early last year, The Late Show With Stephen Colbert had widened the gap by over a million viewers this past April.
But whether it translates into ratings or not, and it just might, the late-night Trump awareness club has welcomed a new, albeit reluctant, member.
"@jimmyfallon is now whimpering to all that he did the famous 'hair show' with me (where he seriously messed up my hair), & that he would have now done it differently because it is said to have "humanized" me-he is taking heat. He called & said 'monster ratings.' Be a man Jimmy!" President Trump tweeted Sunday after Fallon apologized again for his now infamous lighthearted 2016 interview with then-candidate Trump, during which the host ruffled the real estate tycoon's inexplicable coiffure.
Aside from the usual monologue jokes, which every late-night host would do anyway no matter who the president was, and his Trump impression, which he's trotted out less as the chasm between those who support Trump and those who don't has widened, Jimmy Fallon has done his best to stay out of the heavier topics that some of his peers—including network mate Seth Meyers—have taken on with relish.
"It's just not what I do," the 43-year-old funnyman told Sunday Today's Willie Geist in October. "I think it'd be weird for me to start doing it now. I don't really even, you know, care that much about politics, gotta be honest. I love pop culture more than I love politics. I'm just not that brain, you know."
Of course, neither was Kimmel, really, but over the past year he may have surpassed Colbert as one of this presidential administration's fiercest critics—or at least he has in the eyes of the conservative media that loves to tell Kimmel to stay in his lane, to no avail. Though never a big fan of Trump before, Kimmel's prominent entrée into the conversation began on a personal note last year when his infant son Billy needed emergency heart surgery and he gave an impassioned plea for universal health care (or at least insurance for everybody) on Jimmy Kimmel Live, much to the ire of Trump supporters. He also has made (often quite hilarious) arguments for gun control and DACA, and he has blasted the administration for its policy of separating children from their parents at the border.
A back-and-forth on Twitter with Sean Hannity, who bashed Kimmel for making fun of first lady Melania Trump (Hannity presumably having forgotten the sort of things he said about Michelle Obama during Barack Obama's time in the White House), resulted in Kimmel apologizing—not to Hannity, really, but to anyone he might have offended with a sexual innuendo pertaining to Trump and the Fox News host.
Over the past year, though, Kimmel has joined Colbert has a hero, an important voice and righteous fighter for the cause, among progressives.
Asked if he felt the pressure to "go political," Fallon told Geist, "No, I mean I think the other guys are doing it very well. Colbert's doing great—I mean, that's what he's good at. He's great, he's always into political comedy...When it's organic, I'll dip into it as well. But I've always made jokes about the president. We've only had Obama [on the show while president], but I made thousands of jokes. I remember having him on the show, I'm like, 'sorry, that's my job. I have to do what I have to do, you know?'
"With Trump, it's just like every day's a new thing. He gives a lot of material. A lot of stuff is hard to even make a joke about, it's just too serious."
Roseanne Barr was on The Tonight Show just last month, before she torpedoed the Roseanne reboot with one tweet, and Fallon did note the fact that not everyone was happy about the success of her show because she supported Trump.
"Yeah, people are mad about that, but you know, I don't give a f--k," Barr said, to much applause. "Yeah," Fallon acknowledged, "is that how you deal with it?" "Well, everybody had to choose for themselves, according to their own conscience who they thought was the lesser of two evils...I'm not gonna put anybody down who didn't vote like me. This is America, it's a free country, and when you weigh it all together, I just felt like we needed a whole new thing, all the way, bottom to top."
"Yeah, and you did, you changed it up. But you're now doing stand-up again, right?"
So that was that. For a more probative quiz about some of Barr's more questionable tweets, etc., check out her Kimmel appearance. 
That was enough, however, for Fallon.
Andrew Lipovsky/NBC/NBCU Photo Bank via Getty Images
It's not as if Fallon avoids hot-button political topics altogether—he has lamented school shootings and he spoke out against the white supremacist marchers in Charlottesville, Va., last August.
He's a human being, after all. But he took enough of a side, apparently, to turn off some people who were apparently suffering through his Trump jokes in the monologue in order to get to the "Ew" sketches and "Box of Lies," and then decided he had become too political for their taste.
But the specter of that one Trump interview has haunted him, partly because he takes negative feedback to heart and because it's been really hard for critics of that moment to let it go. (To be fair, Colbert's 2015 interview with Trump the candidate wasn't exactly a rake over the coals, either, though that occurred before he was the official GOP nominee and before a lot of stuff had transpired.)
"They have a right to be mad," Fallon told The New York Times in May 2017 about those who felt he had enabled Trump in some way, in that moment, by joking around with him. "If I let anyone down, it hurt my feelings that they didn't like it. I got it."
He wasn't trying to make Trump look good, he insisted, but rather thought he was playfully mocking him.
"I didn't do it to humanize him. I almost did it to minimize him," he explained. I didn't think that would be a compliment."
Again, he stressed, "I don't want to be bullied into not being me, and not doing what I think is funny. Just because some people bash me on Twitter, it's not going to change my humor or my show."
Vulture reported in April that, despite losing his lead in overall viewership to Colbert, Fallon was still tops with the industry-coveted demo of 18-49-year-olds; however, even those numbers were down 13 percent from the prior year.
"I've definitely gotten more gray hairs. I've gotten older," Fallon said in a recent interview on Vulture's Good One podcast, acknowledging that it's been impossible to ignore politics while also staying true to himself.
"It's interesting because all we had was the Obama administration from Late Night into the Tonight Show, so that's all we really knew," he said. "So I knew the show was going to change and evolve with those different presidents. But it's good, it's tricky, but it's good to keep moving and thinking of new ideas and how we can deal with this. I've done a bunch of impressions of him, either on the phone with Putin...[Or] we've actually had more correspondents this year."
To respond to the Trump administration's attacks on transgender rights, The Tonight Show added Patti Harrison, who is transgender, to the rotation of comedian correspondents. "We live in a great city," Fallon said, "where there's so much talent here it's great to get another point of view and that could be our way of dealing with that."
James Corden, who regularly roasts Trump on The Late Late Show but doesn't do many purely political takes like his direct time-slot competition Seth Meyers, talked on The Howard Stern Show recently about the struggle to tackle Trump's attempt to ban transgender people from our military in a way that felt organic to him.
The Broadway veteran and past Tonys host  did a song-and-dance routine to the tune of Nat King Cole's "L-O-V-E" called "L-G-B-T" that left no doubt to his opinion on the topic.
Basically, what everyone in late night (and beyond) has learned is that there's no way to avoid politics, now that every other day something happens that inevitably runs up against a large segment of the population's personal values.
And increasingly, those with a voice tend to feel remiss for not getting involved.
In March, Fallon was among the celebrities at the March for Our Lives in Washington, D.C., appearing alongside survivors of the mass shooting at Marjory Stoneman Douglas High School in Parkland, Fla., and like-minded gun control supporters. The list of A-listers involved was long, from Oprah Winfrey and George Clooney to Kim Kardashian and Kanye West (with daughter North in tow). Miley Cyrus, Jennifer Hudson, Ariana Grande and Demi Lovato all performed in D.C., and Paul McCartney was among the marchers in New York. 
Fallon's wife, Nancy, and daughters Winnie and Frances were along for the ride—and the family also sponsored one of the buses that transported young people to the protest. The comedian further lent his support by giving the commencement speech at Marjory Stoneman Douglas' graduation ceremony in June.
So Jimmy Fallon has drawn some lines in the sand.
But it wasn't until this week that he joined the ever-expanding club of celebrities whom Trump felt compelled to call out on Twitter.
On the June 19 episode of The Hollywood Reporter's Awards Chatter podcast, Fallon again expressed remorse for mussing Trump's hair, telling host Scott Feinberg, "I did not do it to 'normalize' him or to say I believe in his political beliefs or any of that stuff." 
Marveling over the intensity and longevity of the backlash, Fallon said, "It was definitely a down time. And it's tough for morale. There's 300 people that work here, and so when people are talking that bad about you and ganging up on you, in a really gang-mentality...you go, 'All right, we get it. I heard you. You made me feel bad. So now what? Are you happy? I'm depressed. Do you want to push me more? What do you want me to do? You want me to kill myself? What would make you happy?' Get over it." The host again apologized for his exchange with Trump, saying, "I don't want to make anyone angry; I never do and I never will. It's all in the fun of the show. I made a mistake."
"I'm sorry if I made anyone mad," he concluded. "And, looking back, I would do it differently."
Well, that caught the attention of Trump this weekend, with the commander in chief taking a break from juggling crises to remind Jimmy to "be a man."
And in return, Fallon volleyed back, "In honor of the President's tweet I'll be making a donation to RAICES in his name."
RAICES being the Refugee and Immigrant Center for Education and Legal Services, a nonprofit that provides aid to immigrants and refugees to defray legal costs and inform them of their options and rights, the ongoing crisis regarding the treatment of people detained at the border seeking asylum or otherwise trying to get into the U.S. being only the latest but one of the most testily debated issues of Trump's tenure so far.
Fallon tried, but ultimately failed at his lofty goal to stay out of politics. Just when he thought he was out, they sucked him back in. 
Not that The Tonight Show is in for a makeover. We're not expecting any closer looks or take-downs of senators from other states. It will remain the destination for those most wanting to forget the issues of the day, for at least the majority of a late-night hour. It's not even a given that Jimmy will address Trump's comment on his show, the way Colbert and Kimmel most definitely would, and have, with past slights.
"I don't support his politics but I don't make that part of my show," Fallon told Feinberg. "It's The Tonight Show, it should be for everybody. So...I will make fun of the president, which I did with Obama. That's all I lived through, all I had was Obama, so this is the first time I'm dealing with a different president. So I have to learn and so I have to see what he does, I see what Mike Pence does, I see what those jokes are. So that changes the show. The ratings never bothered me, I don't really care about the ratings and never will, that's someone else's job at NBC."
But bit by bit, whether it's standing up for transgender rights and supporting gun control or donating to a pressing cause, Jimmy Fallon has had no choice but to let politics into his life and, subsequently, his show.
He may not like it but, as it turns out, he is good at it.
(E! and NBC are both members of the NBCUniversal family)