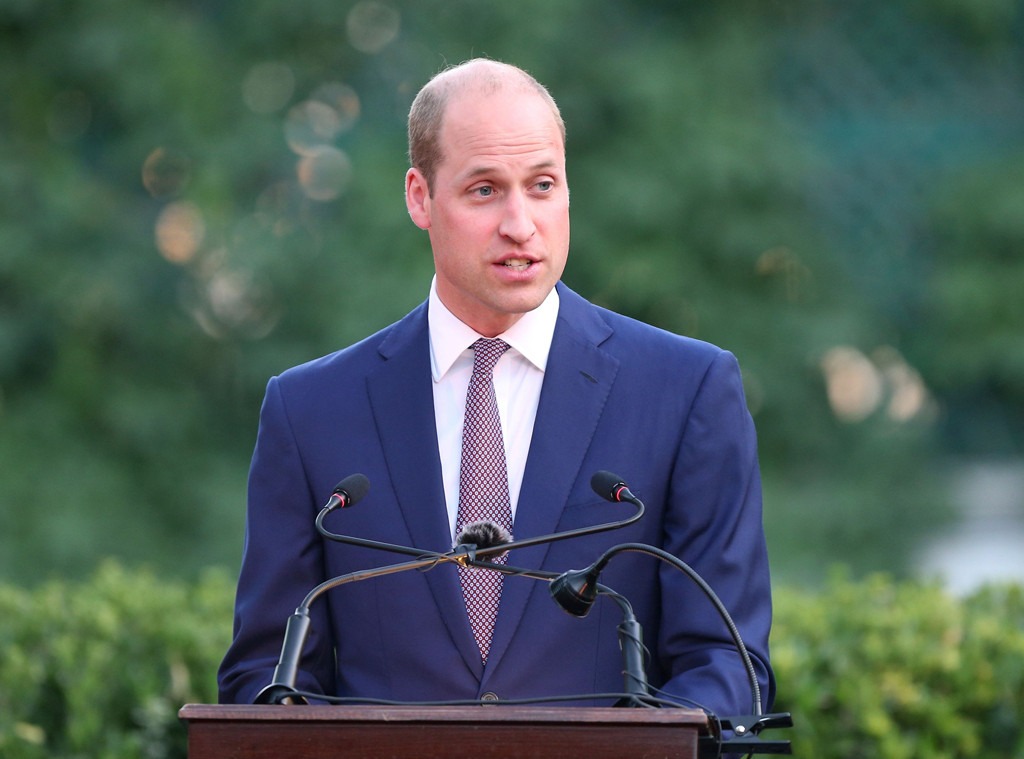 AHMAD ABDO/AFP/Getty Images
Prince William arrived on Sunday in Jordan to begin an official five-day visit to the Middle East, and while he traveled without wife Kate Middleton and their three children, they were firmly on his mind.
In Amman, where Kate used to live, the prince was hosted by Hussein, Crown Prince of Jordan. He visited the TechWorks Fabrication Lab, one of several technology labs set up by the Jordanian leader's foundation and co-funded by the European Union.
When William was shown a robotic arm drawing beautiful patterns, he told students, "This will be good for my children to start learning a bit of coding. It has to be helpful."
He and the Duchess of Cambridge are parents to Prince George, 4, Princess Charlotte, 3, and 2-month-old son Prince Louis.
Later in the day, the two princes watched England beat Panama 6-1 in a 2018 World Cup match, which the Jordanian prince had recorded. William, president of Britain's Football Association and a supporter of the Aston Villa football club, was given some presents: A wooden shield and a model of a gas tank of a Ducati motorbike, both decorated with the Aston Villa crest.
Joe Giddens-Pool/Getty Images
William's family also has a personal connection to Jordan; Kate's family had moved to Amman when she was 2 after her father got a job as a manager for British Airways in the Jordanian capital. They remained there for two years.
Later on Sunday, William attended a belated birthday party in honor of his grandmother, Queen Elizabeth II, at the residence of the British ambassador in Amman.
"My wife Catherine is very sorry she cannot be here with me so soon after the birth of our son Louis, but her family remembers very fondly the almost three years she spent here as a child when her father worked for British Airways in Amman," William told the guests. "Catherine's experience is not unique—the interchange between our two countries is real and deep: work, study, tourism and family links. Our historic ties and friendship are played out in the lives of thousands of people who consider both countries home."
At the residence, William met the chief executive of Save The Children in Jordan, who told him she knew the house where Kate's family lived, which is now the home of the woman's children's pediatrician.
"No way!" William replied. "She will be thrilled. She loved it here, she really did. She is very upset that I am coming here without her."
During his trip to Jordan, William is also set to visit the archaeological site of Jerash. The royal family had released a childhood photo of Kate visiting the Roman ruins when she and William married in 2011. 
During his Middle East trip, William is also scheduled to visit Israel and the Palestinian Territories. He will become the first British royal to pay an official visit to the region, some 70 years after British forces pulled out of the Holy Land, and is traveling on behalf of the British government. While his trip is not political, the prince will meet with Israeli Prime Minister Benjamin Netanyahu and Palestinian President Mahmoud Abbas separately.
William will stay in Jerusalem and arrive on Monday. During his time there, he will visit Yad Vashem, Israel's memorial to Jewish victims of the Holocaust, and also visit religious sites such as the Church of St Mary Magdalene. The prince will also visit the Garden of Gethsemane and inside it, the tomb of his great-grandmother Princess Alice.