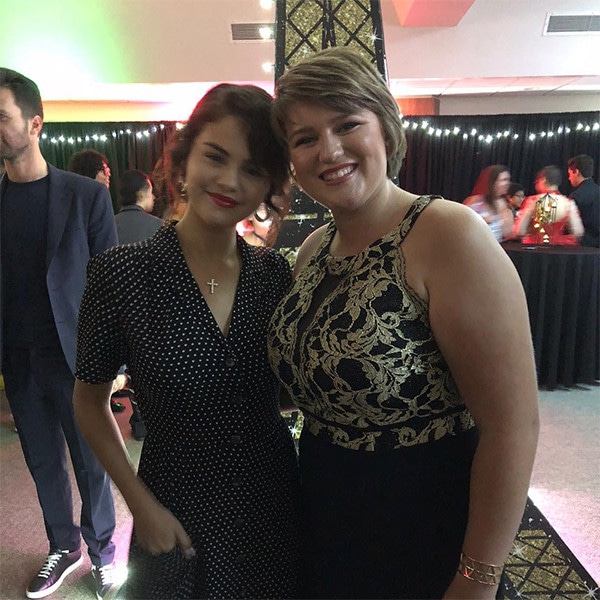 Instagram
Surprise!
Selena Gomez spent part of her Saturday making a special guest appearance at Children's Hospital Orange County's oncology prom event, marking her first celebrity appearance in more than a month. Other celebs also attended the annual event—Grey's Anatomy stars Sarah Drew, James Pickens Jr., Caterina Scorsone and Kevin McKidd, as wells as Jack Black.
Gomez, who wore a black and white polka-dot retro-style button-down dress, and the other stars posed for many photos with fans at the prom, which supports teens and young adults undergoing cancer treatment as well as post-treatment survivors. The prom's theme this year was "Around the World in One Night."
"Best night ever @selenagomez #chocprom2018 #choc," one fan wrote, alongside a selfie with Gomez. "Thanks so much for showing #love."
"I just wanted to make sure you guys had the latest dance moves," Black told the cheering crowd. "I wanted to teach you a couple because that's the most important thing at a prom, is that you have the latest."
Black then started singing part of his and Nick Jonas's song "Jumanji Jumanji."
"Anyways, I'm gonna be here dancing my butt off," he said. "If anyone wants a high five, or a selfie, I'll just be wandering around and then I'm gonna disappear in a puff of smoke. Alright, much love, see you on the dance floor."
The Ryan Seacrest Foundation donated Ryan Seacrest Distinction bow ties to the kids as well as skincare starter kits from Ryan Seacrest and Dr. Harold Lancer's Polished for Men collection.