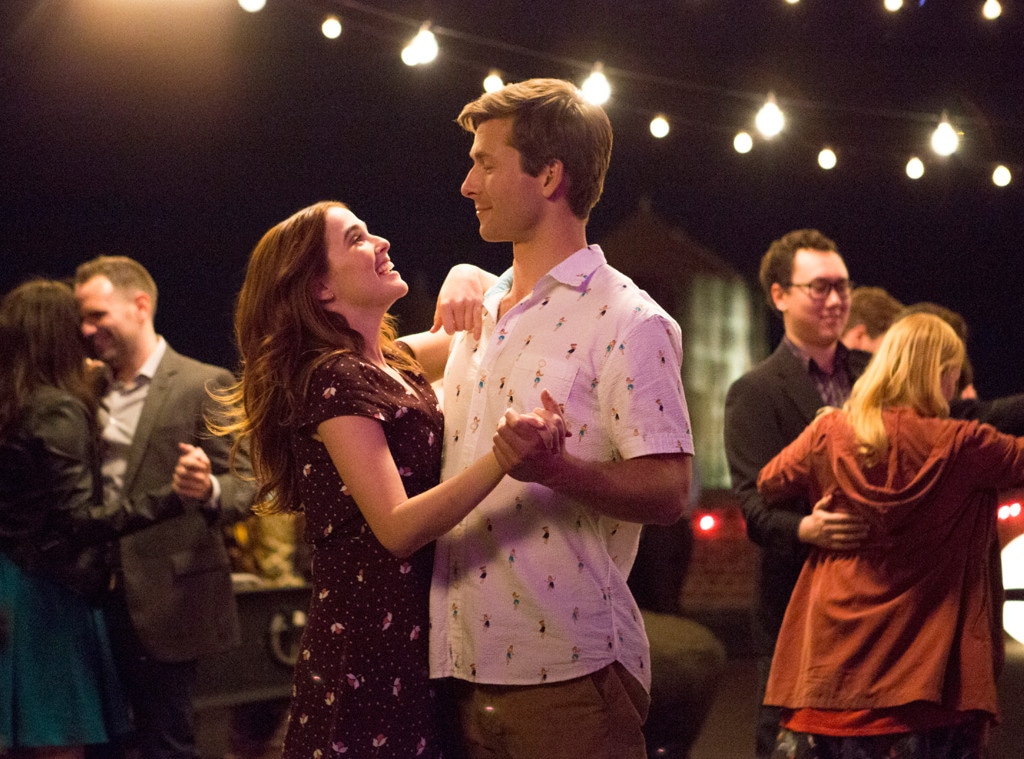 Netflix
Have your assistant clear your schedule and hold your calls if you've yet to watch Set It Up. STAT.
Netflix has delivered the summer's first official sleeper hit with its romantic comedy starring Glenn Powell (on the fast track to becoming the next great Internet boyfriend) and Zoey Deutch (our generation's Meg Ryan) as two assistants whose exhaustion and desperation for social lives lead them to set up their high-powered and demanding bosses, played with glee by Taye Diggs and Lucy Liu.
It's a little raunchy. It's a little romantic. It's not too sweet. And it's totally irresistible. Set It Up is one of the best rom-coms to be made in the last decade, equal parts love letter to and send-up of the often-overlooked and underrated genre. Soon after hitting play on the movie, it's clear two women were responsible for its relatable, realistic and hilarious relationships and characters: Writer Katie Silberman and director Claire Scanlon.
But Set It Up was almost a completely different movie, with different actors initially set to star in a big-screen version that came this close to not being made. And yet...
Claire Scanlon, who previously directed episodes of TV shows including The Unbreakable Kimmy Schmidt, Brooklyn Nine-Nine and Fresh Off the Boat, among others, hopped on the phone with E! News to discuss the movie's major casting changes in its move from MGM to Netflix, as well as break down some of Set It Up's most talked-about moments, including the Food Hood and that pizza scene we're still obsessing over.
It's Based on a True Story
The initial idea for the premise—two assistants attempting to set up their bosses—actually came from the film's producer Juliet Berman's real-life attempt to Parent Trap her boss for her own romantic gain.
"She had a crush on a fellow assistant, and I do not think it was reciprocated, but just for fun they were like, 'Hey, why don't we try to set up our bosses?'" Scanlon explained. "They got them to the same restaurant twice, nothing happened." She then told Silberman about the experience, and the rest is modern rom-com history.
Game of Thrones' Emilia Clarke was originally set to play Harper
The movie was originally set to be made by MGM, with the Mother of Dragons as its leading lady. But after Powell was cast a her counterpart, the search for the bosses proved to be a challenge, with production eventually missing the deadline for Clarke's GOT out and losing her to the HBO hit's schedule. And without Clarke, MGM was no longer interested in making the movie. 
Harper Was Originally Supposed to Be Older
Even before MGM officially decided to not move forward with the film, Deutch was in talks to take over the role. But there was one major issue for Scanlon when it came to casting Deutch.
"My biggest concern, and I was very open about this, was the character was originally written as a 28 year old and she was 22 [at the time]," Scanlon said, adding she didn't want to "sacrifice the legitimacy and the authenticity" of the character, even  though the two leads, who had worked together on Everybody Gets Some!!, clearly had chemistry. (We'll get back to that in a minute.)
Ultimately, they chose to age the character down. "We changed the age to 25 from 28 and I think she pulled off 25."
Powell and Deutch Almost Had Too Much Chemistry
Listen, Set It Up knows you are not stupid. They know you came for a rom-com good time and to see two people fall in love despite everything the movie throws their way. But it has to play hard to get to make it worth it, which is hard to do when your two leads have history and chemistry to spare.
"Their chemistry was clear. It was very clear. It was not even a question. The problem was…their chemistry was too good," she said. "The genre lends itself to knowing the outcome." But you don't want it to be too obvious from the first frame of the meet-cute.
Scanlon's goal with the first interaction between Charlie and Harper in the lobby, both desperately attempting to secure take-out for the sake of their careers, was to make them invisible to each other.
"We talked a lot about the first scene where they see each other in the lobby, I was like, 'Guys, do not look at each other. Do not make eye contact. You don't even see a human being let alone a girl or boy opposite you.'"
And even their first real conversation over late-night drinks at the office isn't really a conversation. "They're talking at each other, not with each other or to each other," Scanlon explained. "It's really important, because once they do look each other, you know, that pizza scene, it's good. You don't do that before then because otherwise it's too obvious."
That Pizza Scene Was the Opposite of Romantic to Film
Set It Up's most pivotal and talked-about scene is Charlie and Harper's journey to find pizza after a day of drinking and dancing, with the night ending on Charlie's floor, silently eating slices before the moment. You know, where they catch each other's eyes and everything changes all at once. He knows it. She knows it. We know it. The cast and crew, however, did not. 
"I don't want to burst any bubbles, but the amount of pizza that was had was so disgusting," Scanlon said, only slightly bursting our bubble. "Nobody was hot for anybody in that moment, it was disgusting."
In fact, Deutch ate so much pizza that she threw up. "It's just freakin' Zoey. I'd be like, 'Don't eat! There's a spit bucket! Just spit it out!' She was like, 'No, I have to!' I was like, 'This isn't a method scene. You do not have to eat the pizza!'"
But, of course, she ate the damn pizza. "Zoey just had to be Zoey and make herself sick practically. But it was a really nice scene."
Scanlon couldn't even begin to guess how many pizzas they went through for that scene, but did note that the "poor" prop master had the task of securing two types of pizza as Powell is gluten-free. And the real kind of gluten-free ("He actually blows up!"), not the L.A. kind.
Plus, the apartment they were filming in added in logistical challenges, namely that the fire escape was actually in the living room. "We just simply moved the bed into the living room for the moment where they walked in through the fire escape and then when we did the reverse on Charlie we're truly in the bedroom. Just even that alone, talk about breaking up the scene, breaking up the momentum. It was just not simple. Of course, when the cameras are actually rolling, it was sweet. But just the hindrances of that exact location and all the pizza made it more of a challenge than it looks. Let's just say that on-screen it's really nice! But in reality, gross-ish?"
Really nice yet kind of gross-ish? Sounds on-brand for Set It Up if you ask us. 
The Food Hood Was Always There
One of the most random but totally character-building moments of the film come when Harper is too busy swiping on Tinder to eat her popcorn with her hands. So she eats from her hood, a true meeting of laziness and genius. And it was in Silberman's script from the very beginning.
"It's so funny, because [a writer I know ] read the script and she goes, 'Oh my god, I can't wait to see the hoodie. That's brilliant! Why hasn't this been a thing yet?' It's so funny, she latched onto that on the script level. So I was like, OK, that's a keeper. That is one of those character delightful moments that just says everything to me about her. I feel like that's going to become a thing." 
The Kirsten Backstory That Ended Up on the Cutting Room Floor
The movie initially came in at about two and a half hours long, with over an hour of footage eventually being cut to keep the movie at a tight running time. The scene that was hardest for Scanlon to trim? 
After the Korean BBQ disaster date between Rick and Kirsten, Charlie "decides to take it upon himself and follow Kirsten to find out more information about what makes her tick. He follows her to a lunch with his mother, so he's stalking her, but in a very physically astute way." 
He eventually ends up eavesdropping on the conversation, "Her mom is just very—not intentionally—dismissive and holds a very high standard, [and] looks down on the sports journalism website," she said. "These were two scenes, they were really good. They stayed in the movie for a long time, but the movie didn't need them. You didn't need that backstory, you felt for Kirsten anyway."
Speaking of Kirsten
It's hard to imagine anyone else but Lucy Liu donning Kirsten's red power-suit and wielding a megaphone, demanding her staff to "tell me something I don't know!", but Scanlon said she had initially envisioned Amy Poehler in the role. 
"Just because I adore Amy Poehler and she's always so good as Leslie Knope," she said. "I'd love to see her being not nice. She's just such a good person, I just wanted to see her kind of hardcore." 
"Lucy Liu was such a get, I was so happy," Scanlon gushed. "She's so good." 
The Most Unexpected CGI Moment in Movie History
Rick (Diggs) likes the finer things in life...and his wardrobe turned out to be too fine, as the moment where Charlie's BFF Duncan (played by Pete Davidson) throws his coffee at the demanding boss proved to be an unexpected hurdle due to the quality of his shirts.
"It repels liquid," she revealed. "We had to CGI the coffee stain because it was too good at not being stained!"
The Small Nod to Joan Smalls' Roots
For the supermodel's turn as Suze, Charlie's model girlfriend with unabashed dreams of reserved seats at every NYC hot spot, Scanlon made sure to get in a small reference to her profession in the scene set in the school auditorium for Rick's son's play.
"I hope people caught the irony," she said. "When you have a supermodel you're going to have her walk a runway even if it's in a school auditorium!"
Oh, and Suze's line about booking an Old Navy campaign during that scene was actually supposed to be "a print Old Navy campaign" and "Joan never said it. [Laughs.] I think that was just a little too low!"
Set It Up is currently available to stream on Netflix.