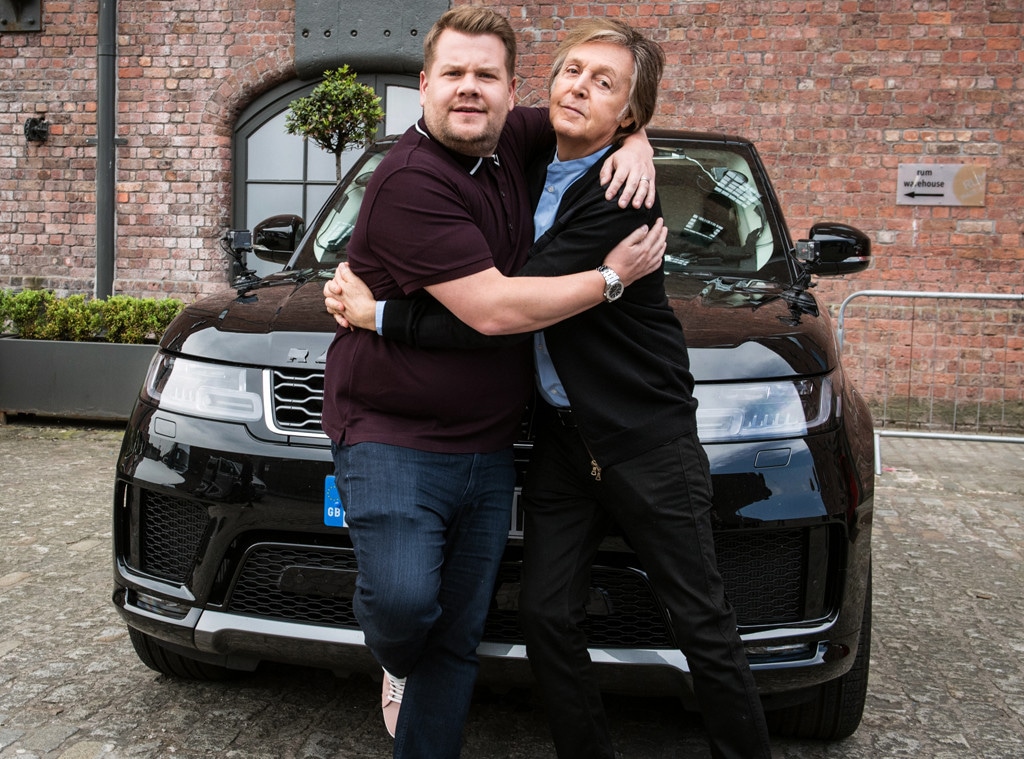 CBS
London is calling and we are answering!
After a week of teasers, Paul McCartney's episode of Carpool Karaoke has been unveiled and we're obsessed. In typical Carpool Karaoke fashion, McCartney joined The Late Late Show host James Corden for a drive and sang his popular songs and reminded us all how great The Beatles and McCartney really were and always will be.
As we tuned in to watch the iconic singer drive through Liverpool—yes, this episode was filmed in the birthplace of The Beatles and McCartney's hometown of Liverpool—we were reminded how amazing England and its music scene really are.
Throughout Corden's time doing this musical series he's had a lot of fellow Brits on the show and with McCartney now added to the list we're not sure any other country can beat these performances.
In fact, there have been 11 English singers on the fantastic segment over the years and each one of them was a pretty memorable episode.
The question we have for you however is which Brit reigns supreme?
Did McCartney win the title with his new episode or does Adele or Harry Styles still stand out as your favorite?
Vote for your favorite Carpool Karaoke performance by a British artist below, and if you're lucky maybe you'll start speaking in an English accent as you re-watch all these English clips.
Wouldn't that be bloody brilliant?!
Paul McCartney:
Is there really anything better than watching Sir Paul McCartney singing all of his classic Beatles songs mixed with his newest music in a car in England? The answer is no! When McCartney appeared on the latest episode of Corden's hit segment fans were freaking out and rightfully so. Not only did the British crooner sing songs like "Penny Lane" and "Let It Be" but he took the late night host on a tour of Liverpool, stopped at his old home and surprised fans at a pub with a mini concert. It was brilliant.
Ed Sheeran:
In order to make Ed Sheeran sing with him, Corden claimed that the red-haired singer left his guitar in his car, which was Sheeran's loss and our gain. As the two sang they couldn't help but laugh through "Shape of You" after Corden showed off his dance moves. It's clearly the highlight of this episode and we laugh every time we watch it. In between singing songs like "Sing" and One Direction's "What Makes You Beautiful" Sheeran tried to see how many Maltesers he could fit in his mouth—it was 55—which is insane.
Adele:
When Corden went home to England for a few episodes of his show a few years ago he had Adele go on a ride with him and of course she sang with her hit "Hello" to kick off her segment. In between laughs, talks of wigs and tea spills the Grammy-winning artist proved why she is such a force to be reckoned with in the music industry. When she wasn't singing her own songs she was rapping to Nicki Minaj's "Monster" and singing Spice Girls, because she really is amazing.
Harry Styles:
Many people know that the 24-year-old singer and Corden are good friends, so when they teamed up for this episode fans were really happy, but not too surprised. They kicked things off with "Sign of the Times" and when they went high in the song the two couldn't help but giggle. Throughout the segment Styles switched into numerous outfits proving he can pull anything off and it made us love him even more. Plus, he sang Outkast's "Hey Ya" and quoted Knotting Hill. It was awesome.
Elton John:
In 2016, Sir Elton John came to help Corden navigate Los Angeles in the rain and the entire skit was pure genius. The "Tiny Dancer" singer started things off with "Your Song" and it definitely set the tone. Despite the serious songs that were sung in this episode, the two stars had a blast in the car mainly because of the epic costumes and boas that they donned as they rocked out.
Sam Smith:
When Sam Smith was in Los Angeles he helped Corden out with his commute by singing all of his emotionally-packed songs and we couldn't help but swoon. He belted out the words to some of his most iconic tracks like, "Lay Me Down," "I'm Not the Only One" and "Stay With Me" and didn't shed a single tear, unlike most of us viewers. The best part however was when Fifth Harmony surprised the singer who is obsessed with them and jumped in the car to sing "Work From Home."
George Michael:
OK, so George Michael wasn't exactly on Carpool Karaoke, but he did inspire the segment on Corden's show so he deserves an honorable mention. The two had done a sketch for Comic Relief's Red Nose Day in 2011 which ended up leading to this amazing series of skits on The Late Late Show. During the Red Nose Day sketch the duo sang "I'm Your Man" after fighting about Michael participating in the event and it really was comedy gold.
Chris Martin:
Coldplay's front man made an appearance as a hitch hiker trying to get to the Super Bowl in order to get Corden to drive him to San Francisco. On the road the two sang "Viva La Vida," "Yellow" and "Paradise" as well as a ton of other Coldplay hits. Plus, Chris Martin channeled his inner David Bowie and sang "Heroes" which was wonderful.
Victoria Beckham:
When Victoria Beckham appeared on The Late Late Show in 2017 she teamed up with Corden to recreate Mannequin for one of the best moments ever on this show. In addition to playing the Mannequin in the new version of the movie they jumped in the car and ended up doing a Carpool Karaoke section which of course entailed Posh Spice singing "Spice Up Your Life." It might've only been one song but we loved every minute of it.
Rod Stewart:
Corden has had so many iconic artists in his car for this segment and Rod Stewart might be one of the most famous of the bunch. The rock star sang "The First Cut Is the Deepest" which he first sang in 1976 followed by "Da Ya Think I'm Sexy." Oh, and A$AP Rocky showed up to help them sing his track "Everyday" which is random but awesome at the same time.
One Direction:
Of course before Styles was a solo artist he was in One Direction and as one of the greatest boy bands of all time they had to jump in Corden's car and sing all together. This episode aired back in 2015 and it was as good as it gets.
The band members all piled into the car and acted like a bunch of kids which made it even more fun to watch. They sang "What Makes You Beautiful," and "The Story of My Life" before throwing on denim jackets to match for "No Control." They even harmonized with the show's host and we're not so sure that Corden isn't the fifth member of 1D now.
Now's the moment of truth, we want to hear which of these British artist's episode of Carpool Karaoke is your all-time favorite. Vote below and get ready to see which Brit is really the best.
Cheers!
Carpool Karaoke: British Artists Edition