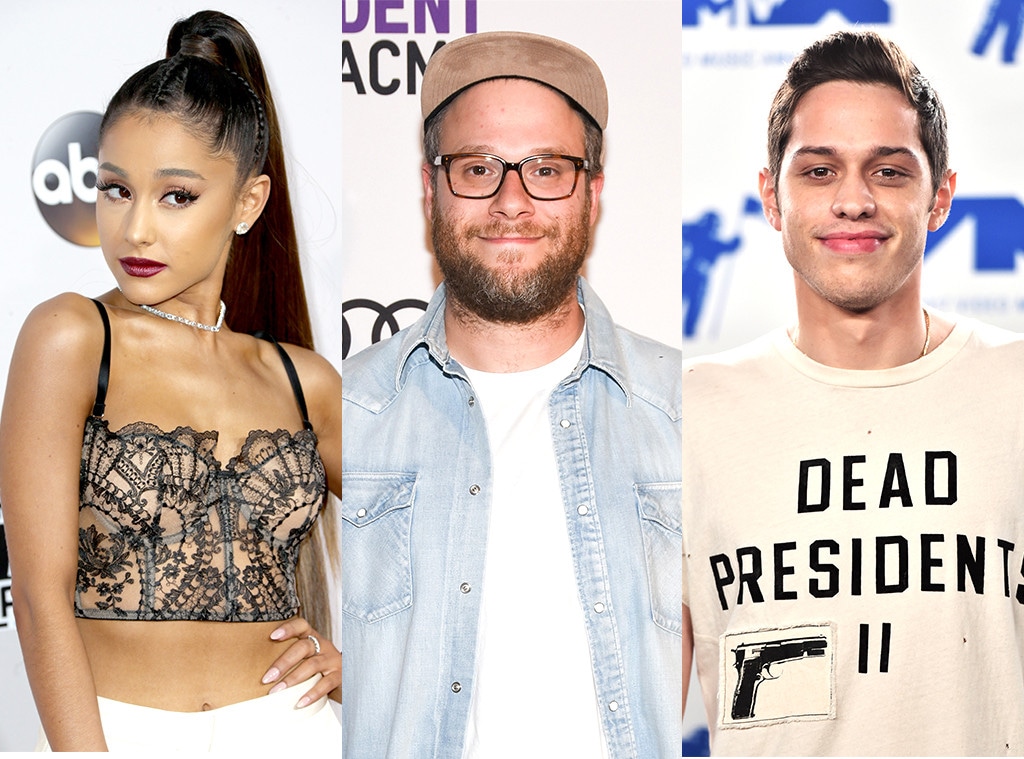 Frederick M. Brown/Getty Images, Alberto E. Rodriguez/Getty Images
If you're feeling exhausted by Ariana Grande and Pete Davidson's endless public displays of affection on Instagram, fear not. Seth Rogen empathizes.
On Thursday, the Saturday Night Live star swooned over his new fiancée via Instagram, captioning a sensual bikini photo of Ariana, "what the actual f--k" with a heart eye emoji. The flirting continued in the comments when the singer told Pete "i love you," to which he responded, "i love you more tho." 
Enter Seth, who didn't hold back when he voiced what's been on some fans' minds since news broke of Pete and Ariana's engagement last week. "Guys seriously," the comedian commented. 
Pete jokingly fired back, writing, "when ur getting married to the hottest girl in the world you tell me how you'd act." 
The 24-year-old only just confirmed his engagement during an appearance on last night's The Tonight Show Starring Jimmy Fallon, but pop culture lovers have been watching Pete and Ariana's whirlwind relationship unfold on social media over the past month. 
In fact, Pete's follower count has increased dramatically since he began dating Ariana, and earned more than 200,000 followers in the last week alone. Of the stand-up comic's 1.5 million Instagram fans, nearly 400,000 have liked and commented on his latest post. 
So what's it like dating a world-famous pop star? According to Davidson, "It's so sick."
"I feel like I won a contest," he told Jimmy Fallon, adding, "Some dude came up to me and was like, 'Yo man, you gave me hope.'" 
Pete and Ariana, we love your love. But in the words of Seth... get a room!