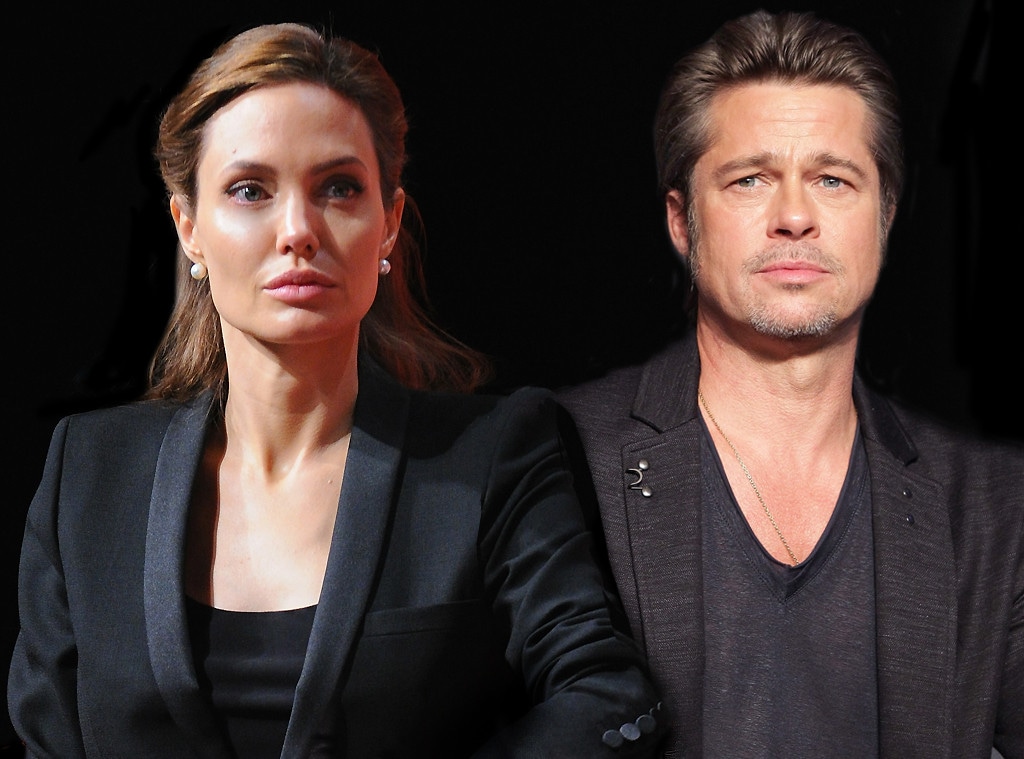 Getty Images
Most weekends Brad Pitt fills his hours with extracurriculars. That might mean dinners out with his tight group of guy friends ("Most of whom are not in the industry," reports one source), tooling around L.A. on his motorcycle or putting his hands to work in his sculptor pal Thomas Houseago's studio. Sometimes he'll have a date, but those are pretty rare, as one source tells E! News, "He doesn't have anyone serious in his life." 
But last Sunday, the actor had a meeting with a key VIP. Well, a whole brood of them, really. Having flown to London, where his estranged wife Angelina Jolie has been filming her fantasy sequel Maleficent 2, confirms the source, "He spent the day with his kids." 
At the risk of sounding cliché, it was likely the best Father's Day present he could have asked for. As his divorce from Jolie, 43, drags toward the two year mark, the Oscar winner, 54, is still fighting for more time with kids Pax, 14, Zahara, 13, Shiloh, 12, and 9-year-old twins Vivienne and Knox. (At 16, their eldest son Maddox is deemed old enough to decide for himself how much time he wants to spend with his father.) 
He notched one victory this month when the judge presiding over the pair's divorce established a detailed visitation schedule for the summer, then filed paperwork that stated "not having a relationship with their father is harmful" to the children. The papers, obtained by E! News June 12, also contained stated Jolie was at risk of losing full custody of their offspring if she doesn't allow them to grow their relationship with Pitt.
The shocking note set off a slew of reports that the exes' battle is growing increasingly bitter. But while insiders say the once desperately in love pair aren't exactly besties, Pitt is determined to maintain a degree of geniality. "He hopes to keep things civil with Angelina," a source tells E! News, "for the sake of the kids." 
It seemed they'd reached that détente back in December 2016. Their divorce initially seemed set to become one of the most contentious of all time after Jolie's surprise September filing, with rumors leaking out suggesting everything from an affair between Pitt and Allied costar Marion Cotillard (a claim they both firmly denied) to the truth about what happened on that fateful flight from France. But months after Jolie requested sole physical custody and Pitt responded asking for joint custody, they reached a temporary agreement: The children would remain in Jolie's care with Pitt granted what were called "therapeutic visitation". 
The announcement came not long after the FBI closed its investigation into Pitt and the alleged incident that occurred when the peripatetic family flew on a private jet to L.A. without filing charges and the Los Angeles County Department of Children and Family Services cleared him of any abuse allegations. 
Legal issues behind him, Pitt seemed game to shoulder his share of the blame for the end of the golden couple's 12-year union. Telling GQ the situation was "self-inflicted", he laid bare his faults, admitting to boozing too much ("I could drink a Russian under the table with his own vodka,") and, even worse, not living up to his potential as a father: "It's hit me smack in the face with our divorce: I gotta be more for them. I have to show them. And I haven't been great at it."
He also seemed intent to move forward with the least amount of strife inflicted on his offspring. "I was really on my back and chained to a system when Child Services was called," he noted to the mag. "And you know, after that, we've been able to work together to sort this out. We're both doing our best. I heard one lawyer say, 'No one wins in court—it's just a matter of who gets hurt worse.' And it seems to be true, you spend a year just focused on building a case to prove your point and why you're right and why they're wrong, and it's just an investment in vitriolic hatred. I just refuse. And fortunately my partner in this agrees. It's just very, very jarring for the kids, to suddenly have their family ripped apart."
Their joint goal, he continued, "is that everyone comes out stronger and better people—there is no other outcome."
Jolie seemed to be on board. In an at-times evasive Vanity Fair cover story, she chose not to expand on what led her to leave her partner of more than a decade, stating simply that, "things became difficult." Like Pitt, she seemed determined to act in the best interest of their children even if that meant hiding her pain by sobbing in the shower. Noting her kids had been incredibly brave, she said, "We're all just healing from the events that led to the filing...They're not healing from divorce. They're healing from some...from life, from things in life." 
Stefanie Keenan/Getty Images for FIJI Water
All the while, the former pair—who famously met filming 2005's Mr. & Mrs. Smith while he was still wed to Jennifer Aniston—continued to hash out the divorce and custody details, with Pitt continuously struggling for more time. 
Negotiations hit a snag this spring when Jolie wanted to take the kids to Europe for the duration of her Maleficent 2 shoot in London. Originally, a source told Us Weekly, the plan was for the brood to spend just two weeks in England, then return home to L.A. Pitt, had even thoughtfully chosen his next project—Quentin Tarantino's Once Upon a Time in Hollywood about the 1969 Manson family murders—because filming would be contained to California. 
When Jolie tried to pull a switch, a source told E! News, Pitt moved to block it: "Brad will be filming in L.A. for the summer and wants to see the kids on his regular custody schedule." 
While he was more than fine with Jolie traveling with the kids for short trips—she took Shiloh and Zahara to visit a refugee camp in Jordan in January and brought the entire brood to Paris that same month—"He's not OK with his kids being away for months," says the source. "He feels that Los Angeles is their home base and this is where it is best for them to be." 
To his delight, a judge agreed. Together, they came up with a detailed visitation schedule for the summer. From June 8 through June 17, Pitt was allowed to have one or two children at a time in London for four hours each day (with a therapist present), with the visits extended to 10 hours a day from June 27 until July 1. Next, from July 8 until July 14, he'd be permitted four consecutive days with the kids, again with a therapist on hand. Finally, back in California July 21 through July 29, he'd have custody of the kids. 
"They worked out an agreement that was mutually acceptable," an insider tells E! News, adding Pitt "felt like he actually had a say and that the court was seeing his side of things." 
Though the schedule requires the kids to travel back and forth, notes the insider, Pitt is stoked to score so much face time. And while he's immersed himself in his latest project, he's carefully worked out his commitments so he's fully available. 
"He is thrilled that the summer schedule for the kids is figured out and that he will be seeing them regularly," an insider tells E! News. "He feels this is a huge victory. It's a big step and he hopes to continue getting back no track with each of the kids." 
Jason Merritt/Getty Images
As for Jolie, she's a bit "exasperated" by the dragged out battle, says a source, but she's fine with the judge's decision. (Documents also dictate the kids will have access to cell phones that Pitt can text them on without Jolie monitoring their chats.)
"Everybody now is focused on the kids having some relationship with their father," the source tells E! News. "She knows this is a court order and she has to do it." 
Emma McIntyre/Getty Images for Netflix
Still, a longterm custody agreement remains a ways off. With the pair due back in court August 13, an insider tells Us Weekly, the hearing "will focus on how the summer visitation schedule went, and any issues that arose during that time," with an eye toward hammering out something permanent.
However, another source tells Us Weekly, everything is being held up by the custody details: "They aren't even close to working things out." 
Until then, Pitt is honing in on his work life—in addition to Once Upon a Time in Hollywood, he has his sci-fi thriller Ad Astra coming out next January and he's been producing other projects—dreaming up fun outings for his children and hopefully one day improving his relationship with the woman he once called his "soulmate" or at least reaching a sort of truce. 
"They had a pretty dramatic year," a source admits to E! News, "and he wants things to remain calm in the future."