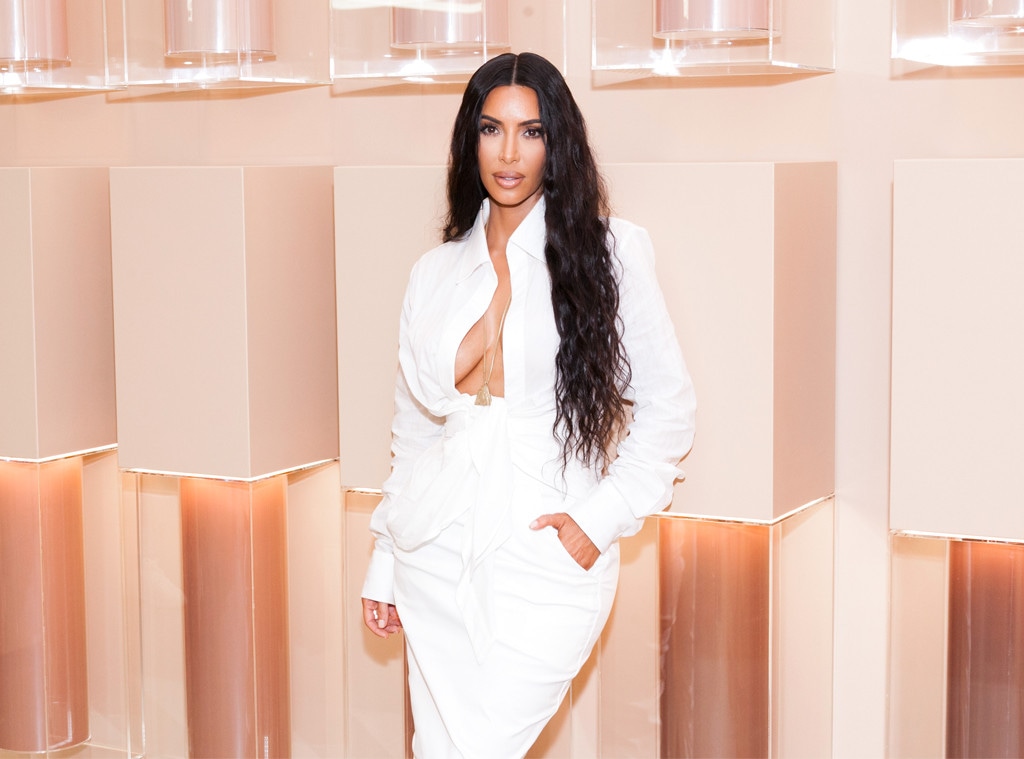 Presley Ann/Getty Images for ABA
Makeup mavens, rejoice—the KKW Beauty pop-up store is finally here.
Those willing to travel to Los Angeles—where super-sized LED-lit crystals line the wall, eye shadow pigments mechanically rotate in circles and a life-size cutout of the KKW Body bottle invites you in to take a selfie—will find the temporary outpost for all of Kim Kardashian West's latest beauty ventures. The Westfield Century City pop-up serves as a muted-pink, shoppable homage to the mogul's beauty brand, a trial for a possible flagship store…and perhaps a trip down memory lane for the native Angeleno.
"This is the mall I would go to every weekend when I was growing up in high school, so when the opportunity came up, I was like, 'Absolutely. We have to do this,'" the Keeping Up With the Kardashians star told E! News.
The compact store features everything from Kim's fragrances to concealer kits to her collaborations with makeup artist Mario Dedivanovic and Glam Masters winner Argenis Pinal. Now the question stands: Who will Kim partner up with next? She wants to keep it in the family, obviously.
Presley Ann/Getty Images for ABA
"I would love to do a collab with Kourtney and Khloe, because we had our Kardashian Beauty line, and it would be really fun for us to do just an amazing collab," said Kanye West's other half.
Now that Kourtney Kardashian is working on her own beauty line, a collaboration marketing both brands seems natural. But how would the sisters navigate a disagreement? Any episode of Keeping Up With the Kardashians can show you, but when it comes to business, the moguls have a simple strategy.
"We kind of have a two-over-one vote-out rule, so that's kind of how we always would play it," Kim explained. "If two agree then that goes."
The mom-of-three, donning a light gray off-the-shoulder body-con dress and strappy heels, admitted she doesn't always win the debates, but she does "a lot of the time," said Kim, laughing.
Though when it comes to swapping industry secrets with Kylie Jenner, the other beauty mogul in the family, the sisters seemingly stay in their own lanes. When asked if Kylie, who recently opened her own pop-up in San Francisco, gave Kim any advice, the older sibling responded: "We keep everything pretty separate. We talk about things that we need to, but for the most part, we keep everything pretty separate."
Kim's pop-up is opened now until July 27, with several events taking place in between, including National Selfie Day (June 21)—a seemingly big event for the queen of selfies—but surprisingly, that particular pose is no longer in her repertoire.
"I don't really take selfies like that anymore. I've kind of stayed away from them—not really on purpose," said the Selfish author. Kim's more a fan of full-body poses these days, like the Bambi pose, she added.
Don't worry—Lumee cases work great for that, too. The pop-up will also see the launch of new Kimoji fragrances, out July 14.
"Everyone is very emotional and very different from me. The Kimoji fragrances are more of my playful side," noted Kim. "Doing fragrance, for me, is harder than doing beauty. With beauty, I know what I want and it's time-consuming because you have to make sure the formulas are right, the colors are right and the packaging. Fragrance takes more energy from me, like emotionally, because I have to really feel it."
With every fragrance launch, the concept has to mean something to the reality star, oftentimes including a backstory: KKW Body bottles were molded after Kim's body; the Kimoji Heart fragrances were sent out on Valentine's Day (and to her haters). What can we expect from these new fragrances?
"One of the bottles looks like a peach with cream dripping on it—it's this peach scent. The other bottle is the cherry with the dripping cream on it, and it has a cherry scent. And the other one, it's more unisex. It's the word bubble that says 'vibes,'" she said.
"Maybe I should send good vibes to people."