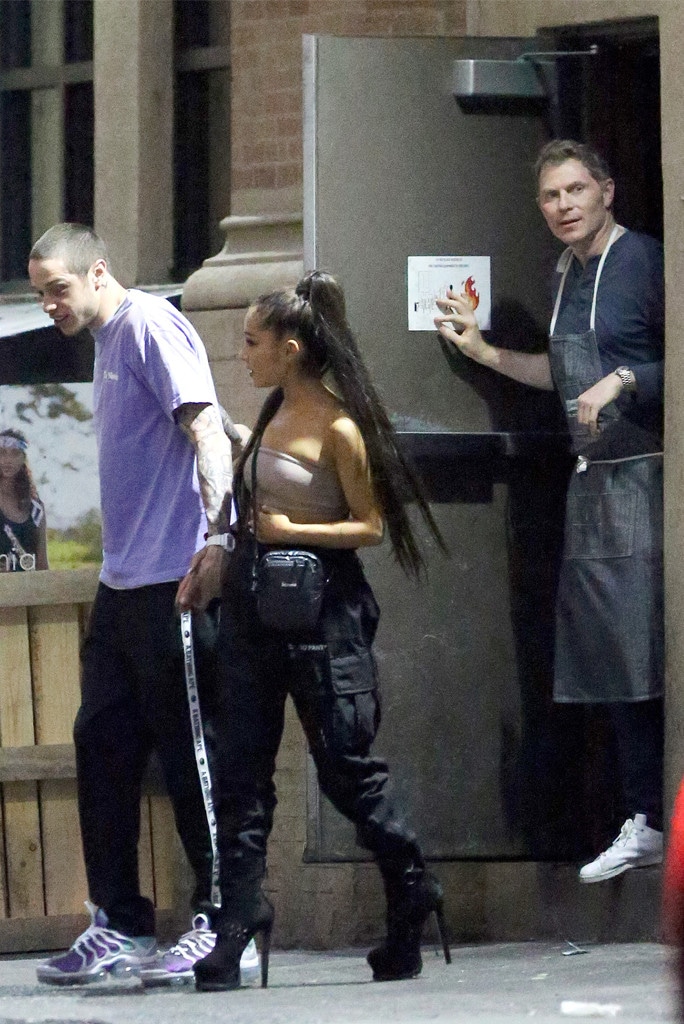 TheImageDirect.com
Celebrating some new digs?
Pete Davidson and fiancée Ariana Grande were spotted on a dinner date at Chef Bobby Flay's restaurant Gato in New York City on Tuesday, days after the singer teased on social media that she and the SNL star had moved in together.
"At Gato restaurant, they slipped in the back door and were in there about two and half hours," a source told E! News exclusively. "Bobby Flay stuck his head out the back to say farewell.
Grande wore a light tube top and black cargo pants, paired with black platform stiletto boots. Pete wore a light purple T-shirt over black track pants and purple and white sneakers.
"They looked pretty loved up," the source said. "They held hands in and out of the car. Pete appeared to help her get out of the car and down the step exiting with those giant heels she had on. Like a gentlemen. Very sweet."
This past weekend, almost a week after E! News learned that the two had gotten engaged amid a whirlwind romance, Grande had posted on Instagram Stories a photo of SpongeBob SquarePants sitting on a box, writing, "Us in our new apartment with no furniture, 1 speaker and Red Vines."
She and Davidson were later spotted visiting a Restoration Hardware store in New York City with friends. Grande also posted on Instagram Stories a video of her, Davidson and a friend acting playful next to a rug display.
"Adults," Grande captioned the clip.
She and Davidson have not spoken about their engagement.