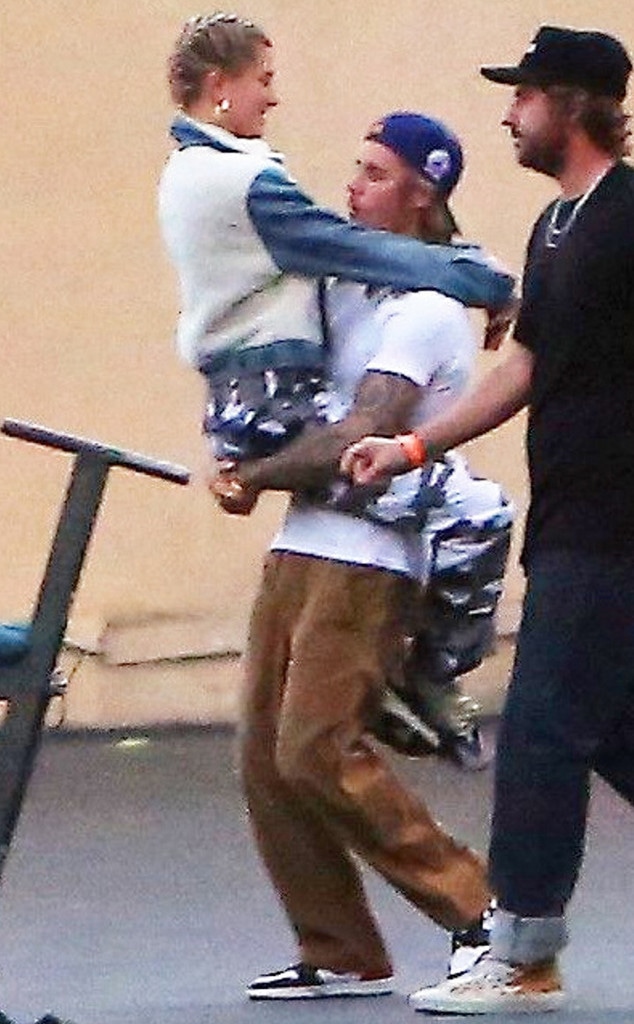 Nichole-Perez/X17online.com
Justin Bieber and Hailey Baldwin continue to fuel romance rumors.
The 24-year-old singer and the 21-year-old model were spotted getting cozy in Los Angeles on Tuesday. Pictures show Baldwin straddling Bieber as he carries her around a music video set, rumored to be for a new collaboration with DJ Khaled.
Khaled also posted an Instagram photo with Bieber on Tuesday with the caption, "Top secret alert but you already know ANOTHER ONE ! Executive producer for FATHER OF ASAHD @asahdkhaled ! @wethebestmusic." Father of Asahd is the name of Khaled's upcoming 11th album.
These pictures of Bieber and Baldwin come just days after the rumored couple was spotted kissing during a romantic stroll in Brooklyn. An eyewitness who met the duo during their weekend outing told E! News that Bieber and Baldwin acted very affectionate and flirty with each other.
Bieber and Baldwin, who first sparked relationship speculation in 2015, recently reunited in Miami, where they were "inseparable."
"Once he got to Miami, Justin and Hailey were together the entire time," a source told E! News earlier this month. "They attended the VOUS Conference all day and then hung out together every night."
The singer and model were also spotted hitting up LIV at Fontainebleau together, where they "partied until 3 a.m. and then headed back to Justin's hotel in the same car," according to the insider.
"There was no outward PDA between Justin and Hailey when there were cameras around, but they spent all their time together and were inseparable the entire weekend," the source shared. "Inside the club they were dancing and he had his arm around her many times. They seem very close and comfortable together."
Last month, Baldwin sparked romance rumors with Shawn Mendes when they walked the red carpet together at the 2018 Met Gala. But, both later stated that they're single, and Mendes doesn't seem to know what her relationship status is with Bieber.
"I don't know if they're dating or not," he said during an interview with eTalk, published Tuesday. "I love them both. They're both really awesome people."
Another source also recently gave us some insight into Bieber and Baldwin's relationship status.
"Hailey's always had a thing for Justin and wanted them to be together. She would happily be his girlfriend and would like something more serious and long term," the source told us. "They've always had a lot of fun together. This time things have just happened and they are both single and in the same place."
The insider added, "They are both very involved with church and have a friendship and history together that makes it easy and comfortable. They can always pick up right where they left off. They are both just going with it for now and spending a lot of time together having fun. There's no label; they just like being together."