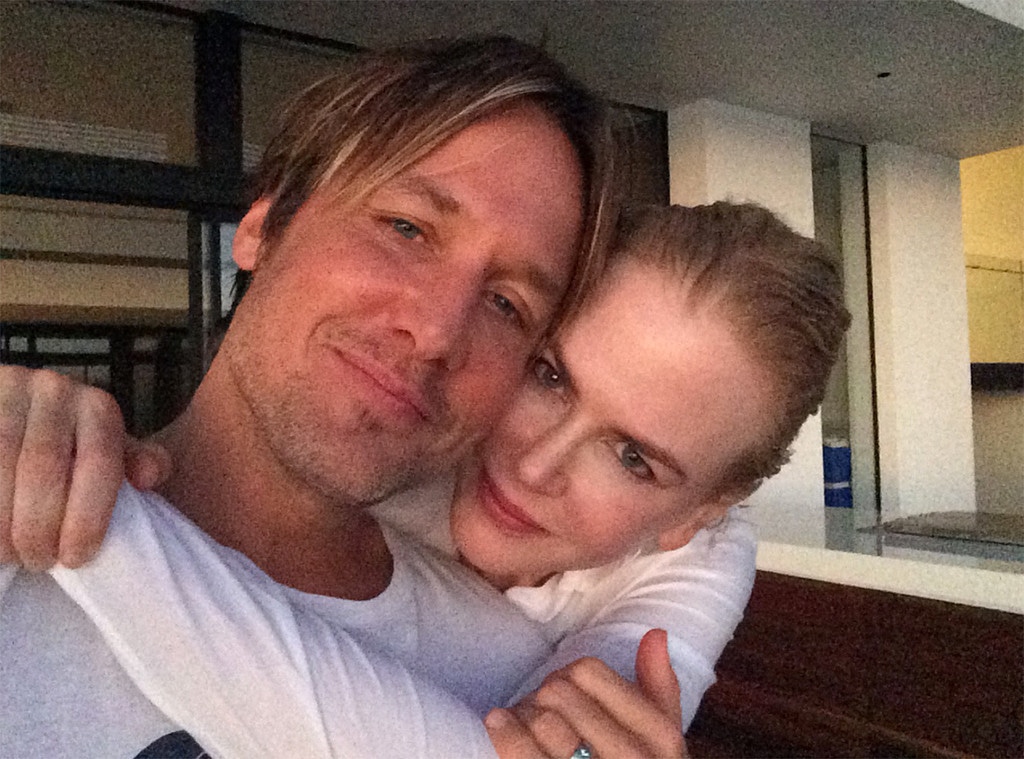 Instagram
A curious thing happened when Nicole Kidman turned 40. 
The milestone age isn't one most women embrace—particularly those who make their living in the youth-obsessed world of Hollywood. But for the Australia-born actress, it was a moment to celebrate. "I can't believe I made it," she explained to Marie Clare at the time. "It feels like a long haul to get here. I'm so fine with it. People want you to have some sort of breakdown, but I'm relieved to be 40 years old, and I've lived a life."
Nor did she panic when she hit the big 5-0 last summer. Coming off what she called "one of the best years of my life" as she collected Best Film Actress honors at the 2017 British Glamour Awards, she marveled at the fact that she once thought she'd be slowing down as she entered her sixth decade. "When I was about 40 I remember thinking, 'Oh, at 50 I'll be retiring.' No way!"
At this rate, we're anxious to see what 51 brings. Because it's hard to argue that Kidman didn't simply dominate 2017.
She followed up a slew of nominations for her turn in Lion and an appearance at the Cannes Film Festival that saw her promoting four projects with a virtual victory lap of awards' season, adding two Emmys, two Golden Globes and a SAG award to her collection thanks to her role as Big Little Lies' abuse survivor Celeste Wright and the series' co-producer. Treading on those achievements, she successfully campaigned for a second season of the HBO smash. She was also named one of Glamour's Women of the Year, thanks, in part, to her pledge to work with a female director at least once every 18 months and, finally, she inked a first-look content deal with Amazon Studios for her Blossom Films to develop original series.
And this Sunday she is up for what would be her sixth Golden Globe, for her work as a damaged LAPD detective left in tatters after an undercover sting operation gone wrong in Destroyer. 
Perhaps best of all, she has someone to celebrate with if she's to take home the gold. She and decorated country singer Keith Urban are so outwardly smitten that one outlet recently asked why they were always touching. (Short answer: Um, they really like each other.) And the mom of four says having him revel in her victories make them that much sweeter. When she nabbed her Oscar in 2003 for The Hours, still reeling from her shocking split from Tom Cruise, "I was not in a great place in my life. I didn't have a partner to share it with," she confessed on the Late Show With Stephen Colbert last November. "I was flailing, emotionally and personally. So, to win an Emmy and be in love and have my family...it's amazing."  
At 22, the Australian ingenue had the type of life outsiders would describe as perfect. She walked out of an early audition, for 1990's Days of Thunder, with her first major role—and a husband. "I just remember electricity going through me," she recalled of that initial meeting with Cruise, by then already a veteran of Risky Business, Top Gun and Cocktail. 
By the time the film was released, he had left his first wife Mimi Rogers. He and Kidman would marry six months later amid threats from her agents that becoming Mrs. Tom Cruise would derail her burgeoning career.
Even as she went on to make some 12 movies over the next 10 years, she struggled to shake the feeling she was an interloper. "I became very famous because I was the wife of somebody," she has explained. "I felt I became a star only by association. I didn't think (my early movies) were very good, which is why I would always cower in the background. I thought, I don't deserve to be here. We would go to the Oscars and I would think, I'm here to support him. I felt it was my job to put on a beautiful dress and to be seen and not heard." 
Despite those doubts and undergoing more than her share of heartbreak—a "traumatic" ectopic pregnancy at age 23 before they adopted daughter Bella, now 25, and son Connor, now 23, and a miscarriage near the end of their 11 years together—Kidman has described their union as "a fantastic marriage for a long period." 
Kathy Hutchins/Zuma Press
Which is perhaps why she was left floored when he filed for divorce in February 2001, mere weeks after they renewed their marriage vows. 
Neither star has shared what led to their marriage's sudden demise—other than to debunk rumors that playing an at-odds husband-and-wife in the sexual thriller Eyes Wide Shut was at fault—but Kidman has been open about the devastation that ensued. 
Ever the actress, she did her best to mask her pain with jokes, winning points for quipping to David Letterman how nice it felt to dust off her high heels. (Cruise is a reported 5-foot-7 to Kidman's 5-foot-11.) But inside she was reeling. "It took me a very long time to heal," she admitted to DuJour in 2012. "It was a shock to the system." 
Unable to reboot, she focused on work, relishing the opportunity to play pretend for weeks at a time. "I was running from my life at that time," she explained at the 2015 Women In the World Summit in London. "I wasn't able to handle the reality of my life and as an actor, you have this wonderful thing where you can go and get lost in somebody else's life and become somebody else for a period of time. And when I look back on it, I really see that." 
Her avoidance led to some of her most celebrated performances, including Moulin Rouge!, The Others, Cold Mountain and, of course, her Oscar-winning turn in The Hours. But as she held her trophy on that March night in 2003, the victory felt hollow.
"I was sitting in the Beverly Hills Hotel and it was all extraordinary and I was the loneliest I've ever been," she admitted. "And that was a very strange thing to have happened and it was a fantastic thing to have happened because I was jolted out of this, I suppose, need or desire to say, 'This is gonna heal me' and it didn't. And then I went, 'I need to really hone in on what I want as a woman and for my life."
Two years and one failed engagement to Lenny Kravitz later ("It just wasn't right," she has said. "I wasn't ready,") Urban would present himself at the January 2005 G'Day USA gala. 
Spying his fellow Aussie across the room, "There was a split moment where she wasn't with anybody and there was nobody around and I thought, 'Oh, I'll just go up and say hi,'" Country Music Association's Entertainer of the Year told Oprah Winfrey. "And I plucked up the courage to go and do it very nervously and trying to be all cool. She was very pleasant and everything. There was that moment of waiting for the next thing to be said, at which I didn't know if I was bothering her or what was going on, so I just sort of said, 'Well, nice to meet you' and I walked away."
He immediately second guessed the move. "She stood there for a moment and she walked away and then I thought, 'Was I supposed to say more?'" he continued. "A friend of mine said, 'I think she wanted to talk to you. I went back over and apologized and we just started talking and just really clicked."
Michael Buckner/Getty Images
Once again, though, he missed her subtle cues, waiting an agonizing four months to reach out. "I had such a crush on him, and he wasn't interested in me," she revealed on The Ellen DeGeneres Show. Asked for more details about the delay, Kidman demurred, insisting, "There's certain things, and I think anyone in a marriage would agree with this, you just leave that. We're here now, and it's all good. We don't need to hash up all that stuff now, right?!"
The Cliffs Notes version: He eventually called, she was instantly smitten and by the time they walked their first red carpet together at the 2006 Grammys (where he nabbed a trophy for Best Male Country Vocal Performance), they were already engaged. "I'm spontaneous. I jump in," Kidman would explain in her January 2015 Elle cover. "I kind of like getting married and then getting to know each other; I know that it sounds incredibly strange, but to me, it's a more natural process."
Bryan Bedder/Getty Images
Though it does have its pitfalls. Just four months after they wed in front of 200 guests at a cliff-top church in Sydney, they put the for better or for worse portion of their vows to the test. 
When Urban, previously open about his cocaine use, checked into the Betty Ford Center to treat alcohol addiction, Kidman canceled the rest of the press tour for her 2006 drama Fur: An Imaginary Portrait of Diane Arbus and returned home to help her new husband craft a statement, coming clean about his relapse and apologizing for the pain he'd caused those close to him. 
"You can try and hide it, smoke and mirrors and all, but then how do I visit every weekend?" she told Vanity Fair in 2007 about their transparency. "It's been a huge lesson for me too."
The biggest takeaway, though, was that their nascent romance was strong enough to survive the tough stuff. "It was just another twist in my life: Here it goes. Hold on, and off we go! But it was painful, deeply painful," she told the mag. "We were in a very, very, very bad, painful place, and have managed to step through it, and I hope that gives some people some hope who may be in the same place."
Urban gives the bulk of the credit to his better half, whom he says arranged an intervention and saved his life. "Meeting her and getting married wasn't life-changing," he told CBS News in 2016, "it was life-beginning."  
Quite literally. Because shortly after Urban's rehab stay, Kidman (who'd told Vanity Fair she "would be very sad if I wasn't able to have a baby,") saw those two pink lines that made her scream in delight.   
Sunday Rose, now 9, followed by sister Faith Margaret, now 7, filled their homes with a happy hive of activity. Friends from school will often pop over for supper, notes Kidman, letting her "live out my fantasy of having lots of children." Describing life at their Tennessee farm, she admitted to Vogue last year it "probably isn't what you expect. I read at the school. We're a very tight-knit family—we get anxious if we're separated more than two days. We try to have sit-down dinners every night we're here."
Jim Smeal/BEI/REX/Shutterstock
And should the couple be otherwise occupied, walking the carpet at the Met Gala, the Golden Globes, the CMTs or the CMAs—because the PDA-heavy pair aren't the type to avoid being photographed in all their blissfully happy glory—they will often return home to find their girls have stayed awake for goodnight kisses. "They wait up for me," she told Vogue. "I'm very, very happy I have that. I've wanted that for a long time. It's the thing that gives me more joy than anything and is the basis of it all for me."
Face time is important to the couple, now rounding the corner toward their 13th wedding anniversary. While most pairs in the industry boast of their two-week rule, they prefer to limit time apart to just one, Kidman noted to Vanity Fair, explaining, "We start to hurt after seven days." 
That often means having to go the extra mile—or, really, 4,800. 
When Kidman was opening the London-based play Photograph 51 in the fall of 2015, Urban was mid-tour. "I said, 'It's too much for you to have to fly all the way back, don't worry,' and he said, 'I'm flying,'" she told DuJour. "He flew 10 hours to come and be with me for the night, and then he flew back and did a gig. That for me is love in action. That's extraordinary. But I would do the same for him and that's what we've committed to as a couple."
Andreas Rentz/Getty Images
Should their work keep them apart, they do more than just the requisite Skype sessions and phone calls. (Texting and emails are rare as they prefer to hear each other's voices.) For every night Urban is away (which is infrequent, because Kidman will often hop aboard the tour bus to see the country with him), "he leaves me a love letter," she told InStyle. "Every single night of our relationship."
But it's what he does when he's present that really blows her mind. Asked how she manages to make herself truly vulnerable as an actor, she told Glamour, "Keith always says to me, 'You stay raw and sensitive, and I'll buffer things for you,' which is a beautiful offering. He is always told, 'You're so tough.' And he says, 'That's not what I want for you, Nicole. You don't need to get a thick skin.'"
David Becker/Getty Images
It's an offer that allows her to truly delve into a tough role as, say, a woman choosing to stay with her abusive husband: "I think, for me, it's about having a place that's safe to nurture you, where the tears can be shed. That way I can actually go back open and curious and willing.
With her personal successes finally matching her professional ones, the accomplished actress and UN Women Goodwill Ambassador knows how good she has it. But she's also acutely aware that life wasn't always this sweet. 
Take the time Urban acknowledged their 2014 wedding anniversary with a mid-performance dedication of "Making Memories of Us". Gesturing toward Kidman, he revealed, "I sang this at our wedding eight years ago, I was too cheap to get someone else to sing it." 
The moment left concertgoers—including Kidman's close pals—in awe. "I had two girlfriends sitting with me and they were like, 'Bitch!'" she recalled to The Edit. "I went, 'Hey! I've been to hell and back!'" 
That pain just makes her life now feel even more heavenly. 
"Everything becomes more meaningful as you get older," she explained to Vogue of appreciating the triumph of Lion and Big Little Lies more than Moulin Rouge! "When you're young you have that slightly laissez-faire approach to everything. I know what Vogue is in the world. It's an institution, and to have been on it is 'Wow!' When Elle Fanning was on the cover, you thought, Elle has arrived. So to have been on the cover eight times! It's amazing. I'm absolutely, on the record, amazed."