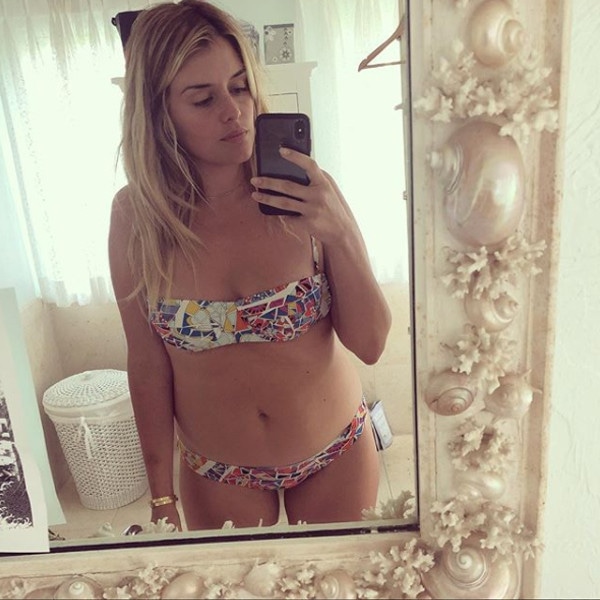 Instagram
Daphne Oz is committed to losing weight the healthy way.
More than six months after welcoming her third child, the best-selling author took to Instagram and snapped a bikini selfie.
But instead of focusing on the mom's latest swimsuit, followers are inspired by her post about a healthy lifestyle.
"NEW WEEK! New commitment. // I celebrate on the weekends so that I feel strong sticking to my healthy goals throughout the week as I work to lose this baby weight and so I don't go insane in the process," she wrote on Instagram. "Here's what I'm eating today in case you want a little inspo to jumpstart your Monday! I find it helps to write down what my 'plan' for the day is."
The former co-host of The Chew added, "Some things my shift as needed, but having a vision in mind means I'm not aimlessly searching for something to eat at meal times...what are you having today?"
For those wondering what the busy mom enjoyed when starting her week, we have the answer. Daphne had coffee, a banana and almond butter for breakfast. Lunch featured a chopped salad with a hard-boiled egg and handful of baby carrots for a snack. Dinner included leftover jerk chicken and sautéed broccoli rabe with shallots.
She also gave fans a taste of what she was enjoying Tuesday afternoon through her Instagram Stories. Furthermore, Daphne was more than willing to answer questions from followers.
As it turns out, she doesn't usually have alcohol during the week but will enjoy a glass of wine over the weekend.
Ever since welcoming her third child, the author has been open and honest about her weight-loss journey. At the same time, she has advised moms to go at their own pace and focus less on what they see in the media.
"There is no bounce-back, it's all onwards and upwards. Every day has moments of total splendor and also a decent number of WTFs. I especially want the new mamas out there to hear that, because we see so much of how glossy motherhood can be and not enough of how real 3D life is always complicated (and better for it)," Daphne previously wrote online. "You're experience will be just right for you. Prepare to be amazed by some things and horrified by others. Motherhood is as complex and wonderful as the woman."