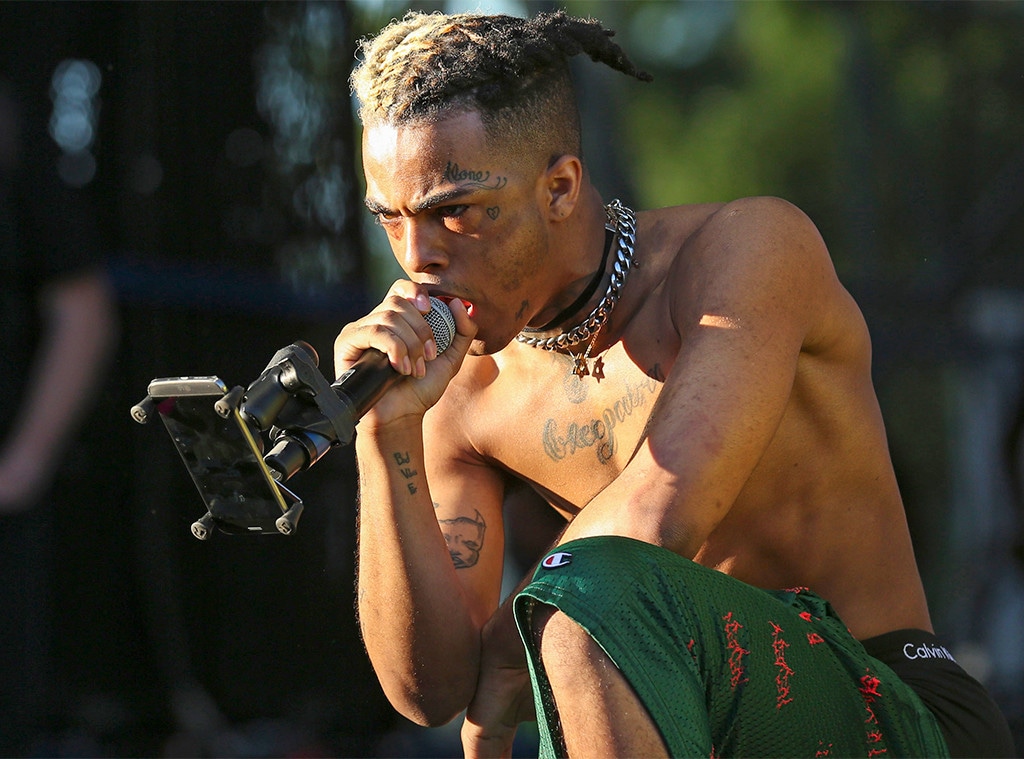 Matias J. Ocner/Miami Herald/TNS via Getty Images
Not long before he was killed, XXXTentacion foresaw imminent death as a real possibility and mused about his legacy.
"Worst thing comes to worse, I f—king die a tragic death or some s—t and I'm not able to see out my dreams, I at least want to know that the kids perceived my message and were able to make something of themselves and use it to turn it into something positive, and to at least have a good life," the 20-year-old rapper said in a recent Instagram livestream. "If I'm going to die or ever be a sacrifice I want to make sure that my life made at least 5 million kids happy, or they found some sort of answers or resolve in my life."
On Monday, XXXTentacion, born Jahseh Wayne Onfroy, was shot by an assailant in a red mask as he was leaving RIVA Motorsports in Deerfield Beach, Fla., and pronounced dead at a nearby hospital at 5:30 p.m. local time. A vigil was planned for Tuesday evening outside the motorcycle shop.
This morning, the sole remaining post on his Instagram story was a slide reading, "planning a charity event for this weekend Florida!"
And despite XXXTentacion's rather quaint wish to be remembered as an artist who simply made kids happy, there is nothing simple about his death—under investigation as a possible attempted robbery—or his legacy.
"Would I change anything about my journey?" XXXTentacion, no longer on house arrest and with a No. 1 album under his belt, told the Miami New Times for a profile just published June 5. "F—k no."
The SoundCloud-buoyed rapper from Plantation, Fla., had been accused of attacking his pregnant girlfriend and was awaiting trial on domestic violence charges. He was on modified house arrest from December until March 21 after being slapped with new witness tampering charges in the case. A few days later his album ? debuted atop the Billboard 200, his first No. 1 album.
?, indeed.
With his greatest commercial success yet, XXXTentacion joined an infamous group of rappers that includes Tupac Shakur and Lil Wayne who've seen their star rise either from prison or while mired in legal issues.
In response to Onfroy's death Monday, J. Cole tweeted, "This got me f--ked up. RIP X. Enormous talent and limitless potential and a strong desire to be a better person…"
Onfroy had his devoted fans and a litany of friends and admirers in the music world, but any quest to be better sounded as if it was going to be a steep climb, one that was still ongoing at the time of his death.
He was arrested in 2016 at the age of 18 for allegedly beating up then-girlfriend Geneva Ayala and eventually charged with aggravated battery on a pregnant victim, domestic battery by strangulation, false imprisonment and witness tampering. Onfroy pleaded not guilty.
The ignominious charges, coming just as his rap career was starting to take off outside of his South Florida origins, were the latest in a series of violent episodes that shadowed his youth. When he was a kid he was kicked out of his school choir for getting into a fight with another student. He was expelled from middle school after a series of fights, after which he briefly lived in a group home for troubled youth. After the age of 12 he mostly lived with his grandmother ("My grandma really feels like my mom," he told the Miami New Times), but he was equally combative in high school, where he suffered from depression and ultimately dropped out in 10th grade.
He ended up in a juvenile detention center, where he beat the hell out of a roommate whom he thought was staring at him while he was naked. "This n---a did some gay s—t, so I had to crack his head open," he recalled telling his mother (she started crying, he said) during an interview for the No Jumper podcast, posted in April 2016. He insisted he was not homophobic, he had gay friends and believed same-sex marriage should be legal—but one day he felt the guy was behaving inappropriately and he reacted. "So many crazy people [in jail], it starts to rub off on you," he said. 
"Anybody who's portrayed as the abuser is the abused...really you're just a hurt child on the inside," rapper Denzel Curry, who let XXXTentacion live with him for awhile, told Hot New Hip Hop in January, talking about his friend's troubles.
Onfroy first met Geneva Ayala in November 2014, according to the New Times. She had a boyfriend who had just posted a racy photo of her on Twitter during an argument and Onfroy pledged to fight him, telling her, "Your boyfriend's not supposed to be doing s—t like this." The other guy never showed, but Ayala's interest was piqued. They spent a few days getting to know each other but fell out of touch, Ayala told the publication, before spotting each other again at a May 2016 show right before Onfroy was about to go onstage.
Onfroy approached her and grabbed her by the throat, but "he made it seem sexy," Ayala said.
Meanwhile, in 2015, during that time apart, Onfroy was allegedly involved in a home invasion robbery, which resulted in a term of house arrest. (He eventually pleaded no contest to the related charges in 2017.)
"I don't say much about myself because I feel that everybody tries to judge me, as far as knowledge-wise," Onfroy said on No Jumper, explaining why he didn't talk about his still-tender age.
That was the first time he opened up extensively about his upbringing, or lack thereof, and his violent past. (His mother had him as a teenager and he was shuttled among family and friends' houses growing up.) He even said during the podcast that both of his hands were broken, from recent fighting.
Recalling his tumultuous time in junior high, Onfroy recalled a piece of advice he says he got from his mom: "Always give a girl three warnings, you always give a girl three warnings, and if she keeps hitting you, obviously she's trying to harm you. And if she's trying to harm you, then you got to go to the extent where you've got to handle it.
"So I remember one day this girl and her boyfriend were f--king with me at school, because I was making fun of them. I think she slapped me or some s--t, and I slapped the f--k out of her, and kneed her." He giggled. "And I remember from after that my mom realized how serious I took her."
Onfroy told the Miami New Times recently, referring to his mom, "I chased her. I used to beat kids at school just to get her to talk to me, yell at me."
According to the charges against him, between May 2016, when they first reconnected, and October 2016, he physically abused Geneva Ayala repeatedly, slapping her for the first time within days of their reunion. On at least one occasion, per the criminal case, he held a knife to her throat. The charges further alleged that, on Oct. 6, 2016, he severely beat her and then took her phone away and forbid her to leave his apartment until her face healed. 
"His favorite thing was to just backhand my mouth," Ayala also told the New Times for the same story published earlier this month. "That always left welts inside my lips."
XXXTentacion was arrested Oct. 8, 2016; after pleading not guilty, he was jailed for violating the terms of his previous house arrest agreement. From behind bars, in a phone call that was recorded and ended up online, he accused Ayala of cheating on him and trying to blackmail him and his mother. "I did not beat that bitch; she got jumped [by other people]. Bye," he said. He also claimed she had never been pregnant.
In part thanks to the publicity he got from the No Jumper podcast, but mainly from the boost that getting locked up apparently still provides, his music really started to take off in early 2017, with fellow rappers sampling his lyrics and expressing hope for his swift release. His SoundCloud following ballooned to 320,000 users. (He died with 9.8 million Instagram followers.)
He was released from Broward County Jail on March 26, 2017, but first he made his Billboard Hot 100 debut at No. 95 that Valentine's Day with "Look at Me." Diplo featured him on his May 2017 track "Looking for a Star." That June, he was knocked unconscious when an audience member rushed him during a concert in San Diego, Calif., and one person was stabbed during the ensuing confusion. In August, his first studio album, 17 (featuring a track called "Ayala"), debuted at No. 2 on the Billboard 200 album chart, accompanied by no less than a tweeted endorsement from Kendrick Lamar.
In September, after the particulars of the case against him, including details from the 142-page deposition given by his ex-girlfriend, were made public, XXXTentacion took to Instagram to rail at the charges. "Anybody that called me a domestic abuser, I'm finna domestically abuse ya'll little sisters' p--sy from the back," he raved. He insisted the stories about him were fabricated.
"If you're not with me, keep my name out your mouth, it's not that hard, or If you've realized that my name is power, you should use it positively so I can shed a little light on you," read a post to his Instagram story.
In October, according to Spin, Onfroy's label, Bad Vibes Forever, signed a reported $6 million distribution deal with Capitol Records subsidiary Caroline. He also vowed to donate more than $100,000 to domestic violence prevention programs, stating on his Instagram story, "Also another thing, I want to apologize to every single woman that I've ever disrespected or made feel violated, by me, saying i am 'insensitive.' I dont take back the remark in a general statement, but I do want to say I would never intentionally try to make a woman feel uncomfortable or in danger by my own conscious will so in order to show progress in my life and show remorse for my remark to the people that support me I want to let you know, that I will be donating over 100 thousand dollars, to domestic violence prevention programs!"
On Oct. 25, however, he said planned to end the deal with Caroline, and two days later he claimed via Instagram story that he was retiring altogether.
"Sad to announce I will not be making or releasing any music," he said, per XXL. "I am tired of being mentally abused for trying to help people, I'm tired of the hate, I'm done."
In November, XXXTentacion bought a $1.4 million house in Parkland, Fla., several miles away from the soon to be globally known Marjory Stoneman Douglas High School—and in December he was ordered to stay there, put under house arrest after facing additional charges of witness tampering in relation to the domestic violence case. (He was allowed to leave for work-related reasons, such as trips to the recording studio or to otherwise fulfill contractual obligations.)
Despite his claim that he was done making music, he had relented, telling his fans via Instagram, "Never quitting music, that would be selfish I see how many people need me."
In early 2017, as he became increasingly well-known, a parallel conversation simultaneously began as to whether XXXTentacion should be so lauded, given the violent behavior he was accused of (graphic photographs chronicling Ayala's injuries were shared online) and the seemingly flippant and defiant attitude he took on social media. Music publication Pitchfork, in particular, worked to stress the appalling nature of the accusations.
But on the charts that remained a side conversation, relegated to the conscientious objectors file as listeners caught on and increasingly rabid fans took his side every which way—including in cases where trolls took up harassing Ayala, online and in person, to drop it.
On Nov. 27, according to the New Times, Onfroy's legal team presented a document with Ayala's signed statement saying she wouldn't testify in court. She later told the publication that she only signed that under pressure from her ex.
"He always invited all his fans to go to every court appearance," she said. "When I walk out of the courtroom and onto the street, what are people going to do?"
Prosecutors already suspected she had acted under duress and filed eight additional charges of witness tampering and harassment against Onfroy. Other potential witnesses to the alleged abuse claimed they also got harassing calls from Onfroy.
But the reports of bad behavior didn't convince everybody that he should be shunned.
Larry Marano/REX/Shutterstock
In May, Spotify—under extra pressure due to an increasingly loud outcry over the seeming double standard that's been benefiting R. Kelly's career as accusations of sexual misconduct have piled up against him over the years—announced a new policy to ban hateful conduct or speech from the streaming service.
Two weeks later, Spotify backtracked after numerous artists, including Kendrick Lamar, threatened to pull their music, questioning who was getting dumped from the site versus who wasn't.
"I think the key point here was what we were trying to go after, which was just really around hate speech," Spotify CEO Daniel Ek told Rolling Stone after the PR debacle. "It wasn't to go after being a moral police about who did right, who did wrong. You know, you get into really tricky things such as, has this person actually been charged with something, convicted with something? Etcetera. That was never the goal. We're a platform, we want art, we want to express a lot of diverse opinions. We don't want to be the judge and the moral police of that."
Post-#MeToo, "women are almost more powerful than men," XXXTentacion told the Miami New Times, suggesting that accusations can get wildly out of hand on social media.
Meanwhile, the trolling of Geneva Ayala didn't end with XXXTentacion's death, either.
"It's disgusting that people are speaking for me," Ayala reportedly tweeted Tuesday morning. "I don't care if no one cared about me however many months ago, i didn't lose my life. he did. it's permanent. i'm still here. like how do you think that makes me feel? everyone expecting me to be relieved or happy?! no, i'm broken."
XXXTentacion had broached the subject of his own death on numerous occasions before talking about it just hours before he died. "The only person who inspired me is Kurt Cobain," he said on The Mars Files podcast in 2016. "He did it right as f--k, man."
And the debate will rage over whether he managed to turn over a new leaf or not.
In the Instagram livestream seemingly from Monday, he continued, "Regardless of the negative around my name and regardless of the bad things people say to me, I don't give a f—k because I know my goal in the end and what I want for everyone, and I know what my message is. So I just want to say, I appreciate and love all of you, and I believe in you all.
"Do not let your depression make you, do not let your body define your soul, let your soul define your body. Your mind is limitless. You are worth…more than you could believe. All you have to do is dream…Pain is a sign of progress. When you feel pain, it's a sign of progress."