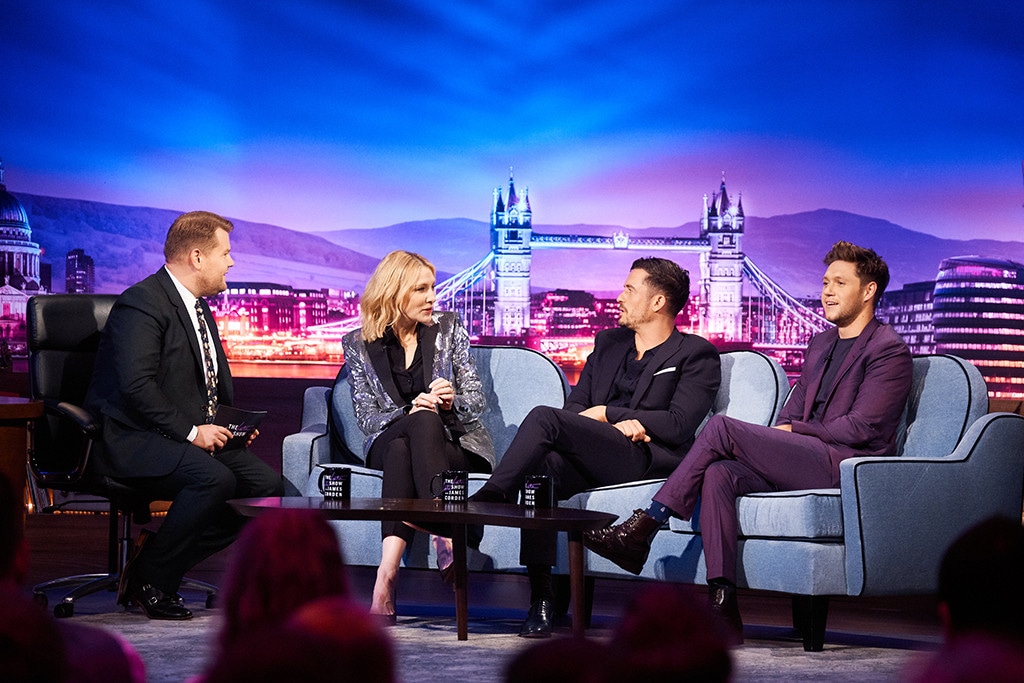 Terence Patrick/CBS ©2018 CBS Broadcasting, Inc. All Rights Reserved
Love was brewing in Middle-earth—at least for Orlando Bloom.
On Monday's episode of The Late Late Show, the actor admitted he had the hots for Cate Blanchett while they were filming Lord of the Rings.
"I had such a crush," the actor replied when asked about his first impression of his co-star. "Well, Legolas has a crush, and then I had the biggest crush on you."
When Blanchett tried to clarify the Elven prince had a crush on her character Galadriel, Bloom replied, "No! It was me."
The Ocean's 8 star was clearly surprised by Bloom's confession.
"I had no idea," she said. "This is actually a dating show, isn't it?"
Bloom said he didn't admit his feelings to Blanchett at the time because she was a few years older. However, this wasn't the only reason a romance didn't come to fruition. Blanchett said she filmed for only three weeks and that she didn't recognize Bloom without his character's long locks.
"The first time I saw you, you had hair—like Fabio hair and blue eyes," she told Bloom. "Then I just saw you, who is this really cute guy out of drama school who's at the parties, and I didn't put two [and two together]."
So, Bloom admired her from a distance.
"I was just walking around like spying on her from the corner of the room," he said. 
"In a really non-creepy way," Blanchett quipped.
Still, Bloom treasured their time together on set.
"You gave me a very special bow, and I look after it," he said, referencing a scene from the movie.
Of course, both stars found love elsewhere. Bloom was married to Miranda Kerr from 2010 to 2013 and has been in an off-again-on-again romance with Katy Perry. Blanchett is married to Andrew Upton.
Bloom and Blanchett joined host James Corden and fellow guest Niall Horan in London for a special edition of the late-night show.
Watch the video to see their interview.