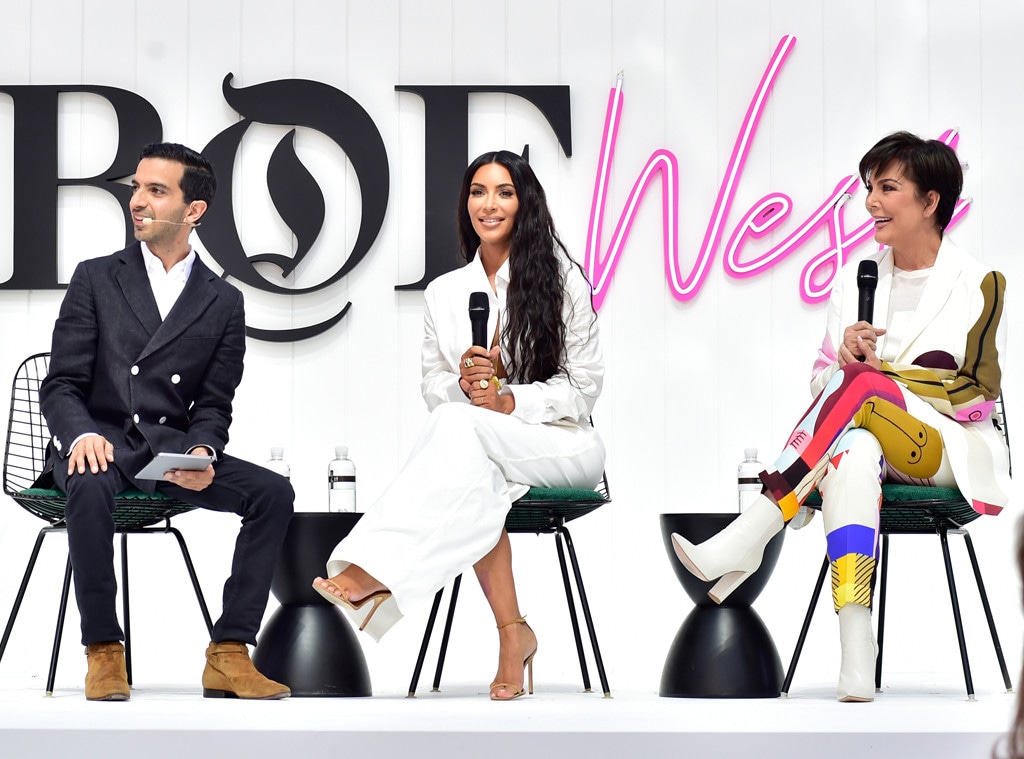 Stefanie Keenan/Getty Images for The Business of Fashion
It looks like Kim Kardashian foresaw Kylie's Jenner's pregnancy before everyone else did.
The 37-year-old Keeping Up With the Kardashians star spoke about her inkling during a Business of Fashion West panel with Kris Jenner on Monday. 
During the panel, The Business of Fashion founder Imran Amed asked the mother-daughter duo about their future once their E! show ends. 
"It's going to be here forever!" Kris teased, joking that Kim's 5-year-old daughter North West was going to get married in a future season. The momager then quipped she "used to say that about Kylie" when her now 20-year-old daughter was 10.
"We used to say, 'Season 17, Kylie has a baby,'" Kim added. "And we all looked at each other and [were] like, 'Oh sh-t! That just happened.'"
Considering Kylie gave birth to Stormi Webster in February and Season 15 debuts this summer, Kim was pretty close with her timing.
In addition to proving their psychic abilities, Kris dropped some hints about their show's upcoming season, including a "major blowout" between the sisters.
"When I think about it, I do get really mad," Kim added. "It's basically just like people being disrespectful. It's the one thing that really gets me." She also hinted the argument may involve Kourtney Kardashian, saying "Talk about Kourtney behaving like that."
Still, no matter the drama, the group always comes together as a family. When asked about dealing with media attention and backlash, Kim replied, "Well, in these times, there's backlash if you sneeze….It's gotten really out of hand."
"I think that the way my family and I have always dealt with everything is we know we have each other. Nothing else really matters," the KKW Beauty head continued. "So at the end of the day, this could all go away and we all have each other and we're confident in that. So, we're always going to be who we are. And if one of us is fighting with, you know, a boyfriend or an ex, or whatever the examples you were giving, I mean, we all know what it is. Like, we all know we support each other and we love each other. And a part of all of that craziness has given us the platform to have our brands."
Keeping Up With the Kardashians returns this summer, only on E!