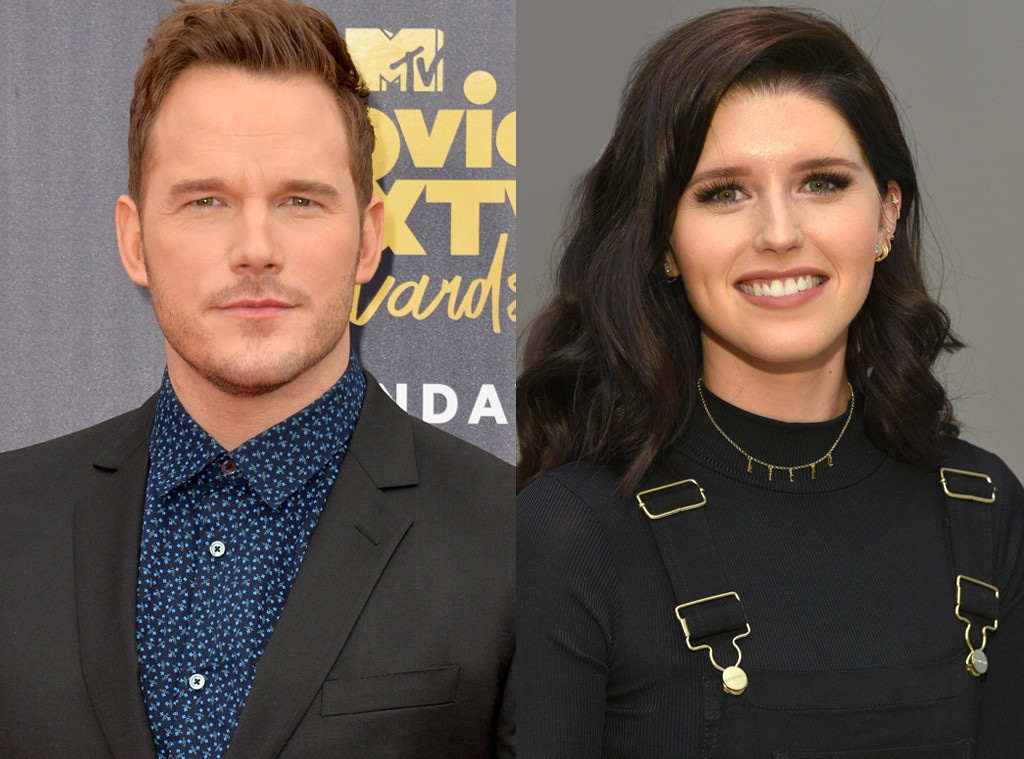 FeatureflashSHM/REX/Shutterstock; Erik Pendzich/REX/Shutterstock
They say a picture is worth a thousand words.
And when Chris Pratt and Katherine Schwarzenegger are photographed in the same frame, the Internet is going to start talking.
Earlier today, photos surfaced of the Jurassic World star hanging out with the best-selling author and famous daughter of Maria Shriver and Arnold Schwarzenegger.
In the pics, the pair was spotted having a picnic near Santa Barbara, Calif. And while it could just be two friends having some lunch in the sunshine, some are starting to wonder if something more is going on.
While the duo is staying quiet on this Father's Day outing, it did get us thinking why these two could work as a couple. Don't believe us? Keep reading and you may just be persuaded.
Hollywood Spotlight: For some A-list stars, finding someone who understands an unpredictable work schedule, paparazzi and nonstop attention is hard to find. But for Chris and Katherine, they both understand what it's like to have their lives put under the microscope. The Jurassic World star recently experienced a public divorce with Anna Faris. As for Katherine, she knows the public's interest in a celebrity couple. Just look at the attention her brother Patrick Schwarzenegger and Miley Cyrus received when they dated.  
Philanthropic Efforts: When not working on their respective projects, you can likely find these two doing good for others. Chris makes it a habit to visit children's hospitals across the country. Most recently, he visited the Ronald McDonald House in New York City. As for Katherine, she is an ASPCA ambassador and is a vocal supporter of Best Buddies with her entire family. 
Mutual Friends: It's a small world in Hollywood after all! Katherine and Chris share mutual friends in the famous town. One familiar face that comes to mind is Rob Lowe. Chris starred alongside the actor in Parks and Recreation while Katherine has known Rob and his family for several years.
Strong Faith: Both stars have been vocal about their spirituality. Chris and his son Jack have been spotted at church on multiple weekends. In fact, the actor gave thanks to God at the MTV Movie & TV Awards when accepting his award. "God is real. God loves you. God wants the best for you. Believe that. I do," he shared with the crowd. As for Katherine, she was raised Catholic and often shares inspiring quotes on her Twitter.  Most recently, the lifestyle blogger shared a quote from Rev Run that read: "God's way is better than your way. His plan is bigger than yours, it'll be more rewarding than your wildest dream. Now trust him and Chill."
Get Out and Enjoy: Whether visiting the barns to see her horses or enjoying walks in the sun with her dogs, Katherine loves Southern California and the great outdoors.  As for Chris, he's been vocal about his love for fishing and hunting. "Me and Jack had such an awesome time fishing at @kualoaranch," the actor previously shared on Instagram. "All I know is this fish fought like hell and tasted amazing!!! #jurassicworld #fallenkingdom #whatsmysnack." No wonder they looked so happy during their Father's Day picnic.