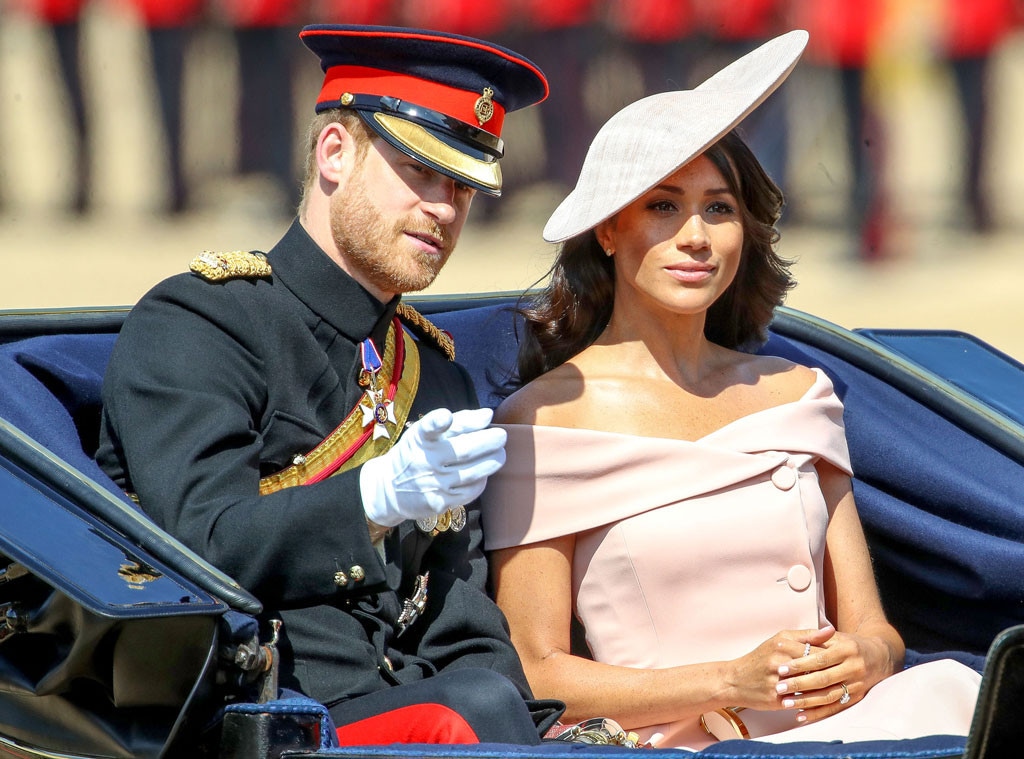 Mike Marsland/WireImage
Thomas Markle can recall the moment he realized his little girl may one day become royalty. 
It started with a simple confession: "Dad, I have a new boyfriend." Pleased to hear the news, the former lighting director recounted on Monday's episode of Good Morning Britain, "I said, 'That's real nice.'" Then Meghan Markle confessed her mystery suitor was British and, finally, in a third conversation, she whispered that he was a prince. By the time she finally spelled it out—she had been seeing Prince Harry since the start of summer 2016 and since it was still hush-hush, they'd have to refer to him simply as "H" in subsequent conversations—the General Hospital and Married...with Children alum was impressed. But certainly not intimidated. 
"Eventually I spoke to him as well," he told hosts Piers Morgan and Susanna Reid, "a very nice man, a gentleman. Yeah, he's great, he's an interesting guy." Still, he was clear to note, his youngest offspring, an actress, humanitarian and Northwestern University double major, is pretty dignified herself: "My daughter's been a princess since the day she was born." 
But now that designation comes with some weighty responsibilities. Just one month after being officially titled the Duchess of Sussex, following her Windsor Castle vows with Harry, the longtime philanthropist, 36, has followed through on her vow to "hit the ground running." 
The Firm's newest initiate has already attended a handful of official events (including a solo engagement with Queen Elizabeth II), announced plans for her inaugural overseas trip with her new groom and begun quietly meeting with British charitable organizations. "She is familiarizing herself with the landscape in this country Royal Foundation chief executive officer Lorraine Heggessey told People. "She's meeting groups and wants to do that privately so she can get to know people." 
Her goal, as she revealed in her November BBC engagement interview with Harry, 33, is to focus even more energy on "the causes that have been very important to me," and just "really get to know more about the different communities here, [and learn about the] smaller organizations who are working on the same causes that I've always been passionate about under this umbrella."
While her official webpage is already littered with references to her largesse, noting her learning missions to India on behalf of World Vision and a role as the UN Women's Advocate for Women's Political Participation and Leadership, expect her to take her time to announce her personal patronages. "Meghan is keen to begin shaping the picture of her royal duties," one insider insists to E! News, "but won't be rushing into anything." 
Except getting to work, that is. Following their first appearance as a married duo, a garden party honoring Prince Charles' upcoming 70th birthday, the Suits alum and the former apache helicopter pilot fit in some much-needed R&R, escaping to Africa for a two-week honeymoon. 
The continent holds a lot of meaning for the couple (Harry whisked his new girlfriend to Botswana just weeks into their courtship) and it also met their other prerequisites: sun, sea and privacy. With activities ranging from safaris to sunbathing, "It was the perfect break and blend of their passions," a source told E! News, "restorative and the perfect holiday before starting a very busy second half of 2018." 
On the agenda: Carrying out the mission they began to envision in the earliest days of their romance. "It was one of the first things we started talking about when we met, was just the different things we wanted to do in the world," Meghan noted during their BBC chat.
For now, the red carpet veteran is getting her Aquazurra-clad feet wet as a patron of the Royal Foundation alongside her husband, his brother Prince William and bride Kate Middleton (among the causes the foursome champion on their site: mental health, wildlife and conservation, young people and the armed forces community) and making appearances on behalf of Queen Elizabeth.  
And in that arena, the longtime activist, who's spoken to crowds about the importance of gender equality and the stigma surrounding menstruation, seems content to dive right in. Having sailed through pre-wedding appearances with Harry, she attended just two with him on her arm before accepting an invitation to fly solo with her majesty at a multi-event day in Cheshire, England, some 200 miles outside of London. 
Sure, she was understandably nervous for alone time with the monarch—a feat Kate didn't attempt for some 11 months after her 2011 vows to William—but she aced that first test. Sharing a few laughs with the oft-stoic ruler during a performance from local students, she showed off their tight knit bond and a set of diamond-and-pearl earrings the monarch had gifted her for the occasion. 
As for Meghan's so-called gaffe—the brief moment of hesitancy when she wasn't sure who should slide into the waiting sedan first? Instantly forgotten. Meghan climbed in, The Queen followed and they kept calm and carried on with their day that included the opening of a bridge, a meeting with planners and community representatives and a tour of a performing arts center. 
In fact, Meghan has made nary a step out of place—save for a near-stumble, a blink-and-you-missed-it moment at the wedding of Harry's cousin Lady Celia McCorquodale this past Saturday. 
Her grace and ease with fans, no doubt fine-tuned over years posing on step-and-repeats and granting requests for autographs, has already endeared her to royal watchers. "She's got her own way of doing things," Harry and William's former royal butler Grand Harrold told E! News of Meghan's penchant for warmly greeting attendees and doling out hugs to children (a move that's earned her more than a few comparisons to Harry's late mother, Princess Diana). Hello magazine's London-based Emily Nash also gives her style high marks. "Having seen her in action on engagements across the U.K., she's already doing a great job. She's articulate, smart, elegant and warm," Nash told Vanity Fair, "and she's already hugely popular over here." 
She's acutely aware that with great adoration comes crucial obligations. "Very early out of the gate I think you realize once you have access or a voice that people are willing to listen to, with that comes a lot of responsibility, which I take seriously," she told BBC months before she would become a duchess.
Which is why she's making careful considerations before announcing the first of her solo patronages. The seven charities, with focuses ranging from homelessness to HIV to the environment, that she and Harry selected for wedding well-wishers to support, provide some hints about her key areas of importance. As does her past work tackling issues of gender equality and social justice. But a source says she'll reveal the smaller charities and grassroots organizations she intends to work with by the end of the year. 
"She's interested in getting involved in youth-focused charities, which can incorporate a broad spectrum of her interests, such as women's issues and gang violence," a Meghan insider explains to E! News, adding that while she's "confident" in the organizations she's eying, "she is relying on the support of aides at Kensington Palace, including her private secretary Samantha Cohen." 
Of course, Harry remains one of her most crucial advisors. Thanks to the man she dubbed the "best husband ever" during her engagement with The Queen, the first month of married life has been "wonderful," she told fans. (Of course, with two of those weeks spend on vacation, it'd be strange to hear otherwise.) 
Chris Jackson/Getty Images
For now their calendar is packed with official royal duties, but if they really fancied a getaway, they could escape to WestfieldLarge, their country rental located some 90 minutes from London in the Cotswolds. An insider says the duo have made the jaunt to their fully-furnished property some four times, often dining at the nearby Soho Farmhouse. (The eatery, situated on the same bucolic 4,000-acre Great Tew Estate, played host for Meghan's spa-themed bridal shower.) 
And come this fall, they'll be packing their bags for an official tour to Australia (the site of Harry's fourth-annual Invictus Games for wounded, injured and sick military personnel and veterans), Fiji, the Kingdom of Tonga and New Zealand.
By then the newlyweds—expected to eventually make the move from Kensington Palace's cozy Nottingham Cottage to the more spacious Apartment 1 next door to William and Kate—could have something truly exciting to announce. 
Though Harry insisted in their BBC interview that they intended to take things "one step at a time," when it comes to starting a family, he's been very open about how much he'd love his own tiny heirs. He told ABC News that he's "longed" for kids "since I was very, very young," adding at the time he was simply waiting for the right person "who is willing to take on the job."
He has an eager partner in Meghan. In the Sky One documentary, Harry and Meghan: A Love Story, her former agent Gina Nelthorpe-Cowne recalled a work trip where the actress opened up about her longterm plan: "She said to me, 'I would absolutely love to have children, and I can't wait to be a mother.'"
Her dad seems confident she won't have to be all that patient. Noting on Good Morning Britain that his daughter "has wanted children for a long time," Thomas continued, "when she met Harry and she spoke about how much she loves him, there's got to be a child in the making somewhere soon." 
And while that offspring may not technically be a prince or princess due to a 1917 decree, they'll certainly be royalty in their grandfather's eyes.