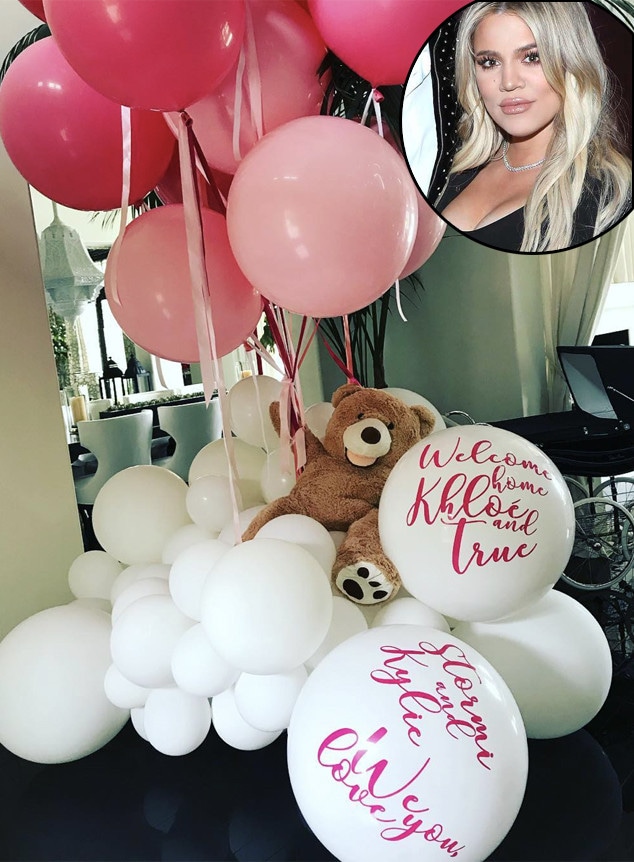 Snapchat / Khloe Kardashian, Getty Images
Welcome home!
Khloe Kardashian posted on Snapchat on Sunday, Father's Day, photos and videos that suggest she has returned to her Los Angeles house with her family. She, Tristan Thompson and their 2-month-old daughter True Thompson, their first child together, had remained together at their home in Cleveland after the baby's birth and following the NBA star's cheating scandal.
Khloe was greeted upon arrival by the sight of a display of pink and white balloons, gifted by Kylie Jenner and her 4-month-old daughter Stormi Webster, bearing the words, "Welcome home, Khloe and True...Stormi and Kylie, we love you."
"The whole family is thrilled that Khloe is home and that they will get to be close by and an every day part of True's life," an insider told E! News. "They made it a big celebration and welcome home for her."
The source said Father's Day can be "tough" for Khloe and that she wanted to spend it with her sisters. It looks like she's looking forward to having True spend more time with the family, too.
"She can't wait for True to get to know her cousins and bring her to all of the big family gatherings and parties," the source added.
Neither Khloe nor Tristan has commented on the cheating scandal. A source told E! News a few weeks ago that Khloe's family members "are very angry with Tristan, are "having a hard time coming to terms with Khloe trying to forgive him" and "don't trust him and feel he won't change."
And speaking of beef, Tristan, who has been seen with Khloe in public since the controversy, is also not spotted in any of her images but a voice that sounds like his is heard in another video Khloe shared, which shows her finding a package of what appears to be raw beef kidneys, one of his favorite foods. Tristan did, however, post a picture of two chains—one featuring True's name and one featuring the name of his son Prince. Tristan welcomed Prince with his ex in 2016.
Snapchat / Khloe Kardashian
Snapchat / Khloe Kardashian
Khloe also posted a photo of True in a stroller, writing, simply, "Happy Father's Day."
She also shared videos showing a platter of cookies made in True's likeness, as well as another batch of cookies bearing photos of the baby's face, sent by Khloe's friends. 
Snapchat / Khloe Kardashian
Snapchat / Khloe Kardashian