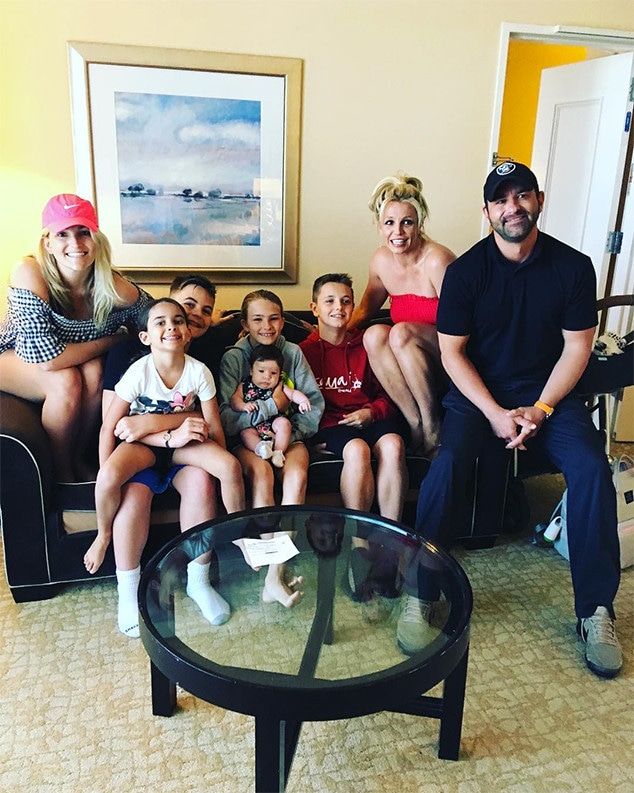 Instagram
Jamie Lynn Spears' daughter Maddie had a special early birthday celebration with her mom's family.
Jamie Lynn, 27, posted on her Instagram page on Friday a photo showing her with her eldest child, who will turn 10 next week, her 2-month-old daughter Ivey, her sister Britney Spears, 36, with her sons Sean Preston, 12, and Jayden James, 11; plus her and Britney's brother Bryan Spears and his daughter Sophia.
Maddie is holding her baby sister on her lap, while Sophia sits on Sean Preston's.
Ivey is Jamie Lynn's first child with her husband of four years, Jamie Watson.
This mark's the baby's first public family photo with her aunt, uncle and cousins.
"♥️FAMILY♥️," Jamie Lynn wrote.
In the photo, Jamie Lynn tagged Jamie and her mom, Lynne Spears.
In April, Jamie posted on Instagram a sweet photo of Maddie with Britney's sons.
"Cousins came to watch Maddie play," he wrote.