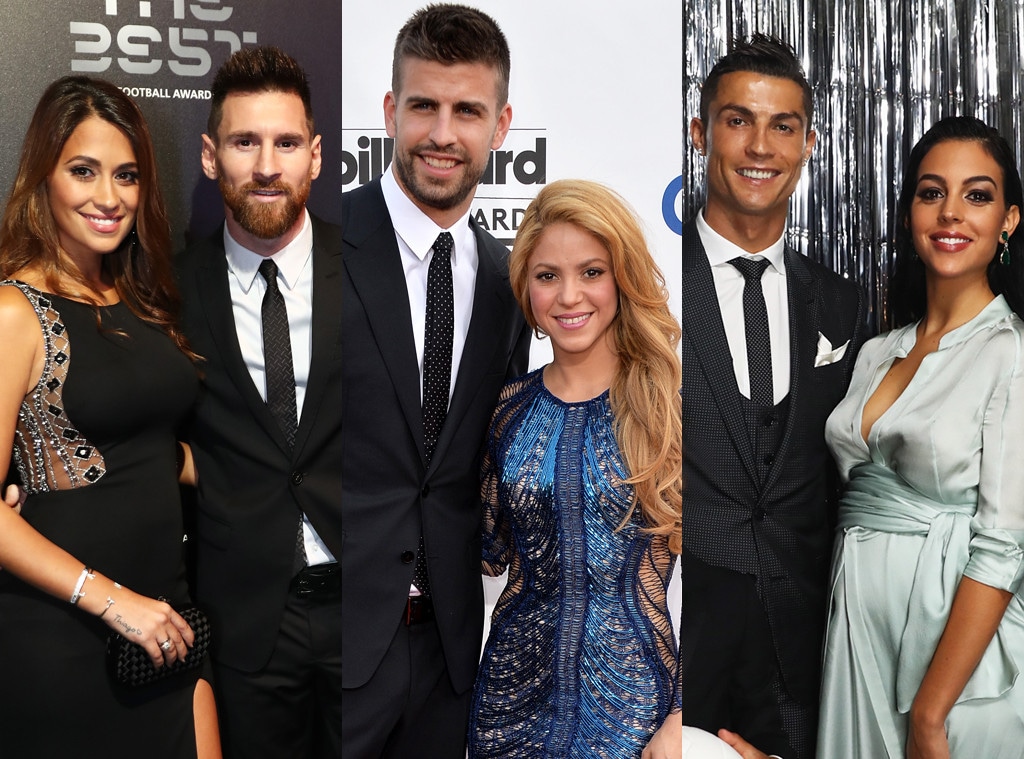 Getty Images
As they say, "Behind every great man, there's a great woman." 
Well, that seems to be especially true for the biggest soccer stars at the 2018 FIFA World Cup. 
Although they are some of the most well-known athletes in the world, at home, they're proudest of being husbands, boyfriends, and fathers. 
Take, for instance, Gerard Piqué and Shakira. The two met in 2010 on the set of her music video for "Waka Waka" which was the song for the 2010 FIFA World Cup in South Africa. 
Piqué later revealed that he told her, "I am going to win this World Cup so that we can see each other at the finals." The two began dating shortly after and since then they have welcomed two children, Milan, 5, and Sasha, 3.
And while Shakira is a global superstar and has a demanding career of her own between tours and recording albums, she always makes time to be at the matches. 
As an avid soccer fan, the Colombian singer passionately cheers Piqué on from the stands with their boys. They make it work even with two hectic schedules! 
"I think, if you can prove the existence of God, it can only be proven through love," Shakira told ELLE. "I even had lost my faith for a while...I started to think that there was no God. And suddenly I meet Gerard, and the sun comes out."
Cristiano Ronaldo is one of the most well-known athletes in the world, he's got 129 million followers on Instagram and deals with the most prominent brands. But once he's out of the field and in his home, he's the father of four beautiful children. He's also Georgina Rodriguez's "Amor." 
The soccer stud and the Spanish model reportedly met at a Dolce and Gabbana event in Madrid. The two started low-key dating until the press spotted the soccer stud at Disneyland Paris with the Spanish beauty in November 2016. Rodriguez had studied dance and English in London and was reportedly working as a Gucci sales associate before meeting the Real Madrid superstar. Suddenly, the two were inseparable, and Ronaldo was taking his girlfriend everywhere with him.
But little did the public know that there were two incredible surprises on their way. 
In June 2017, Ronaldo announced on Facebook that he had welcomed twins Mateo Ronaldo and Eva Maria Dos Santos. Later that summer, he also confirmed that  Rodriguez was pregnant with their first child together. On November 12, 2017, the couple welcomed their daughter, Alana Martina. 
Lionel Messi and his wife Antonella Roccuzzo's love story began in Messi's hometown of Rosario, Argentina. He has known Roccuzzo since they were five years old as she is the cousin of his best friend since childhood, Lucas Scaglia, who is also a football player. 
The two began dating in 2008 and finally, in 2009, the soccer stud admitted that they were an item. The couple has three sons and finally tied the knot last year in a star-studded ceremony in their hometown of Rosario. 
Neymar Jr. and Bruna Marquezine have been one of our favorite couples for a while, the pair has been on and off for over six years now. 
And if you follow them on Instagram, you're probably a fan of their spectacular photo shoots and vacation pics. The Brazilian model and actress has been acting since she was 10 years old and has appeared in some of Brazil's most popular shows. 
Which is your favorite soccer couple, sound off in the comments below! 
For all FIFA World Cup matches, tune in to Telemundo, visit Telemundo.com or download the Telemundo Deportes app available on iTunes. 
(E! and Telemundo are both part of the NBCUniversal family.)