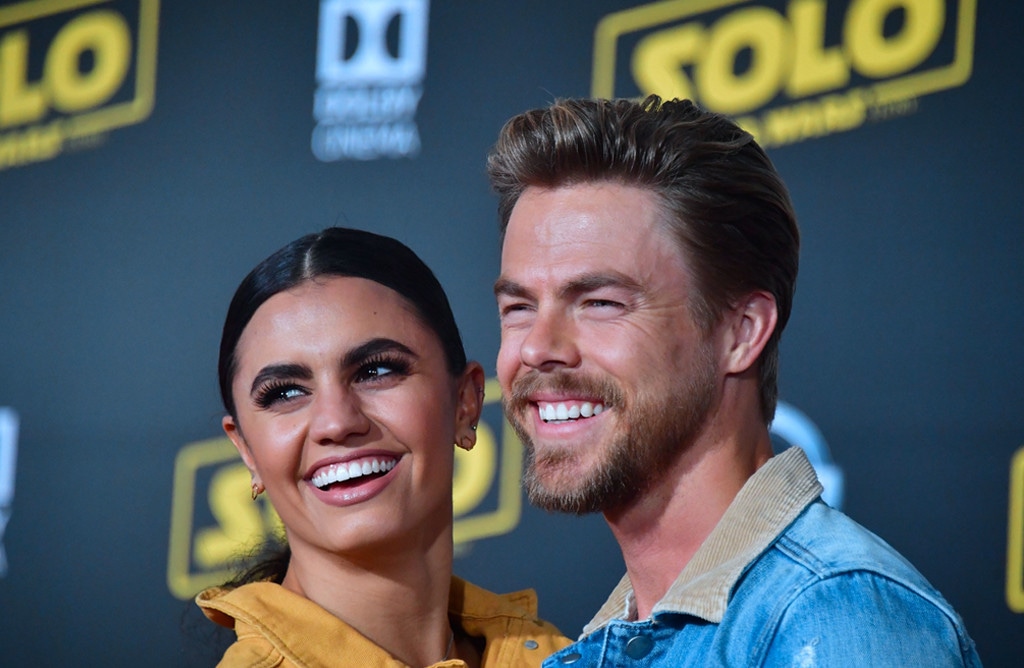 FREDERIC J. BROWN/AFP/Getty Images
When it comes to Dancing With the Stars, some pairings deserve more than just perfect 10's.
Earlier today, Val Chmerkovskiy and Jenna Johnson got fans cheering when they announced their engagement on Instagram.
"I can't wait to make you my wife," the professional dancer shared on Instagram after he got down on one knee and popped the question in Venice, Italy.
While the twosome deserves plenty of praise for their own love story, it has some fans thinking: Could Derek Hough and Hayley Erbert be next?
Shortly after the couple attended Julianne Hough's wedding, E! News went straight to the source and asked Derek about possibly taking the next step.
"It's not something we really talk about so much right now," he explained to Sibley Scoles. "It was a wonderful week to be with [Haley] and experience love."
The World of Dance judge added, "I don't want to be an old grandpa when I start having kids... After that wedding, I'm like, 'Who knows?' You feel the love."
That love and affection has been put on display through red carpet appearances, Instagrams and family time. Oh, did we mention Julianne is a big fan of Hayley?
Whether enjoying date night at The Forum in Inglewood to see Pink in concert or catching some sun on romantic getaways to Big Sur, the pair loves spending time together.
And when their careers take them in separate locations, you can guarantee both parties will support the other from afar.
"She's really grounded," Derek recently shared with Entertainment Tonight. "She's really, really grounded—just really down to earth, and just [has] a good heart and a beautiful soul."
Hayley would echo those sentiments when wishing her man a happy 33rd birthday last month. "You exemplify so much strength and passion in everything that you do. You inspire any and every person you encounter, including me. I look up to you everyday and believe I am a better version of myself because of you," she wrote to her followers. "You have reshaped my life completely. You changed the way I discover, experience, and understand the world. You have showed me how to love deeper than I even knew was possible. You are so incredibly special."
For now, Derek remains focused on building a house where he hopes to get physically settled. He also just announced his first-ever solo tour titled Derek Hough: Live! The Tour. As for Hayley, she isn't showing any signs of slowing down her moves as she continues dancing on DWTS.
And for the fans, you'll just have to be patient as the duo continues sharing their love story online. 
"I love you always, in all ways," Hayley recently wrote on Instagram. Derek added, "She's a beauty."