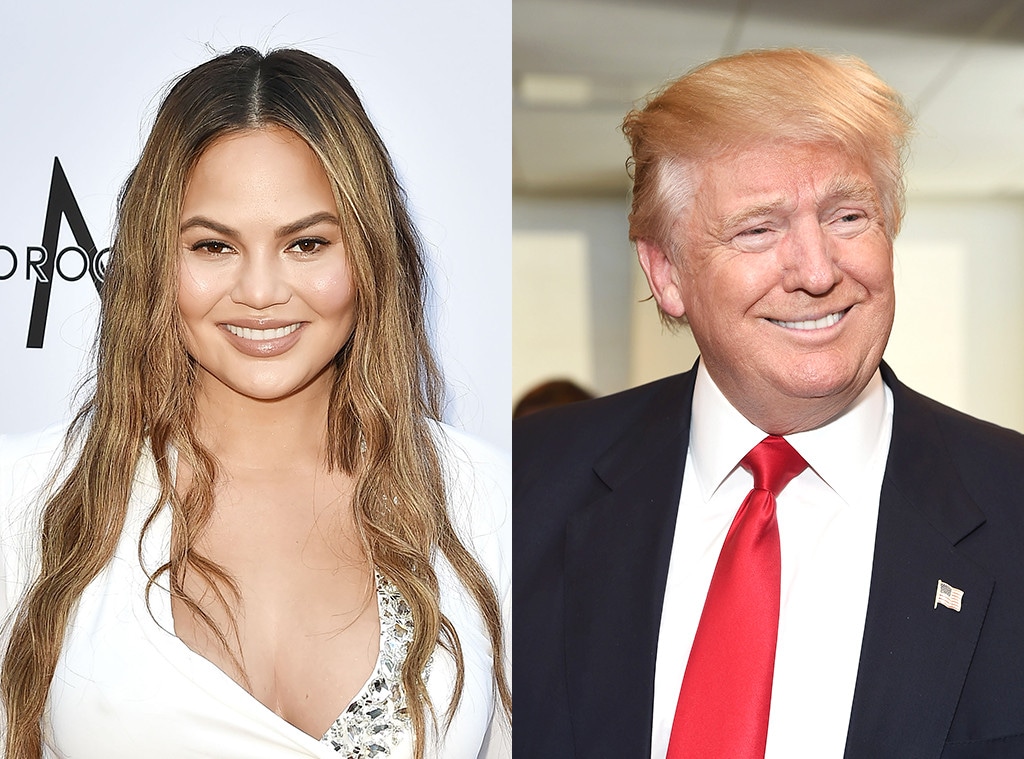 Getty Images
President Donald Trump turned 72 on Thursday and in honor of his birthday, Chrissy Teigen, husband John Legend, their 2-year-old daughter Luna and their 1-month-old son Miles have donated a collective $288,000 to the American Civil Liberties Union.
Teigen and Legend have often expressed their disapproval with the Republican President, who seeks to crack down on illegal immigration and restrict legal immigration. The civil rights group has in recent months sued the Trump administration several times over what it calls unconstitutional policies against immigrants.
"John and I are outraged to see and hear the horror stories of immigrant families seeking asylum and refuge in America being ripped apart due to the inhumane policies of the Trump administration," Teigen wrote on Twitter. "These actions are cruel, anti-family and go against everything we believe this country should represent." 
In April, Attorney General Jeff Sessions announced a "zero tolerance" policy in which illegal entrants would be prosecuted in federal court and in May, the Trump administration announced it will step up criminal prosecutions of such immigrants and have their children placed in protective custody, Reuters reported.
On Tuesday, an undocumented female immigrant from Honduras who was detained after entering the country illegally made headlines when she told a lawyer that authorities removed her infant daughter while she breastfed her in a detention center. CNN quoted a federal public defender as saying that within the last month, about 500 children of immigrants who entered the U.S. illegally were separated from their parents after they were detained.
"The ACLU is committed to defending the rights and humanity of these vulnerable families. In addition to fighting for immigrants' rights, they're advocating for reproductive rights, voting rights, criminal justice reform, LGBT rights, 1st amendment rights and holding the Trump administration accountable whenever possible," Teigen tweeted. "The President celebrates his 72nd birthday today. On this auspicious occasion, in order to Make Trump's Birthday Great Again, each member of our family has donated $72,000 to the ACLU."
Teigen also encouraged people to donate any sum to the ACLU themselves. 
"Happy birthday, @realDonaldTrump," she tweeted.