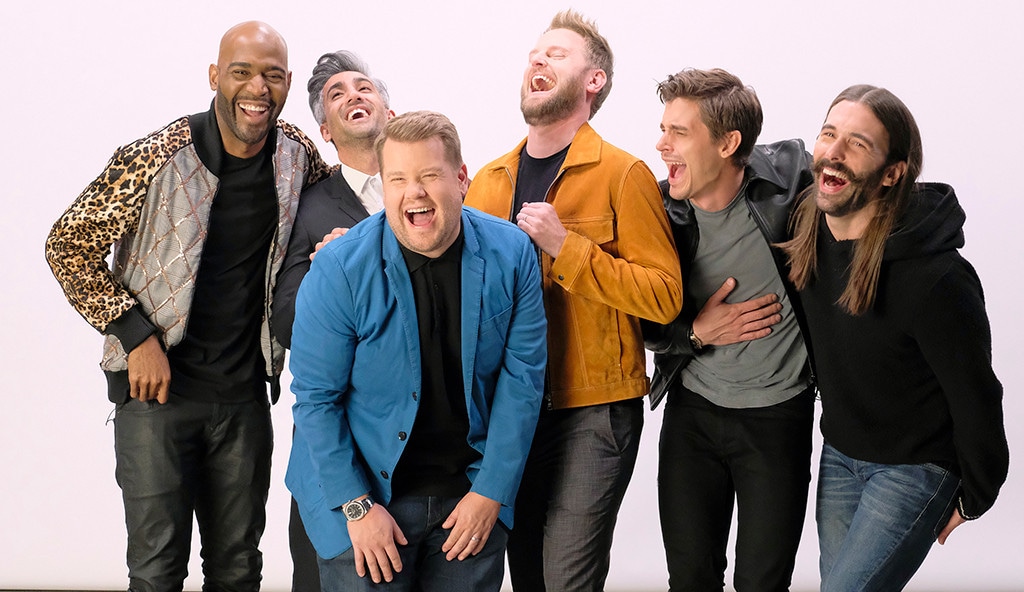 Trae Patton/CBS ©2018 CBS Broadcasting, Inc. All Rights Reserved
Forget the Fab 5. James Corden is now a member of the "Sexalicious Six."
The late-night host recruited the Queer Eye guys to make over his guitarist, Tim Young, on Wednesday's episode of The Late Late Show. 
Corden described Young as a 47-year-old musician who was in "dire need" of help and "in a funk." Luckily, each member of the Netflix show has his own area of expertise. Tan France, for instance, is the style savant while Jonathan Van Ness is the grooming guru. However, choosing Corden's speciality proved to be difficult.
"What if I did, like, science experiments in school? Like build him a volcano?" Corden said. 
"How would that help him with his life though?" food expert Antoni Porowski asked.
"I don't know. How would making guacamole help him with his life?" the host shot back, taking a dig at one of the recipes Porowski made in season one.
In the end, the group decided Corden would help the team stay on top of everything.
Home design honcho Bobby Berk kicked things off by sharing ideas for how he could renovate Young's pre-show hangout. While Young said he liked succulents, Corden had other ideas. 
"What about up here, like, a big mural of me?" he asked.
Once Berk drew his inspiration, it was time to move on to fashion. France started tossing Young's old clothes in the trash and brought out a new rack of items. However, Corden may have snuck in a questionable clothing item or two.
Trae Patton/CBS ©2018 CBS Broadcasting, Inc. All Rights Reserved
Next, Porowski taught Young how to elevate a banana with almond butter and chia seeds. However, Corden turned the innocent treat into a suggestive snack.
Brown, the culture expert, then taught Corden and Young how to exercise—well, mostly Young. After that, they visited Van Ness for grooming. Corden described Young's look as "a hipster version of Donald Trump's doctor." Once he snipped a few of Young's hairs, Corden became so inspired he decided to sport a new 'do of his own.
Finally, it was time for the big reveal. Watch the video to see Young's new look.
Queer Eye returns to Netflix for season two on Friday, June 15.