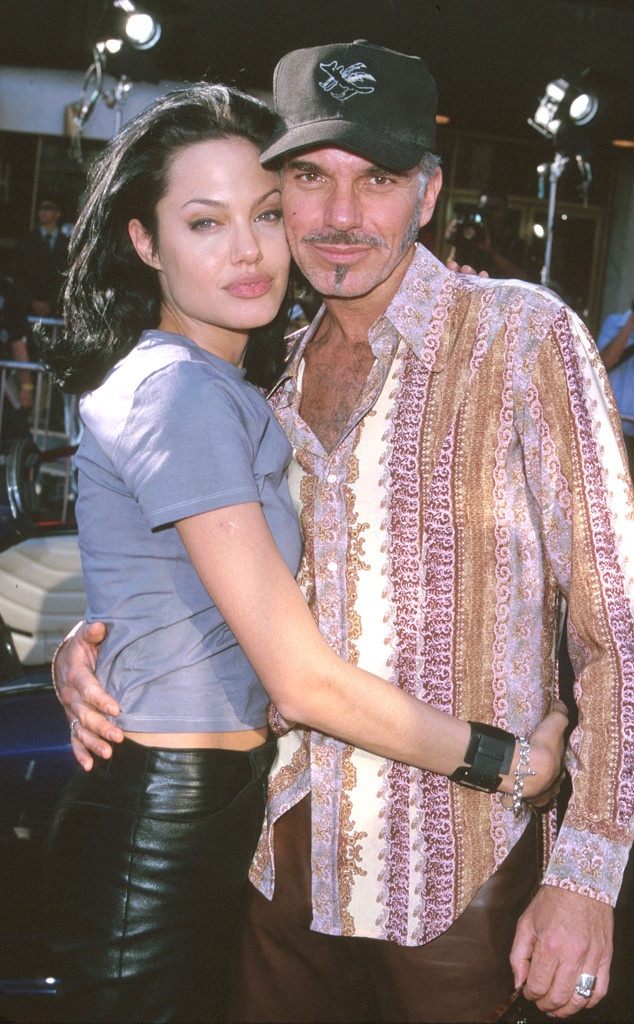 Steve Granitz/WireImage
Imagine, for a moment, a world in which Billy Bob Thornton and Angelina Jolie were still together—because the actor, 62, just reflected on his marriage to the Maleficent II actress, 43, as part of an interview for the HFPA in Conversation podcast. "I look at that time as a great time," he said. "Angie is still a friend of mine and she's a great person and she's done so much."
In spite of their 20-year age difference, Thornton and Jolie fell in love on the set of the 1999 dramedy Pushing Tin; Jolie became his fifth wife, after Melissa Lee Gatlin (1978-1980), Toni Lawrence (1986-1988), Cynda Williams (1990-1992) and Pietra Dawn Cherniak (1993-1997).
Thornton, who was married to Jolie from 2000 to 2003, only had kind things to say about their brief marriage. "I remember our time together as really being great," he said. But if it was so great, why did it end? "We just had different lifestyles. Hers is a global lifestyle and mine is an agoraphobic lifestyle," Thornton said with a laugh. "So, that's really—that's the only reason we're probably not still together, maybe, because of a different path in life we wanted to take."
The Goliath actor, who has a teenage daughter with his sixth wife Connie Angland, said Jolie has always been a "great person," despite the misconceptions people had about their time together. "We had so much fun. A lot of the things they said about us at the time were exaggerated," he said. "It wasn't as crazy as people wrote about it, you know what I mean?" Offering an example, Thornton addressed the controversy surrounding the necklaces he and Jolie wore, which contained vials of each other's blood. "The necklaces were a very simple thing: 'Hey, let's poke our fingers with a pen and smear a little blood on there, and when we're away from each other we'll wear the necklace.' It was that easy," he recalled. "But by the time it came out in the press, it sounded like we were wearing a bucket of blood around our necks."
In recent years, Jolie has focused on directing and producing movies, as opposed to starring in them. "The movies she makes are still things that are important to her. Whether they succeed or fail, she still does what she believes in," Thornton said. "And I'll always respect her for that."