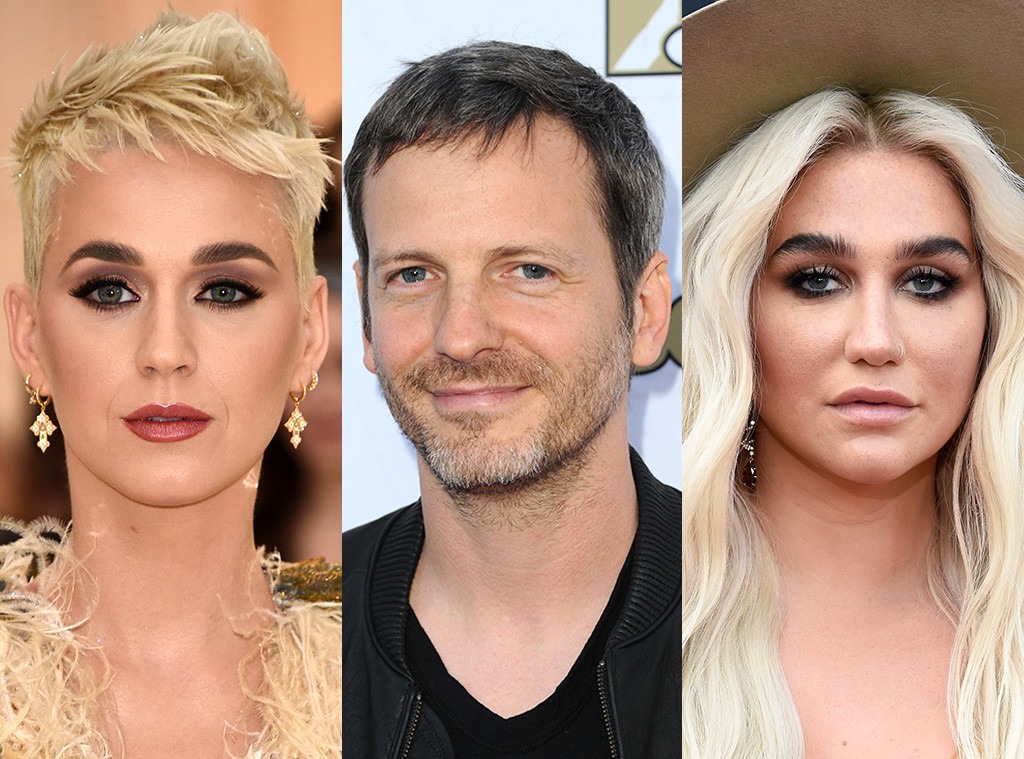 Getty Images
UPDATE: Kesha and Dr. Luke's war of words escalated on Friday with new statement from both party's legal teams. 
The pop singer's attorneys claim in a new statement that Kesha has yet to be paid for her 2017 album, Rainbow. "Dr. Luke's nearly $50 million defamation case against Kesha is meritless," they tell E! News. "While repeatedly making inflammatory statements to the press attacking Kesha, Dr. Luke has fought vigorously to keep the actual evidence in the case from seeing the light of day. There is a reason why Dr. Luke and his team do not want the public to see the actual sworn testimony." 
The statement continued, "Meanwhile, Dr. Luke forces Kesha to continue working for him, and earns money off her work. Kesha, however, has yet to be paid any music royalties from the highly successful, Grammy-nominated Rainbow album nor even from 'Timber' which was released in 2013."
"With respect to the recent story regarding Katy Perry, the statement that Dr. Luke assaulted her came from the CEO of a major record label, and was told by that executive at the same time to Kesha and Lady Gaga. The startling statement was subsequently discussed in a private, one-on-one text message between Kesha and Lady Gaga. It was neither published nor further distributed. It would have remained completely private, except that Dr. Luke and his team took a text message obtained only in discovery and decided to publish it to millions of people in his amended complaint against Kesha, and then claim reputational harm from his own widespread publication.... Finally, to be clear and for any story, Kesha has no information as to what occurred between Katy Perry and Dr. Luke other than the denials and what was told to her, referenced above." 
A statement from Dr. Luke's legal team read, "Kesha and her legal team are fully aware that Ms. Perry has unequivocally confirmed that she was not raped by Dr. Luke. Kesha and her attorneys should be ashamed of themselves for not publicly acknowledging this and apologizing. Instead, they continue to publicize this and other falsehoods. In fact, Kesha' s false accusation involving Ms. Perry came to public light only because Kesha's attorneys filed the accusation publicly.  Kesha's latest press release saying that a music executive told her that Dr. Luke had raped Katy Perry is fully contradicted by that executive. He denied saying that. Contrary to her latest defamatory press statement, the evidence, including sworn testimony, will show the full extent and scope of the scurrilous falsehoods Kesha spread. As the old and true adage goes: Oh what a tangled web you weave when first you practice to deceive."
______
Dr. Luke is addressing the latest revelation in his ongoing legal battle against Kesha. 
Included in the court documents obtained by E! News is a February 2016 text message exchange between Lady Gaga and Kesha. The contents of the exchange, which were previously sealed, include Kesha's claim that Dr. Luke raped Katy Perry. 
Dr. Luke's legal team denies Kesha's accusation, telling E! News in a statement, "Katy Perry herself confirmed that Dr. Luke did not rape her. Kesha's accusation to the contrary—just like her other outrageous lies about Dr. Luke—is baseless and irresponsible, and it is disrespectful to both Katy Perry and Dr. Luke. In his defamation lawsuit against Kesha, Dr. Luke seeks damages for the harm caused by these malicious falsehoods."
E! News has reached out to Kesha's rep for comment. Katy's team declined to comment. 
The documents claim, "On February 26, 2016 [Kesha] sent a text message to Stefani Germanotta p/k/a/ Lady Gaga which repeated [Kesha's] false claim that [Luke] had raped her."
"[Kesha] also falsely asserted that [Luke] had also raped Kathryn Hudson p/k/a/ Katy Perry," the documents continue, adding, "Following this text message conversation, and with [Kesha's] encouragement, [Lady Gaga] spread negative messages about [Luke] in the press and on social media."
Gaga has not commented publicly on the alleged text messages, but has previously spoken out in support of Kesha. "I just want to stand by her side because I can't watch another woman that went through what I've been through suffer," she told 97.1 AMP Radio in 2016. 
A year later, when news broke that Gaga would appear for a deposition in the case, her attorneys issued a statement which read, "As Lady Gaga's legal team will present to the court, she has provided all of the relevant information in her possession and is at most an ancillary witness in this process. Dr. Luke's team is attempting to manipulate the truth and draw press attention to their case by exaggerating Lady Gaga's role and falsely accusing her of dodging reasonable requests."
Meanwhile, Perry has never publicly accused Dr. Luke of misconduct. She no longer works with Dr. Luke, telling New York Times of their professional split, "I had to leave the nest." 
Kesha sued the music producer (whose real name is Lukasz Gottwald) in 2014, claiming sexual assault and battery and seeking to invalidate her recording contracts with him. He filed a countersuit, accusing her of defamation.
In 2016, she dropped her sexual abuse claims, while his defamation suit against her in New York continued. Kesha sought a preliminary injunction that would allow her to release music outside of Dr. Luke's authority; however, a judge denied the request in May. 
(This story was originally published Wednesday, June 13, 2018 at 8:15 p.m.)