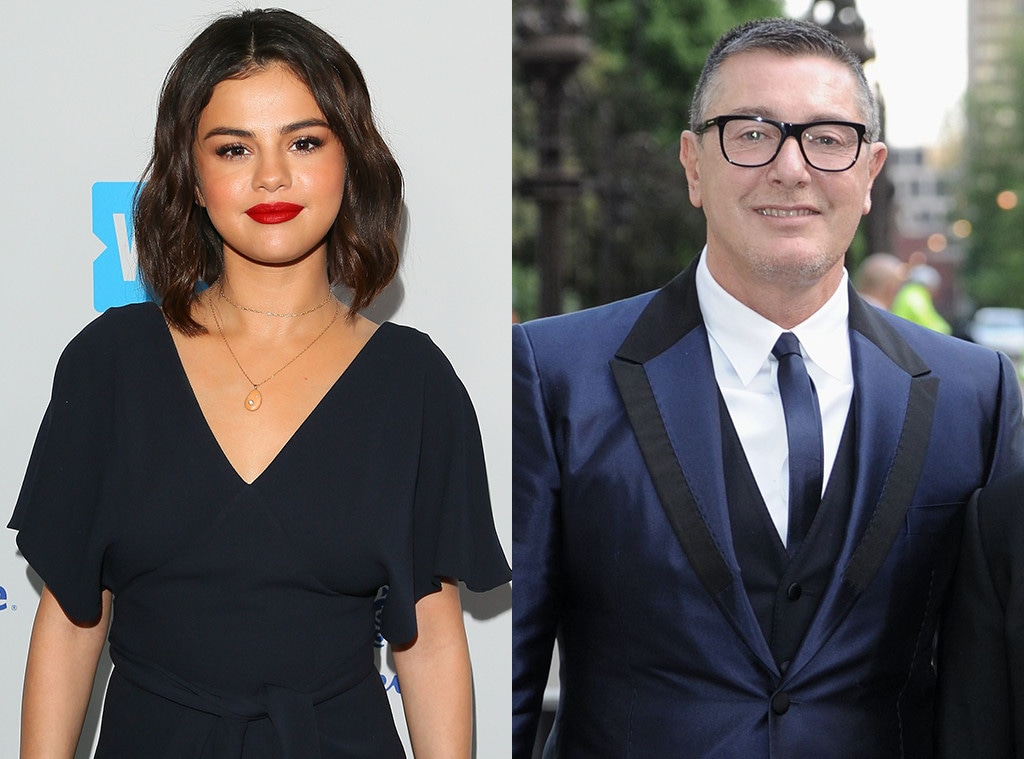 JEAN-BAPTISTE LACROIX/AFP/Getty Images, Stephen Coke/REX/Shutterstock
Stefano Gabbana... tell us how you really feel. 
The controversial designer's unfiltered opinions have landed him in hot water once again, this time with Selena Gomez's loyal fanbase. Gabbana, who co-founded Italian fashion label Dolce & Gabbana, dissed the pop star's appearance in the comments of a photo on The Catwalk Italia's Instagram account. 
"È proprio brutta!!!" Gabbana wrote alongside a collage of Gomez, which translates to, "She's so ugly." 
The "Kill Em With Kindness" singer is taking the high road and not addressing the social media attack as of now, but Selena's followers (including a few of her famous friends) have certainly jumped to her defense. 
Commenters called Gabbana's insult "disrespectful" and "distasteful," with one writing, "Don't disgrace the brand, sir. Your merits in fashion don't give the right to insult a woman. This is so disgusting." Another added, "Not cool. I'll be throwing out all my Dolce & Gabbana items. Will not support a disgusting brand." 
Julia Michaels, a singer-songwriter and best friend of Selena's tweeted, "@selenagomez just here to tell you that you are one of the most beautiful women I know, inside and out. I love you always."
13 Reasons Why star Tommy Dorfman reportedly wrote online, "@stefanobabbana you're tired and over. your homophobic, misogynistic, body-shaming existence will not thrive in 2018. it is no longer tolerable or chic. please take many seats."
Gabbana has bullied celebrities on social media many times, including Kate Moss and Victoria Beckham. 
Courting controversy is just the name of the game for Gabbana and business partner Domenico Dolce, who have embraced their polarizing status within the fashion world. In 2015, celebrities like Elton John, Courtney Love  and Ricky Martin boycotted the brand over insensitive comments Dolce and Gabbana made about IVF and LGBTQ families. Even more recently, the brand released a $245 "#BoycottDolceGabbana" graphic T-shirt inspired by the negative response to First Lady Melania Trump wearing their designs.