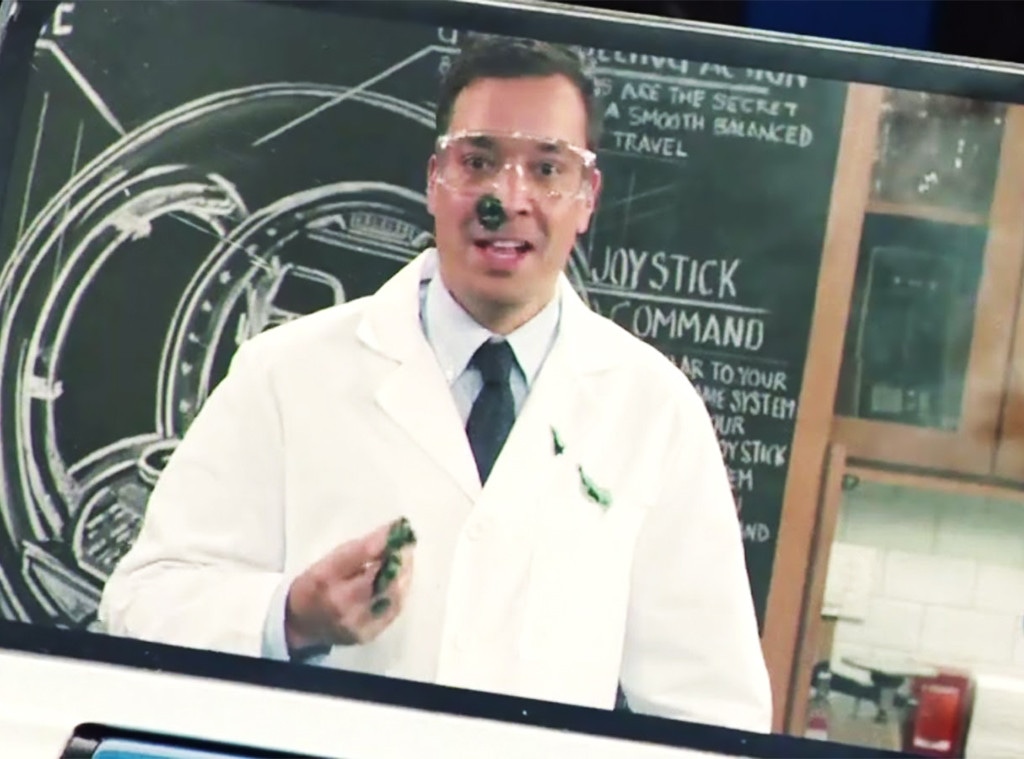 Universal Pictures
Excited for Jurassic World: Fallen Kingdom?
Chances are that, even if you are, you're not nearly excited about the sequel's imminent release as Jimmy Fallon is. In honor of the film's June 22 release, the late night host has transformed The Tonight Show into a week-long tribute to the film, appropriately entitled Jurassic World: Fallon Kingdom.
It's a move that makes sense, considering Fallon's connection to the film. After all, he did make a cameo in the 2015 blockbuster. Remember that safety instructional video when Nick Robinson and Ty Simpkin's characters board the iconic gyrospheres? In honor of the upcoming sequel (and because we're hoping that Fallon pops back up someway, somehow), let's take a walk down memory lane with a ranking of the comedian's best TV and movie cameos!
10. Bucky Larson: Born to Be a Star (2011)
We'll be honest, we never saw this Adam Sandler production (he co-wrote and and produced, though, wisely, didn't make an actual appearance) and there's no feasible way of streaming it legally that we can find. But we're going to go out on a limb and presume that Fallon's cameo in the Nick Swardson-starring comedy that earned a stunning zero percent approval rating on Rotten Tomatoes deserves to come in last place.
9. Louie (2015)
Fallon's appearance in the season five episode of Louis C.K.'s FX comedy, "A La Carte," saw the Tonight Show host behind his desk introducing a hack comedian whom the protagonist had tangled with earlier in the episode for a coveted spotlight appearance on the NBC late-night talk show. Fallon's just there to lend some realism to the surreal moment, and he comes off just as he does during his day job, but the way that C.K.'s inappropriate behavior has made enjoying his influential series nearly impossible, it's hard to rank this any higher.
8. Jem and the Holograms (2015)
Fallon joined other stars like Chris Pratt and Alicia Keys in this ill-fated live-action adaptation of the iconic '80s animated series in cameo appearances that helped legitimize the titular band's star power by placing it in the "real world." Fallon graciously welcomed the fictional pop sensation onto his set, but the film flopped and you'd be hard pressed to find anyone who remembers anything that happened in it.
7. Get Hard (2015)
Fallon appears in this Will Ferrell film in a funny moment that sees John Mayer appear on his show to talk about Ferrell's character and sing a bit of a NSFW ballad about him.  
6. Ted 2 (2015)
Another 2015 release, another cameo on the Tonight Show stage. In the wildly successful sequel to Seth MacFarlane's talking teddy bear comedy, Fallon is seen commenting on the titular teddy's quest to prove that he's a person the best way he knows how: With a Donald Trump joke during his monologue.
5. The Jim Gaffigan Show (2015)
In a season one episode of this TV Land series, the fictional Jim Gaffigan lands himself a coveted spot on The Tonight Show that naturally goes awry. Fallon's appearance is on par with most others on this list, but the Macaulay Culkin moment is our favorite.
4. iCarly (2012)
We're not all that sure what the crossover is between Fallon's audience and the fanbase for this former Nickelodeon hit, but his appearance in the premiere of the final season, which see him invite the gang onto his show, is cute and goofy in all the ways you'd expect.
3. Gossip Girl (2009)
Fallon was still the host of Late Night when he popped up in this season three episode of the CW hit, which saw Hilary Duff's Olivia appear on his show to tell an embarrassing story about Dan (Penn Badgley). He's uncharacteristically mean in the way he mocks Dan, but that's what makes the appearance so fun.
2. Popstar: Never Stop Never Stopping (2016)
This movie is so funny and underrated (seriously, check it out if you haven't) and Fallon's appearance when Andy Samberg's character visits The Tonight Show proves to be pivotal to the story and also very funny. 
1. Jurassic World (2015)
Come on, did you expect anything else at the top? Fallon's cameo as the celeb safety adviser for the dinosaur theme park's gyrosphere vehicles is truly inspired. It's goofy, funny, and makes perfect sense. All we have to say is there better be an encore in Fallen Kingdom!
Jurassic World: Fallen Kingdom hits theaters Friday, June 22.
The Tonight Show with Jimmy Fallon airs weeknights at 11:35 p.m. on NBC.
(E! and NBC are both part of the NBCUniversal family.)