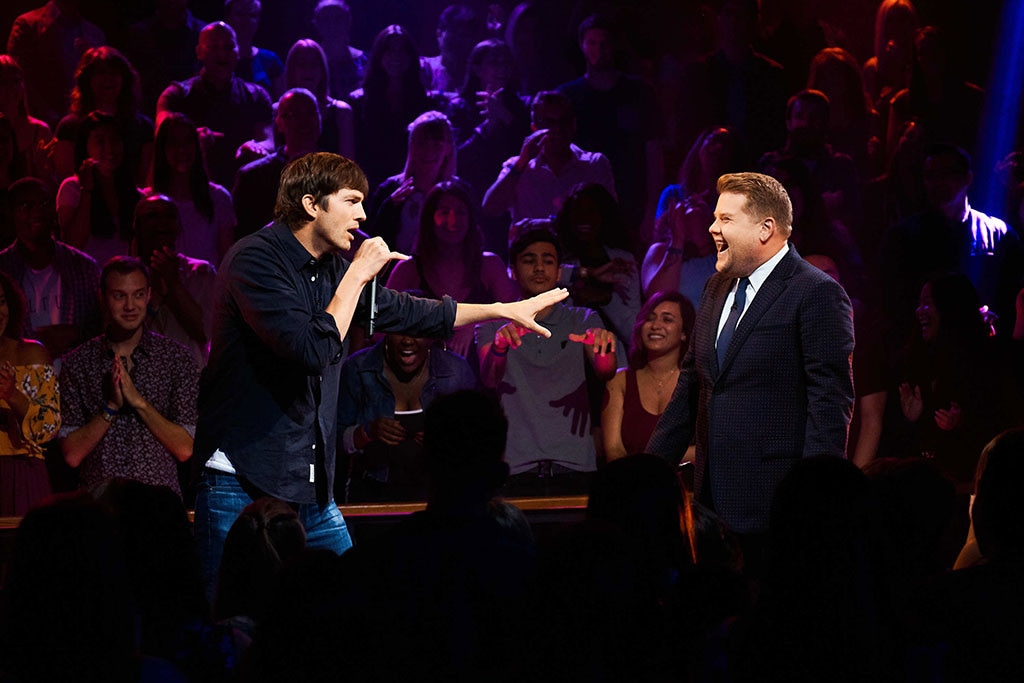 Terence Patrick
James Corden and Ashton Kutcher just faced off in a rap battle—and let's just say there was no burn too hot for this fight. 
Tuesday night on The Late Late Show, the actor and late-night host went face to face for another round of the show's signature "Drop the Mic" segment. It was as brutal as ever as the two men exchanged barbs on virtually every topic, from Kutcher's movie flops and Corden's weight to Mila Kunis and trucker hats. 
Corden came in swinging when he kicked it off. "You do great charity work year after year," the host pointed out. "Why don't you save something from dying? Why don't you start with your career?"
Kutcher didn't bite his tongue as he went in with a retort, calling Corden's Carpool Karaoke gig a job as an "Uber driver for real celebrities." As for his recent film Peter Rabbit, "People came to see Peter Rabbit battle me, but your battle's with your lady—her rabbit's out of batteries."
The verbal jabs didn't stop there. "People see me at valet. They say, 'Look, it's a star.' They see you at valet—they say, 'Dude, where's my car?'"
But, Corden was ready to hit back. "You made fun of Peter Rabbit and my work on Carpool. I'm not taking that from the tool that made trucker hats cool."
So, he laid it on thick by taking aim at—well—everything about Kutcher. 
"Your IMDB is filled with movies that suck. Forget straight to DVD—these are straight to garbage trucks," Corden rhymed. "You married Mila Kunis, so I guess that's cool, but why the hell is she still with the loser she dated in high school?"
Take cover, Corden, because Kutcher was ready with the most vulgar burn of all. "You did so many animated flicks that we haven't seen this face in a movie since you last saw your d--k," the star said as he capped off his round. 
The show enlisted the help of rap expert Sean "Diddy" Combs to determine the winner and, while it was a close call, one of them reigned supreme: James Corden!
Congratulations to the host on his first-time win!
Check out the clip of the battle above to see for yourself.