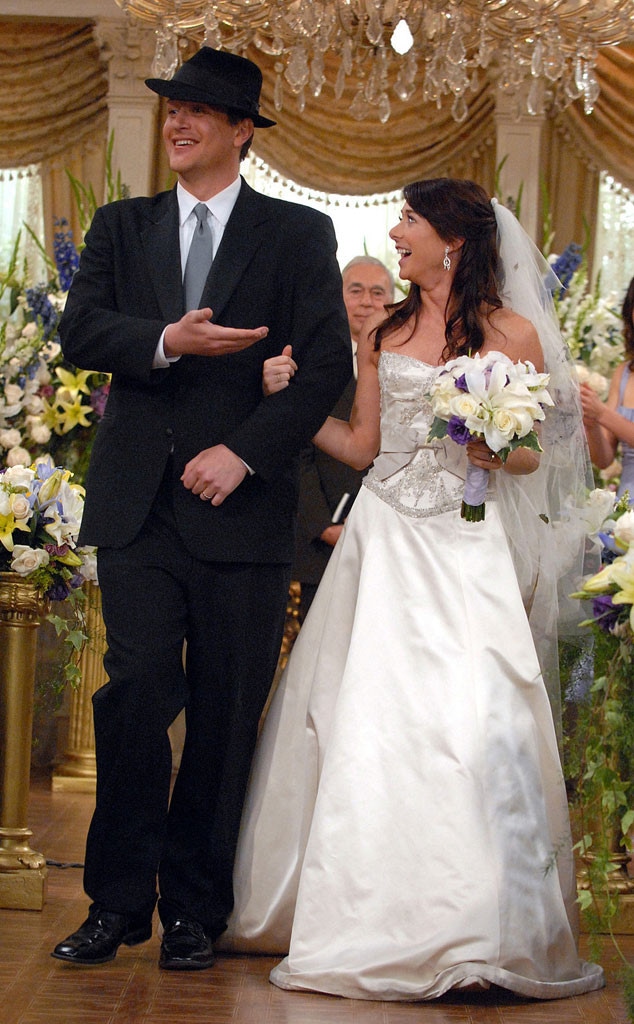 CBS
The '90s are making a major comeback in the realm of television right now, so who's to say that the '00s can't do the same?
With shows like Fuller House, Gilmore Girls: A Year in the Life, and now Murphy Brown getting the revival treatment, it's about time that '00s sitcoms made their comeback. Sure, they haven't been gone as long, but we're still nostalgic for some of the greatest '00s sitcoms.
For example, fans have been screaming for a reboot of The Office and even though Steve Carell doesn't seem to be on board, we're still hoping it happens. We'd also be big fans of That '70s Show taking a shot at a different decade, even though the '70s were groovy.
What about How I Met Your Mother? We could meet back at MacLaren's and watch the gang reunite and pretend like we never met the mother. Or, fans could make a fuss and get Scrubs back on TV, especially since the show's stars are still close and have made their on-screen bromance a real-life one. Any of these reboots would be alright with us if we're being honest, but what do you want to see back on TV?
What show you really think stands a chance at making it back onto our television screens?
Vote for your favorite sitcom from the 2000s below, because who knows, maybe our public outcry will make the big networks rethink only working on '90s shows and give the '00s a little love!
1. The Office:
The Office was the American version of a British show that was a "mockumentary" about a group of typical office workers at the Dunder Mifflin Paper Company. Their bland jobs led to hilarious episodes of TV and gave us Mindy Kaling, so we obviously want it rebooted.
2. Friends: 
Yes, we know that Friends began in the '90s, but it didn't end until 2004, so it can be either a '90s reboot contender or a '00s reboot possibility, and in our case it's both. Friends was such a simple, and yet flawless concept about six friends living in New York City and just trying to figure it out. Even though they lived in a super nice apartment on a coffee-house worker's salary, ergo it was so not real life, we love it just the same. Bring it back, and we'll be there for you, like you're there for us too!
3. How I Met Your Mother:
It's been four years since How I Met Your Mother ended and even though the entire show is not at all about finding "the mother" we still miss it. The MacLaren's gang, made up of Ted (Josh Radnor), Lily (Alyson Hannigan), Marshall (Jason Segel), Robin (Cobie Smulders) and Barney (Neil Patrick Harris) made us laugh for nine seasons and we're still not okay with the fact that they are no longer telling random stories and participating in slap bets in NYC.
4. 30 Rock:
Liz Lemon forever! Tina Fey has recently teased that a 30 Rock reunion could happen and we're praying to the comedy gods that it becomes a reality. The NBC sitcom was all about Liz Lemon (Fey), who was a writer for a comedy show that had to deal with an arrogant boss, a crazy star, and somehow not lose her mind in the process. It was hilarious.
5. Parks and Recreation:
We know that Parks and Recreation was a late '00s series and only went off the air three years ago, but is it really too early to bring back Leslie Knope and the rest of the parks department? We need Amy Poehler back on our TV screens ASAP!
6. Scrubs:
Scrubs was a quintessential '00s show beginning in 2001 and ending in 2010. The doctor comedy/drama followed the lives of the doctors at Sacred Heart Hospital, mainly Dr. John "J.D" Dorian (Zach Braff) and Dr. Christopher Turk (Donald Faison) and their doctor pals as they grew in both their personal and professional lives. If we're being honest, the bromance between Turk and J.D. is reason enough to revive this series.
7. George Lopez:
With comedian George Lopez starring on George Lopez every week you couldn't help but laugh and love this series. The wacky Lopez family was always getting into trouble as their children grew up and mouthed off and it would be very interesting to see where the whole family is now.
8. Malcolm in the Middle:
Before Bryan Cranston was on Breaking Bad he was your typical dad trying to raise a dysfunctional family with his wife on Malcolm in the Middle. The comedy also starred Frankie Muniz as Malcolm, the middle child of Hal (Cranston) and Lois (Jane Kaczmarek). It was your typical oddball family trying to figure things out and made you feel a little less dysfunctional in the process.
9. That '70s Show:
We know That '70s Show was a coming of age comedy that took place in the 1970s in Wisconsin, but couldn't we venture into another decade to get these characters back together? It is after all where Ashton Kutcher and Mila Kunis met (playing high school sweethearts Kelso and Jackie) and we'd love to see them back on TV together.
10. My Wife and Kids:
My Wife and Kids ran from 2001 to 2005 and it was so funny. With Damon Wayans at the helm of the Kyle family his everyday run-ins with his family—his wife Janet (Tisha Campbell-Martin) who was a big-time day-trader, his son Michael Jr. (George Gore II) who loved gangster rap, and daughters Claire (Jennifer Freeman) and Kady (Parker McKenna Posey), who had him wrapped around their fingers—always made us laugh. They were wild, rowdy and very lovable.
11. King of Queens:
Fans of King of Queens did get a reunion of sorts with Kevin James' more recent series Kevin Can Wait once Leah Remini became a recurring character, but we'd still like to see the original characters that both stars played back in action. Even though Jerry Stiller, who played Arthur Spooner has passed, the rest of the cast could make a revival happen.
12. 8 Simple Rules:
8 Simple Rules followed the Hennessy clan—Cate (Katey Segal), Bridget (Kaley Cuoco), Kerry (Amy Davidson) and Rory (Martin Spanjers)—as they navigated through the teens' high school years together. It originally starred John Ritter as Paul Hennessy and after his death in 2003, the show continued on and brought in David Spade as the family's cousin C.J. Barnes. The ups and downs of having three teens, especially two teenage daughters, was funny and just so relatable.
Now it's up to you TV fans, which sitcom from the 2000s would you want to see rebooted first?
2000s TV Sitcom Revival Poll