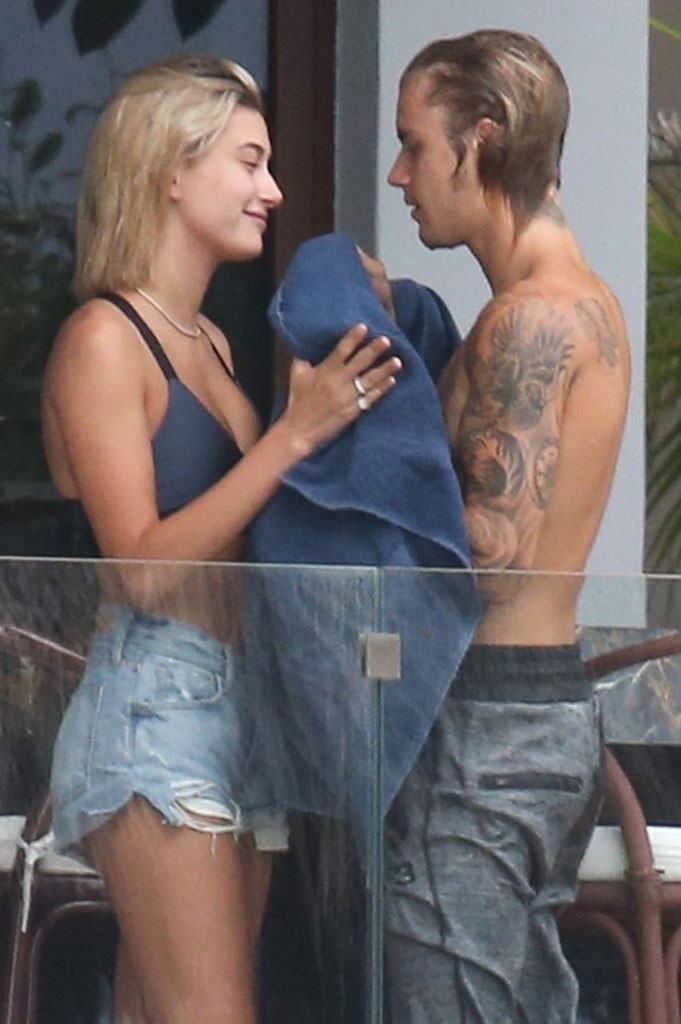 Splash News / BACKGRID
Justin Bieber and Hailey Baldwin were "inseparable" in Miami over the weekend.
Three years after the 24-year-old "Love Yourself" singer and 21-year-old model first sparked romance rumors, the duo enjoyed a couple of "flirty" days together in Florida. Bieber and Baldwin attended the VOUS Church Conference on Saturday and Sunday, before hitting up LIV at Fontainebleau together.
"Once he got to Miami, Justin and Hailey were together the entire time," a source tells E! News. "They attended the VOUS Conference all day and then hung out together every night."
Photos also show Bieber and Baldwin, wearing GRLFRND denim shorts, getting close on a balcony together over the weekend.
On Sunday night, Bieber and Baldwin headed to Casa Tua for dinner and then to LIV, where they "partied until 3 a.m. and then headed back to Justin's hotel in the same car," according to the insider.
"There was no outward PDA between Justin and Hailey when there were cameras around, but they spent all their time together and were inseparable the entire weekend," the source tells us. "Inside the club they were dancing and he had his arm around her many times. They seem very close and comfortable together."
Photos and videos posted to social media show the duo staying close to each other inside LIV. Bieber and Baldwin arrived at the club at around 1 a.m. and left holding hands after 3 a.m.
Another source is giving us some insight into the duo's relationship.
"They both have two things in common; they love to party and they love their church organization," the second insider tells E! News. "They have finally cleared the air and rekindled their friendship, and realized they genuinely have a lot of fun together. Justin and Hailey planned to attend the church organization together and decided to make a fun weekend out of it. They both are single, and were very flirty with each other the entire night. They were inseparable the entire weekend and this was planned between the two."
Neilson Barnard/Getty Images
This sighting of Bieber and Baldwin comes just weeks after the model opened up about her relationship with the singer in The Times UK.
"Justin and I were friends for a long time," Baldwin told the publication. "I met him when I was really young and he was one of my best friends. Everybody knows that at a certain point in time that turned into something else, but that just happens when you're 18, 19. It was what it was. We went through a long period of time when we weren't friends. We didn't speak for quite some time and there was a lot of weirdness that went on. We've moved past that."
It was just last month that Baldwin walked the 2018 MET Gala red carpet with Shawn Mendes. But she told The Times UK that she's currently single.
"We hang out and he's super-lovely and a very, very nice young gentleman," Baldwin said with a coy smile. "But I am single."
As for Bieber, he and Selena Gomez decided to take some space in March after reconnecting months earlier. The singer's relationship with model Baskin Champion also recently cooled down.