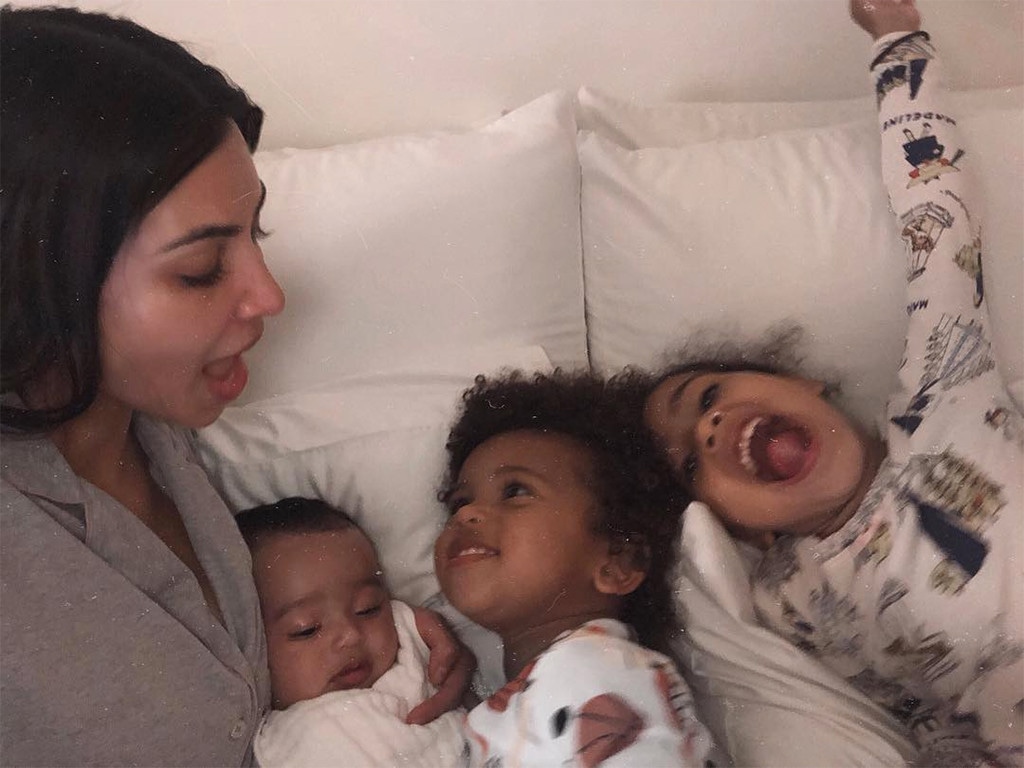 Instagram
"Welcome to the good life," Kim Kardashian.
The 37-year-old Keeping Up With the Kardashians star on Saturday quoted the lyric from husband Kanye West's 2007 single "Good Life" in a caption of an Instagram photo showing her cuddling in bed with their three children—daughter North West, who will turn 5 next week, son Saint West, 2, and daughter Chicago West, who was born almost five months ago via surrogate.
Kim posted the photo a day after Kanye's 41st birthday. She and the elder kids presented the rapper with a chocolate-frosted birthday cake with rainbow sprinkles, which North and Saint helped bake.
Watch:
Kim Kardashian Talks Kanye West's 41st Birthday Plans
Kim also gave Kanye another special birthday present: She commissioned an original birthday song written and recorded by voice actor Justin Roiland as his characters from Rick and Morty. The rapper is a huge fan of the Adult Swim animated show.
Sample lyrics include, "Crawling up the sheets / Under the sheets with Kanye / I'm getting close and cuddly now (Man it's like the Four Seasons in here) / It's Kanye's birthday time / It's a birthday day for Kanye  / As I cuddle him in his sheets."
Kim recently told E! News at the 2018 CFDA Fashion Awards that she and Kanye planned to celebrate his birthday at their house, at an intimate dinner with friends.